Do you like to work on one project at a time or several? I almost always have multiple projects in process on the design wall in my studio. Next to my sewing machine, the design wall is probably one of the most essential tools in my studio.
My design wall is full right now with a variety of ideas. I find this is a good way for me to work, because it really gets the ideas flowing. My process is very intuitive and I don't usually sketch things out beforehand. I just cut directly into the fabric to create line and shape, then audition the results on the design wall. Sometimes my dialogue with the work goes smoothly, and sometimes–not so much. When that happens, it's good to have something else to work on while I noodle over possible solutions for the way forward.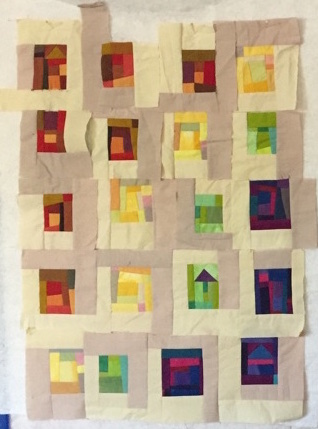 Rainbow Blocks in Process – Cindy Grisdela
"Rainbow Blocks" is the working name for this piece that I started a few weeks ago. You can read my earlier blog post about the beginnings of this piece here. The bottom two rows are sewn together, but the top ones are still just blocks. I'm trying to work out how the diagonal bands of color should go, and I see that some substitutions are needed. For example, the top blue block on the right seems too large for that spot and perhaps should be switched with the smaller block in the lower right corner. And I think I need another yellow block in the far left position in the second row from the bottom instead of the red/orange block that's there. Also, does there need to be a larger border around the piece before it's finished? Right now it's about 20″ wide and maybe 28-30″ high.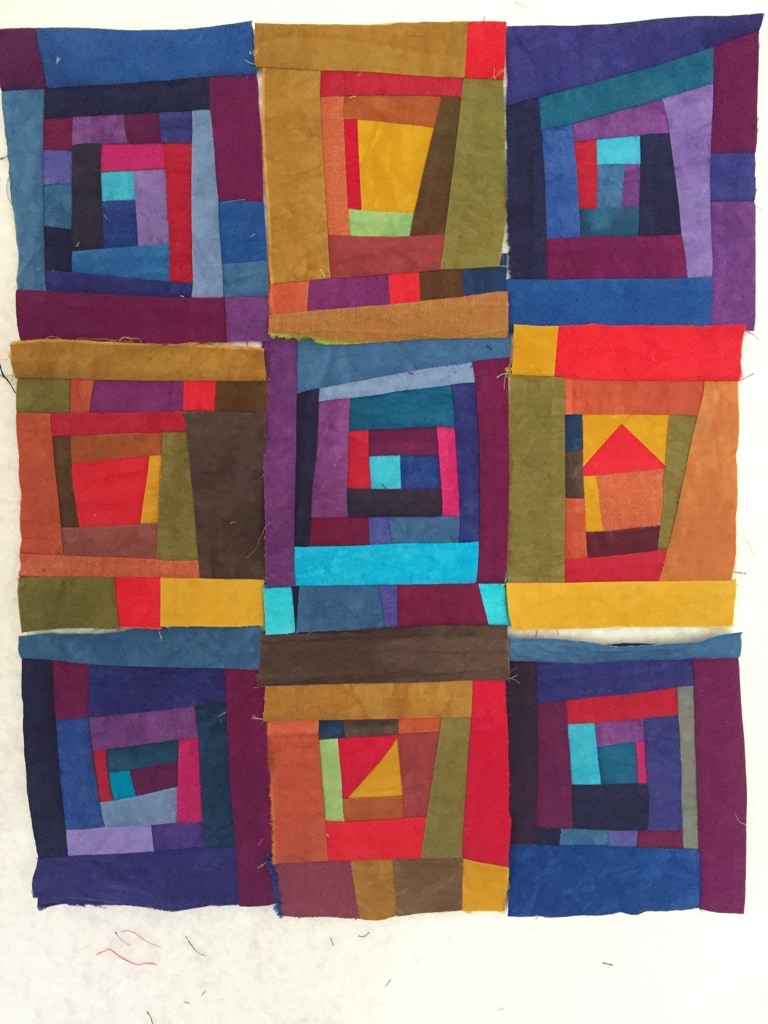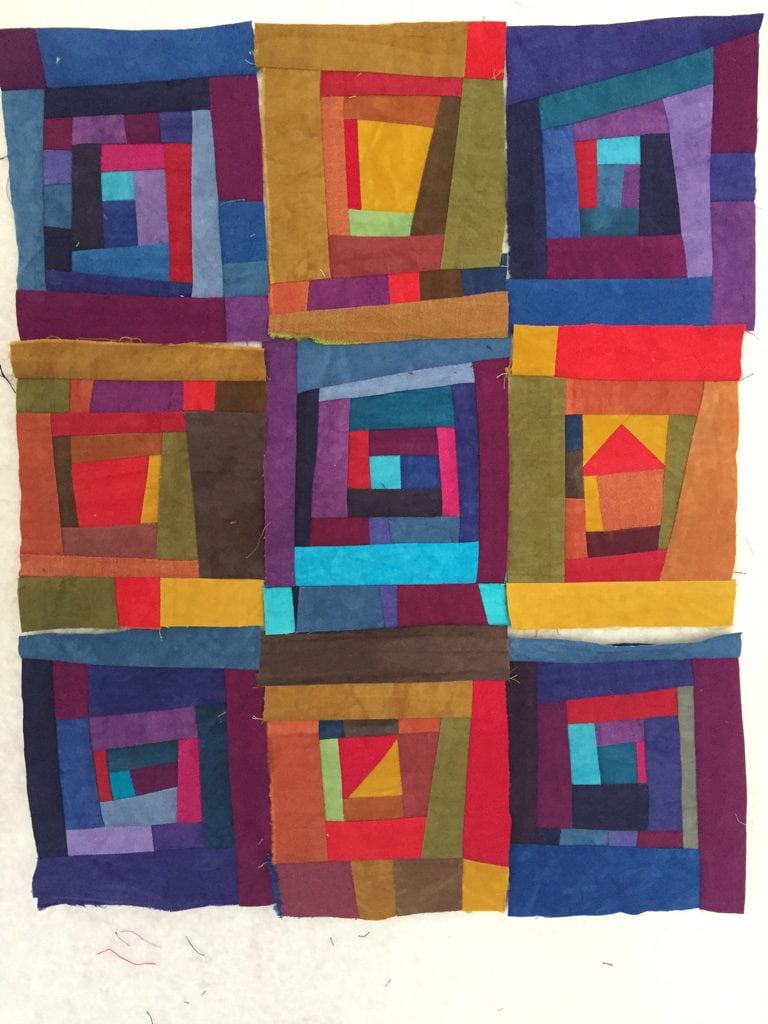 Warm/Cool Improv Blocks in Process – Cindy Grisdela
The middle quilt is a grouping of cool blue and purple improv blocks set alternately with warm red and orange blocks. I'm teaching a class tomorrow called "Focus on the Improv Block" and I want to use these process blocks to show my students a way to design with color. I'll put it together into a quilt later this week, but I'm not sure I like the symmetrical placement of the colors blocks, so I'm giving that some thought while I work on other things.
The random small blocks in the featured photo will likely turn into small compositions for one of the shows I have coming up in May–Morven in May in Princeton, NJ, Bethesda Fine Art Festival in Bethesda, MD, and the Northern Virginia Fine Arts Festival in Reston, VA–three weekends, three shows!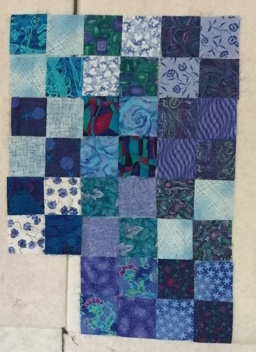 Blue Scrap Squares – Cindy Grisdela
And what about that last quilt on the right? That doesn't look like me at all!
I've been quilting for over thirty years and I have a lot of fabric. My tastes in fabric have changed over the years as I evolved from a traditional quilter into a more contemporary artist. I probably won't ever use these prints in my current work–or at least not in the quantities that still live in my fabric baskets.
I found this great idea on Pat Sloan's blog earlier this month. She keeps stacks of 2.5″ squares and sews them together at the beginning and end of her other piecing projects. When I make improv blocks I usually chain piece them in groups of four or six. So instead of clipping the threads after each strip is added, I stitched together a light and a dark blue 2.4″ square. It saves thread–and in the case of my machine, it eliminates the risk of thread "nests" that sometimes form on the back of my work when I start a new seam. And–the real bonus is you are creating two quilts at the same time!
I decided that I would make a "memory quilt" of sorts out of some of my favorite commercial prints. It probably will end up as a lap quilt for the sofa and I might combine lights and darks of other colors in my stash. It will be fun, I think. Or it would be good way to make a baby quilt without too much effort.
What do you think? Do you like to finish one project before starting another? Or do you have multiple quilts going at once?
Upcoming Events: