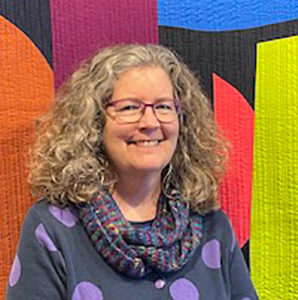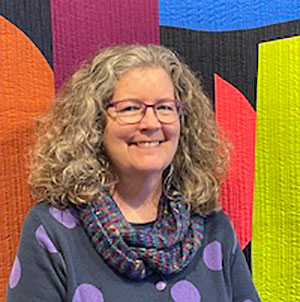 Hi—I'm Cindy Grisdela—artist, teacher and author of Artful Improv and Adventures in Improv Quilts.
I'm intrigued by color, line, and shape, just like any other artist. Working with fabric like a painter works with paint, I create dynamic contemporary compositions, cutting the shapes out freehand without a pattern or template and sewing them together with my sewing machine.
The color is the first step. I usually begin with a color idea—maybe bright saturated colors, or grays with black and white, or even a neutral palette.
I'm known now for my fearless approach to color, but it wasn't always that way. In my early days as a quilter, I made traditional quilts from patterns and I was intimidated by color, so I made a lot of blue quilts! But gradually I became more comfortable with putting colors together in combinations that were pleasing to me, and I started challenging myself to use colors that I don't normally use. Some of those turned out to be my favorites.
There's a reason I chose to create my art in fabric and thread rather than paint, and that's the opportunity to add texture to my compositions with the stitching lines. It's that tactile nature of quilts that drew me to creating in this way, and keeps me excited about going into the studio every day.
I stitch all the lines with my sewing machine, some with freehand motifs and others with straight or wavy lines with my walking foot. There's no computer program or marking ahead of time that does that part for me. As I stitch, I feel that texture coming to life under my fingers. Some of the pieces have dense motifs stitched into the various shapes of the design, while others have irregularly spaced lines. It all depends on what the composition seems to want or need.
I come from a long line of women who have expressed themselves using a needle and thread, although there were no quilters in my family. Creating with various forms of fabric and thread has been a part of my life since I was a child, and I am self taught as a fiber artist, with lots of experimentation along the way with mentors from books, like the late Gwen Marston, and in person, like my studies with Nancy Crow. My formal education includes a BA in Fine Arts from the College of William and Mary and an MBA from George Washington University.
I am the author of Artful Improv: Explore Color Recipes, Building Blocks & Free Motion Quilting, and a new book, Adventures in Improv Quilts: Master Color, Design & Construction. Signed copies of both books are available in the "Shop" tab on the website, with free shipping in the US.
I love to teach! Please open the "Workshops and Lectures" tab on this website for a description of available talks and classes. I'm offering both virtual and in person classes and lectures in 2023 and 2024.
Contact me at [email protected] or click here.