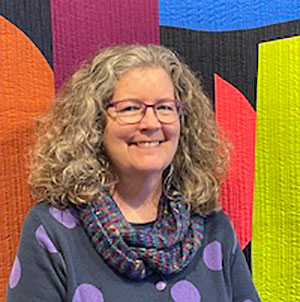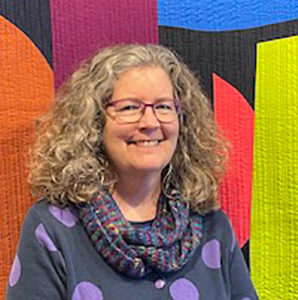 From my studio looking out over a lake in Reston, VA, I draw inspiration for my contemporary wall quilts from the view of nature outside my window every day. Pebbles on the path or currents in water might become part of the texture I stitch into each piece. Color combinations in bird feathers or flowering plants might slip into the palette I use to start my next design.
My abstract art quilts are designed improvisationally without a preconceived pattern, a little bit like jazz music. Each decision about color and shape influences the next and complex blocks repeat like beats of a melody, calmed by irregular plain areas that provide a resting place for the eye.
The color is the first step. Putting colors together intuitively, I like to use fabric the way a painter might use paint to create graphic compositions that engage the viewer from a distance, yet invite a closer look.
The texture is the second step. The stitching lines provide contrast and dimension to the piece, integrating the different elements into a cohesive whole. I do all of my stitching on a sewing machine, but it is entirely hand driven. There's no computer program or marking ahead of time. I stitch the motifs freehand using the needle and thread of the machine like a pencil or a brush.
I come from a long line of women who have expressed themselves using a needle and thread, although curiously there were no quilters in my family. Creating with various forms of fabric and thread has been a part of my life since I was a child, and I am self taught as a fiber artist, with lots of experimentation along the way. My formal education includes a BA in Fine Arts from the College of William and Mary and an MBA from George Washington University.
I am the author of Artful Improv: Explore Color Recipes, Building Blocks & Free Motion Quilting, and a new book, Adventures in Improv Quilts: Master Color, Design & Construction. Signed copies of both books are available in the "Shop" tab on the website, with free shipping in the US.
I love to teach! Please open the "Workshops and Lectures" tab on this website for a description of available talks and classes. I'm offering both virtual and in person classes and lectures in 2022 and 2023.
Contact me at [email protected] or click here.