It all started with a need to clean up. The floor and the horizontal surfaces of my studio had become a hot mess after an intense couple of months of shows and travel.
That's my cutting surface at the top left next to the sewing machine and my ironing surface at the bottom left. I thought a few hours of straightening would do the job.
But the more I thought about it, the more I realized that there was more to it than that. I needed a larger design wall and more space to work bigger, after my week studying with Nancy Crow at the Crow Barn (you can read about that here). My husband's bike on his trainer had migrated into my studio space–he uses it in the winter when the weather is too bad to bike outside–and I couldn't step back far enough to evaluate my compositions properly.
My studio is in the daylight basement of our townhouse on a lake. I get half the space, and the other half is taken up with exercise equipment that my husband and I both use. When we downsized and moved here five years ago, some of the furniture from the old house that didn't fit anywhere else ended up in the basement. So we decided it was time to get rid of the furniture that was cluttering up the space. I hired movers and had the sleeper sofa that we had only used once or twice in five years taken to our son, who needed a new sofa. The rest–an armoire and a couple of dressers–got moved upstairs to the garage so a charitable organization could come pick it up and give it to someone who could use it.
I have a beautiful loom that you can see in the featured image above. I used to do some weaving a long time ago, but haven't had time recently. I decided to keep the loom, even though I could use the space–I'm just not ready to let it go and I have hope that I might get back to it eventually.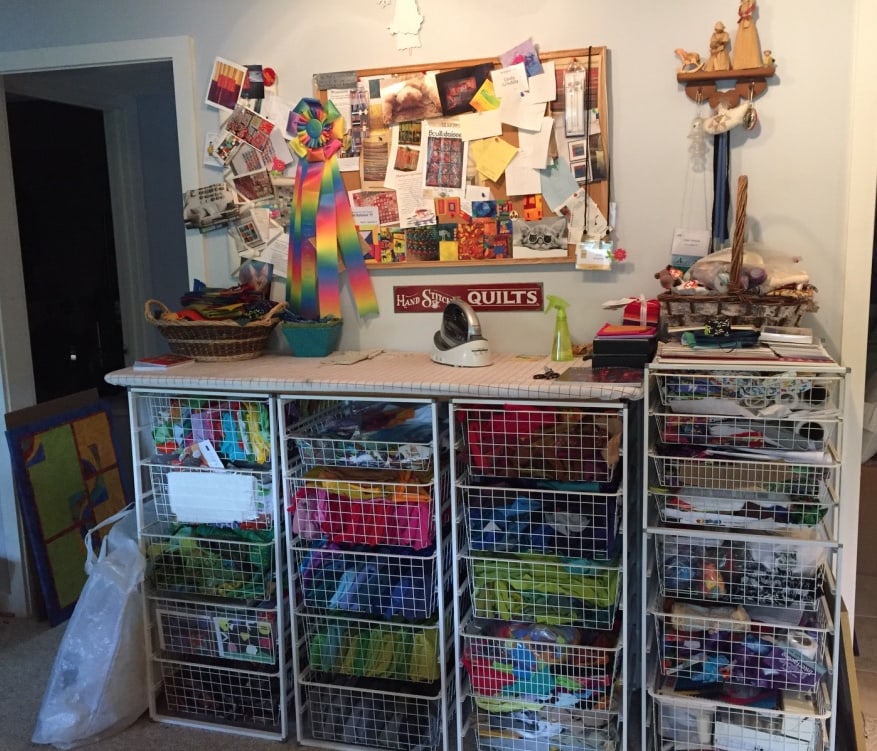 The ironing station moved to where the old design wall used to be.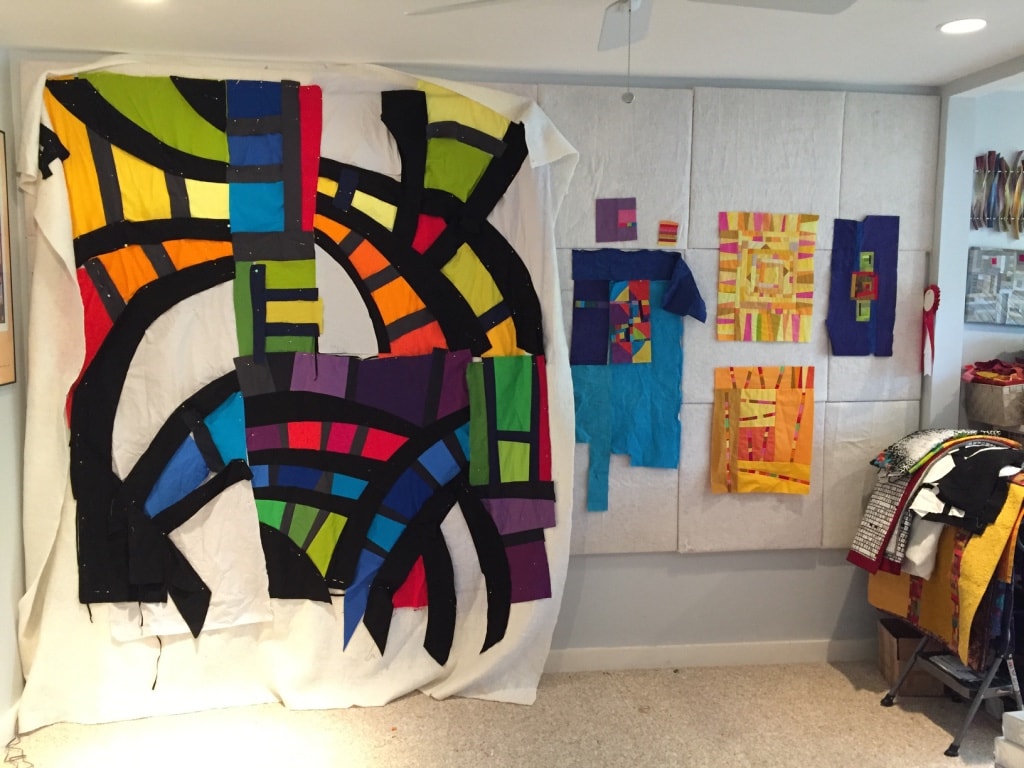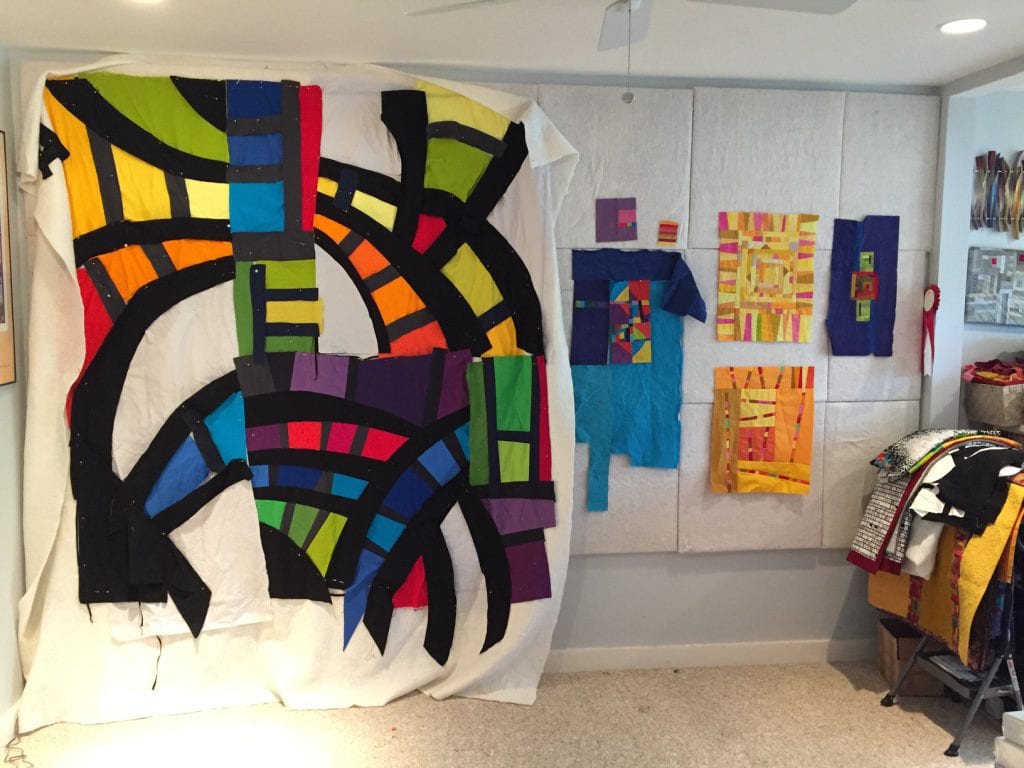 Without the armoire in the way, I could expand the new design wall almost double what it was before. I'd like to take the Crow Barn piece off of the batting I used to transport it home, but I'm afraid it will all fall apart if I do! So I'll have to wait until I have some time to sew it together after the  shows I have coming up the next two weekends.
Like a squirrel, I had stashed things in the armoire and the dressers for some later day. It was like an archaeological dig going through all that and deciding what to keep and what to toss. There were lots of stencils that I used when I was hand quilting, and patterns that I'll never make now. Those things will be donated to the guild for their auction, I hope.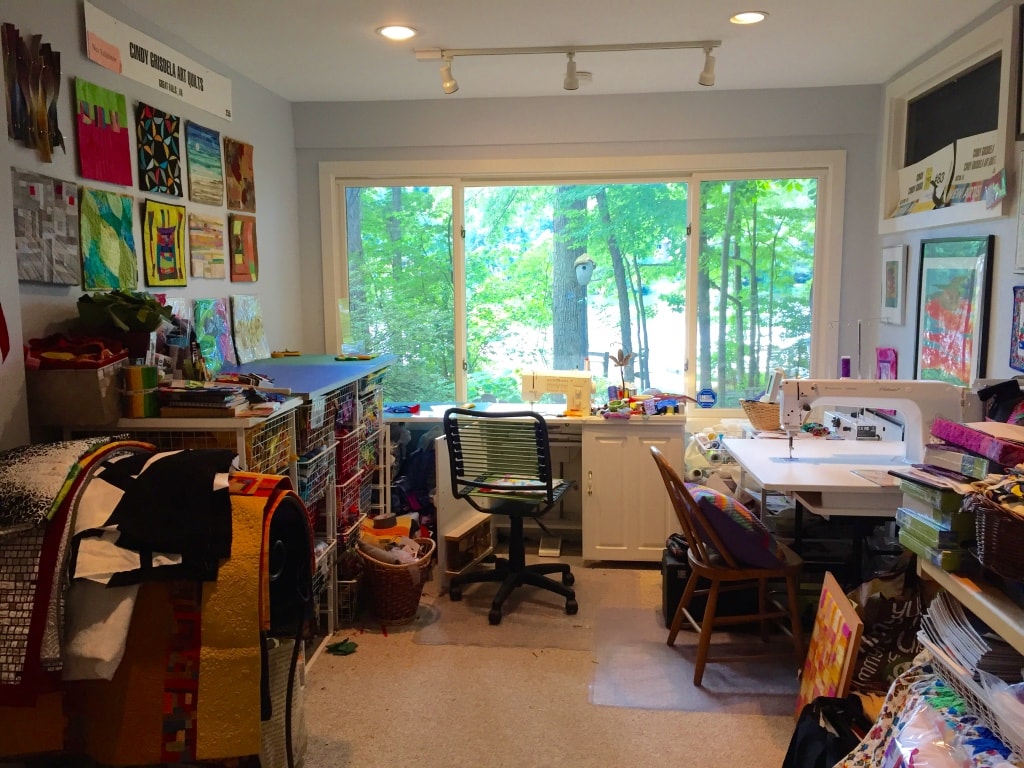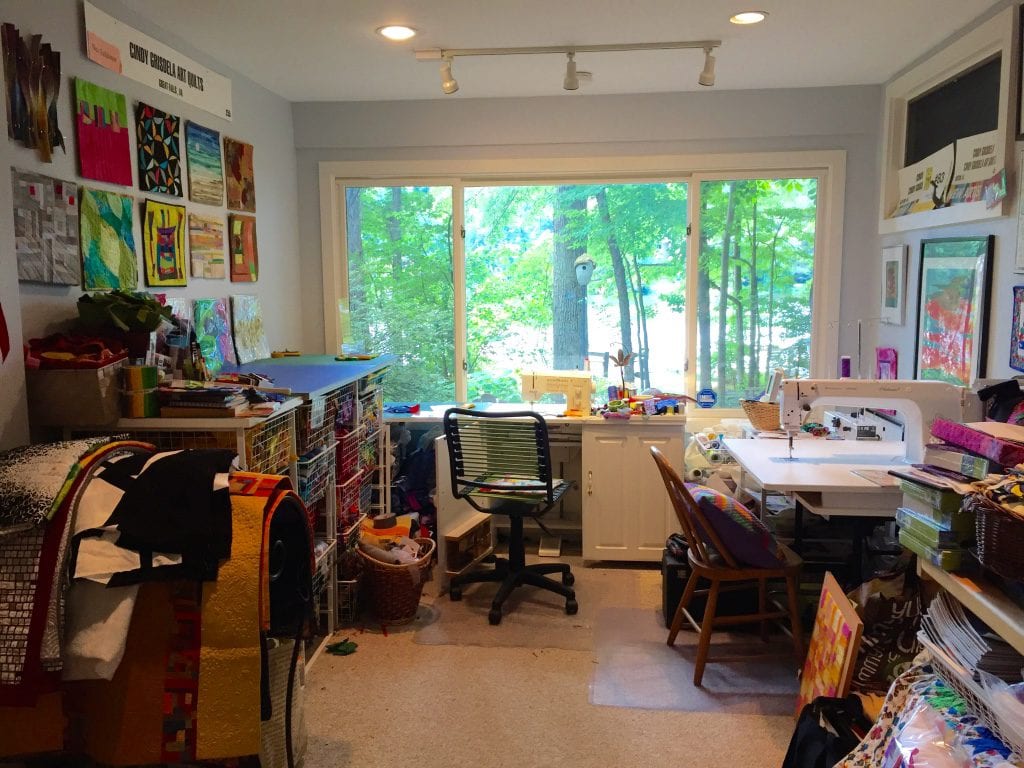 It all feels lighter, somehow–which I guess it literally is–but lighter in an emotional sense as well. I still have some decluttering to do, and I have to figure out where to store my older quilts that were in the armoire. You can see some of them hanging over a quilt rack in the bottom left above. But it works for now.
I'm traveling the next two weekends–the Ann Arbor Art Fair July 20-23 in Ann Arbor, MI (Booth 219 on Ingalls Mall) and the Fine Craft Fair at the Chase Center July 29-30 in Wilmington, DE. If you're in the area of either of these shows, I hope you'll stop by and say hello!