It's been a busy few weeks as I get ready to leave for two shows across the country in Oregon.
I'll be an exhibiting artist at Art in the High Desert this weekend, August 25-27, in Bend, OR and at the Art in the Pearl show Labor Day weekend, September 2-5, in Portland.
I've done the High Desert show several times in the past few years, but this will be my first time at the Pearl–I'm looking forward to both!
Here's a short peek into my weeks getting ready to go. I try to work backwards–thinking about what needs to be where when to determine how I spend my time.
Of course, the most important part is creating the work!
My improv process almost always begins with scraps that turn into blocks that turn into finished quilts.
Above is a series of 8″ square quiltlets that are ready for the stitching texture to be added.
My business is Contemporary Art Quilts for the Wall–wall art is what I do. So it's important to have a variety of sizes and price points–from the 8″ squares that can brighten up a small wall space, or even a bookcase, to larger pieces that will make a statement over a sofa, buffet, or fireplace.
Normally I drive to my shows, since I have to take my tent, my display equipment, and my work with me. But for these shows across the country, I rent a tent out there and ship my display equipment ahead of time. The least expensive way to ship the display panels is via ground service, so I have to allow plenty of time for them to get there. It usually takes about a week, but I shipped them two weeks early to be on the safe side. One year I cut it too close and had to rent a van and drive to the FedEx shipping warehouse the day of setup to track down my equipment!
These boxes contain my ProPanel display walls, supports, lighting tracks and lights, and other miscellaneous things I need to set up my booth.
It will look something like this when it's put back together on the West Coast–larger pieces on the back walls and smaller ones on the sides.
There are many days spent stitching.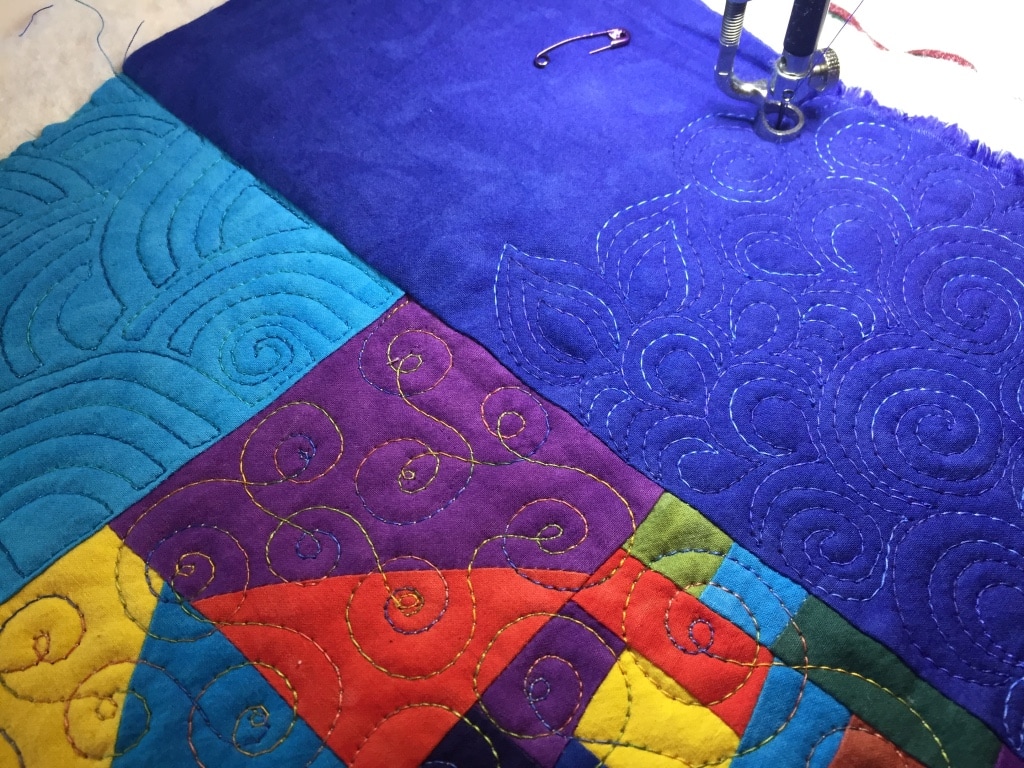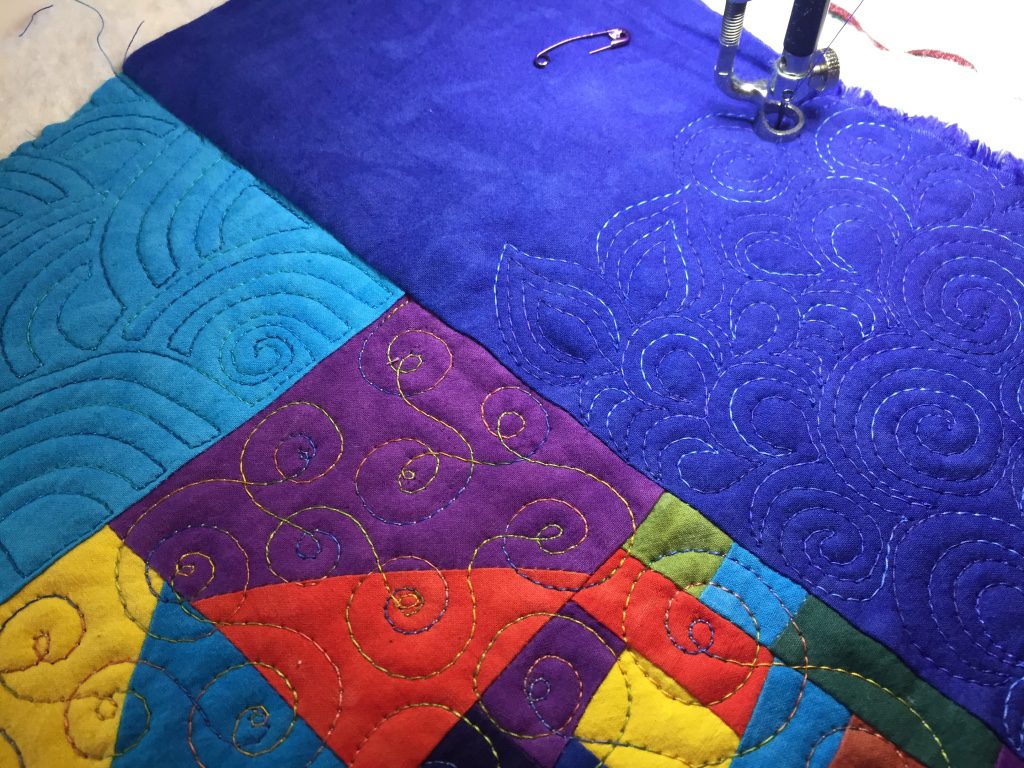 Adding the Texture – Cindy Grisdelapainting canvas,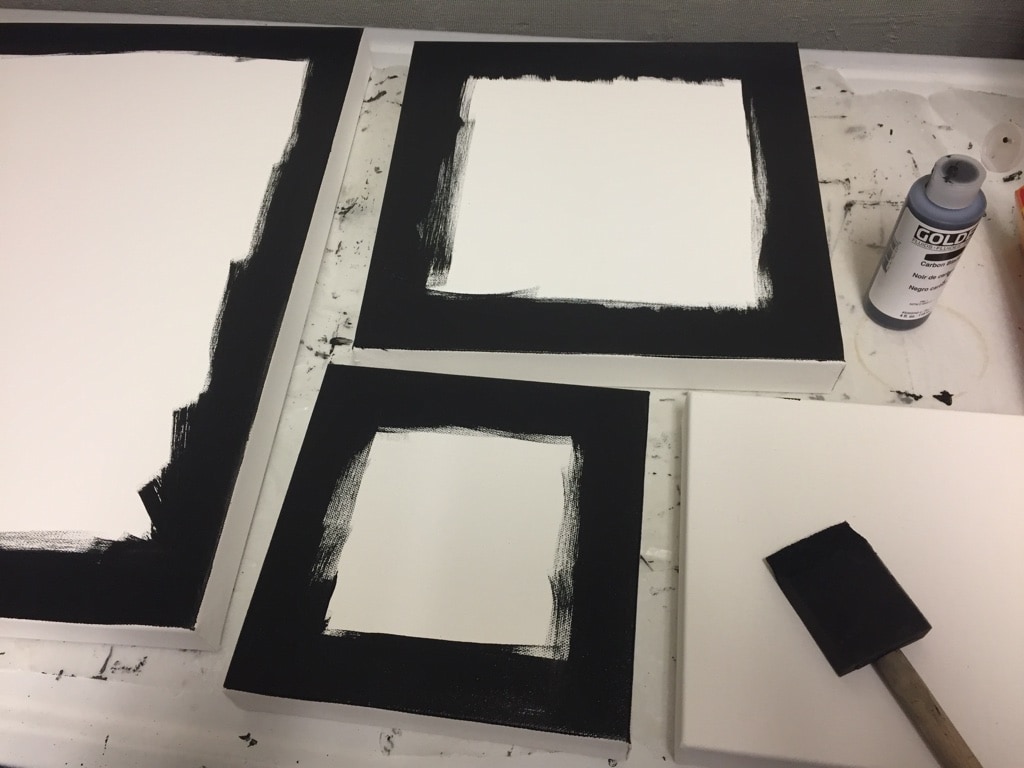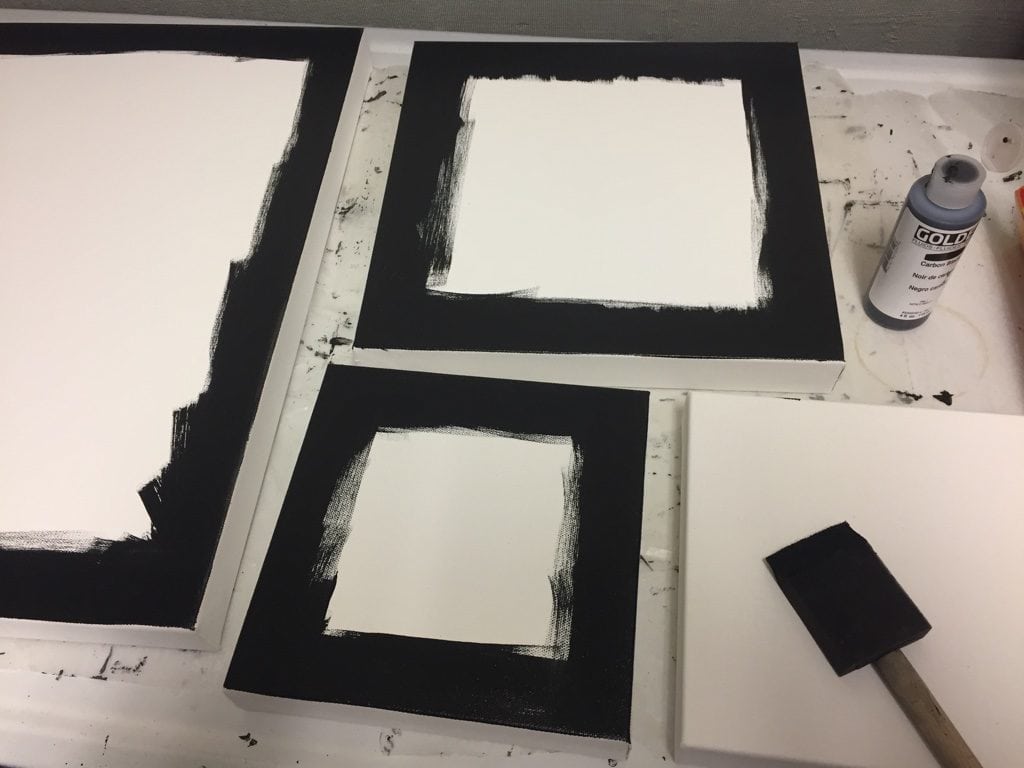 Painting Canvas – Cindy Grisdela
and finishing the quilts. If you'd like to read about how I attach my work to canvas, I posted a tutorial here.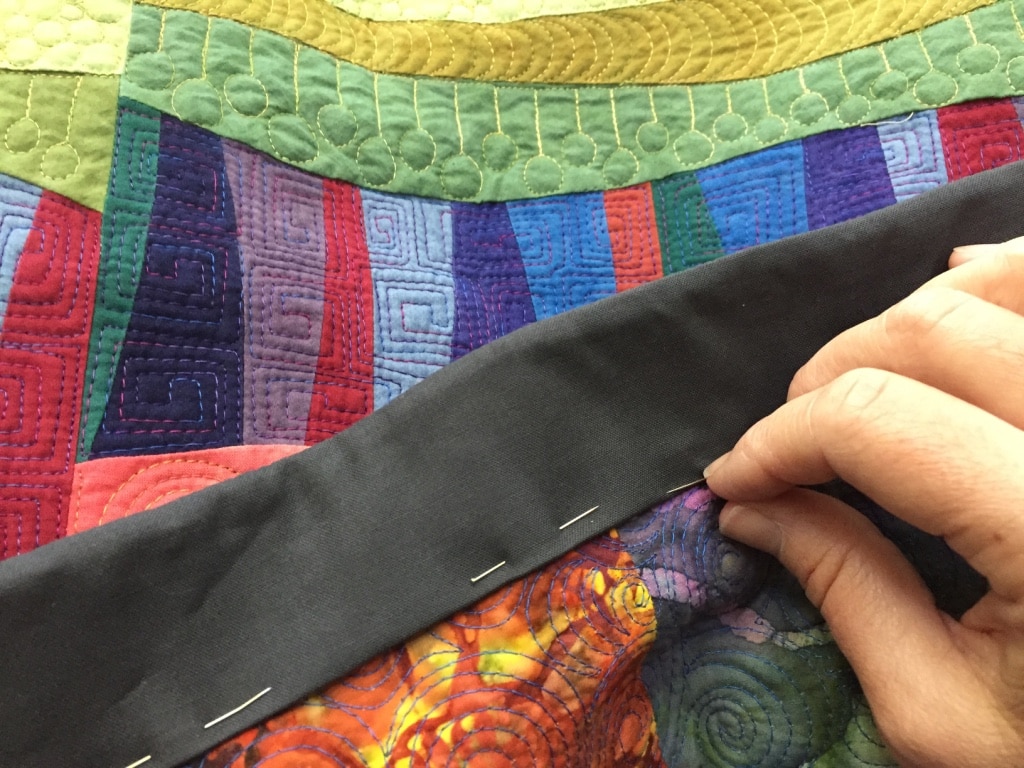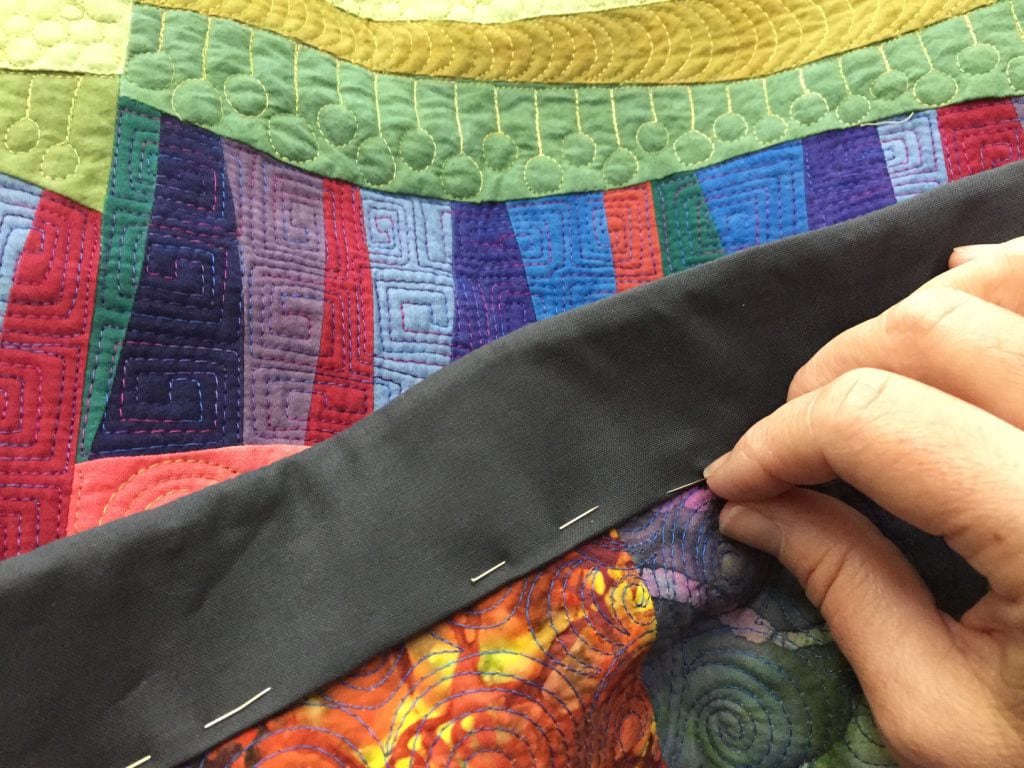 One of the last steps before I go is having the new pieces photographed by a professional photographer. This is crucial, because I need high quality images of my work for show applications, my website, and documentation of what I've done.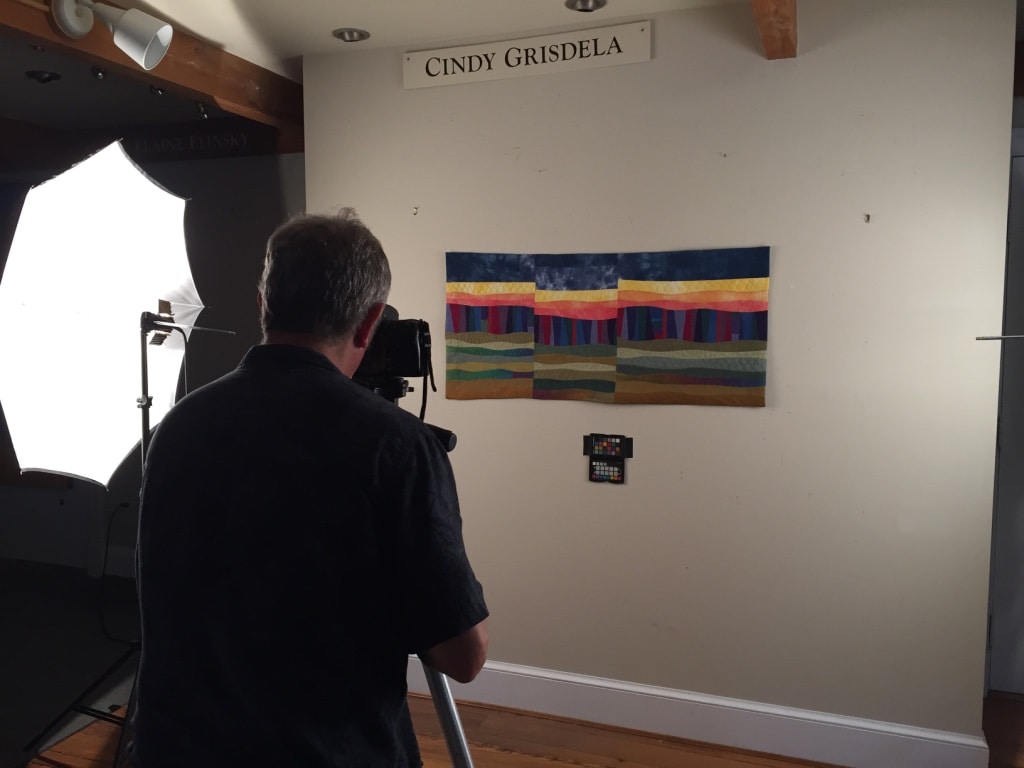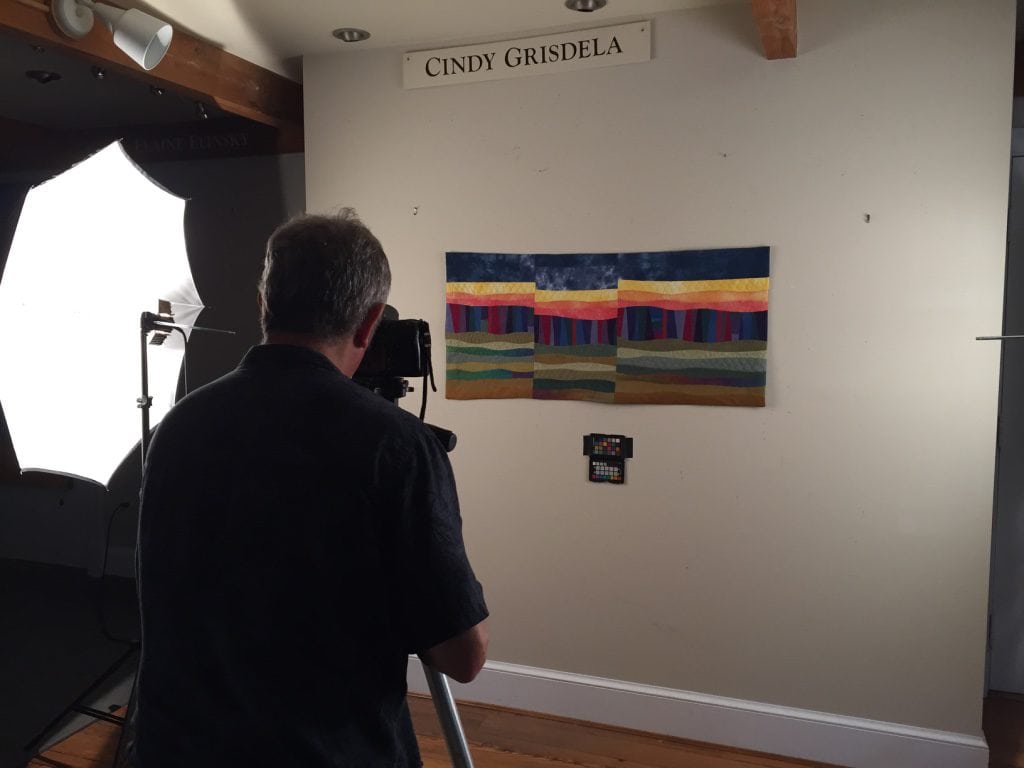 Greg Staley photographing "Mountain Sunrise" – Cindy Grisdela
My photographer in the DC Metro area is Greg Staley, and he's great! Check out his website at http://www.grstaley.com/
My work is packed into two 50 lb. suitcases for the trip out to Oregon and clothes in a small carryon–because I have to have my priorities straight! It's all about the work.
If you're in the Bend or Portland area, I hope you'll have a chance to stop by Art in the High Desert or Art in the Pearl and say hello. I'll be in in Booth 70 at High Desert and Booth SO65 at the Pearl. These are both really top quality juried shows–each with about 100 unique artists in a wide variety of media–painting, sculpture, jewelry, and fiber, to name a few. I'm honored to be part of both of them. And admission is free!
I hope you've enjoyed this small peek into my world getting ready for a show. Thanks for reading!