I almost forgot to enter the Blogger's Quilt Festival this year! Sponsored by Amy Ellis, who blogs at Amy's Creative Side, it's a fun week of sharing quilts and quilting online this year September 18 – 25.
You can follow the Festival here.
A Little Citrus is one of my favorite quilts from my book, Artful Improv. I designed it to illustrate my approach to making improv quilts–cutting shapes and making units to audition on my design wall until I have a composition that sings.
I always start with the color. What color combination, or recipe, do I want to explore for this piece? For this one, I decided on a cool blue/green color recipe using a pack of hand-dyed fabrics I had purchased. I was especially interested in the interaction between the strong lime green and the watery blues. So I made a series of units I call Angled Stripes using those colors.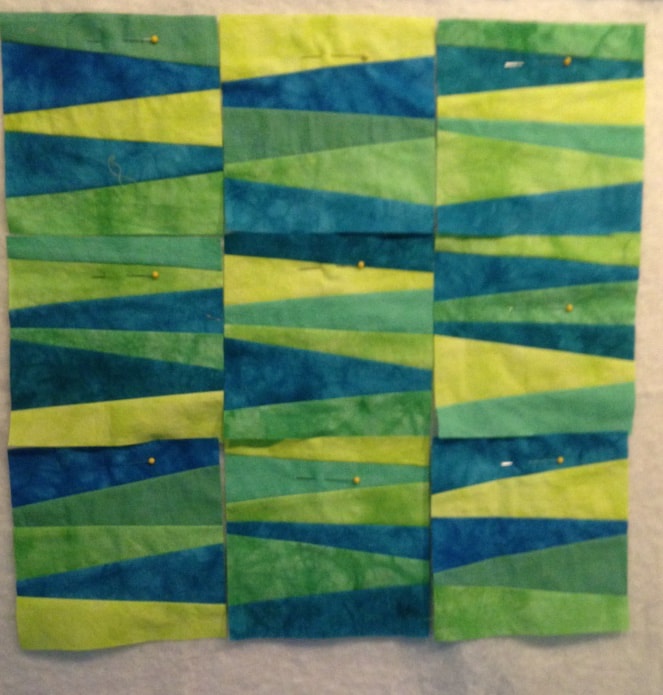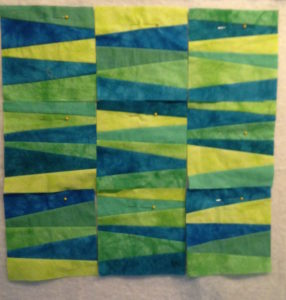 I liked the color combination and the interesting intersections of the lines, but it seemed a little tame.
So I turned some of the Angled Stripe blocks on their sides and put in a complementary color–hot pink–to add some energy to the design. The blue tape lines are to give me an idea of how big I want the quilt to be.
Asking "what if?" is very important in designing improvisational art quilts. You can keep asking until the composition clicks and you think–"yes–that's it!"
That's one of the reasons I keep coming back to improv–there are no rules and no patterns. It's like putting together a jigsaw puzzle, only you get to decide what the picture on the box is going to look like.
The final composition for Citrus included some Improv Circles with a splash of orange and an asymmetrical line of Inset Stripes to add an unexpected twist.
What's your favorite way to create an improv quilt?