I've been in New Mexico for nearly two weeks, participating in the Rio Grande Balloon Fiesta Show, which ends today. It's been an amazing trip!
The show ran for two weekends in Albuquerque, and in between my husband and I spent a few days in Santa Fe. Plus I did a trunk show and book signing at HipStitch–a wonderful quilt shop in Albuquerque.
I'd never been to the Albuquerque Balloon Fiesta, but I had heard lots about it and it did not disappoint! Every morning of the shows, the balloons filled the air–hundreds and hundreds of them. I was told that this was a rare year where the weather cooperated and the balloons were able to go up every day of the Fiesta–sometimes rains or winds keep them on the ground. I must have jinxed it writing this because the winds ended up keeping the balloons on the ground today!
The balloons are so colorful with so many different patterns–I've been making notes nearly every day about ideas for turning my impressions of those colors and patterns into new quilts!
And one day as we were leaving the show, there was the tiniest bit of rain and we were treated to the most gorgeous rainbows. Beautiful!
The show itself was a lot of fun. The venue was located close to the balloon launch site in an enormous tent bigger than a football field! See my earlier post here from last week for more info on that. This was my first time here, so you never know quite what to expect. But the people were friendly and very responsive to my work–quite a few pieces went to new homes, including one of my favorites, Cimarron (below), which went to live with a friend from Virginia who has moved out to the Southwest and surprised me with a visit to the show!
And one day a new artist friend invited my husband and me to dinner at her lovely contemporary home filled with beautiful art–that was really something special.
It's always a treat to visit Santa Fe. We rented a tiny house near downtown so we could walk everywhere we wanted to go. It was a classic adobe-style casita, but it reminded me of a hobbit house from Lord of the Rings, complete with a tree trunk shape near the fireplace!
No trip to Santa Fe is complete for me without a visit to the Georgia O'Keefe Museum. I have been fascinated with her work and her life since I was an undergraduate studying art history. One of my first major research papers was on Alfred Stieglitz, O'Keefe's husband and owner of one of the first art galleries in New York City to embrace American abstract art.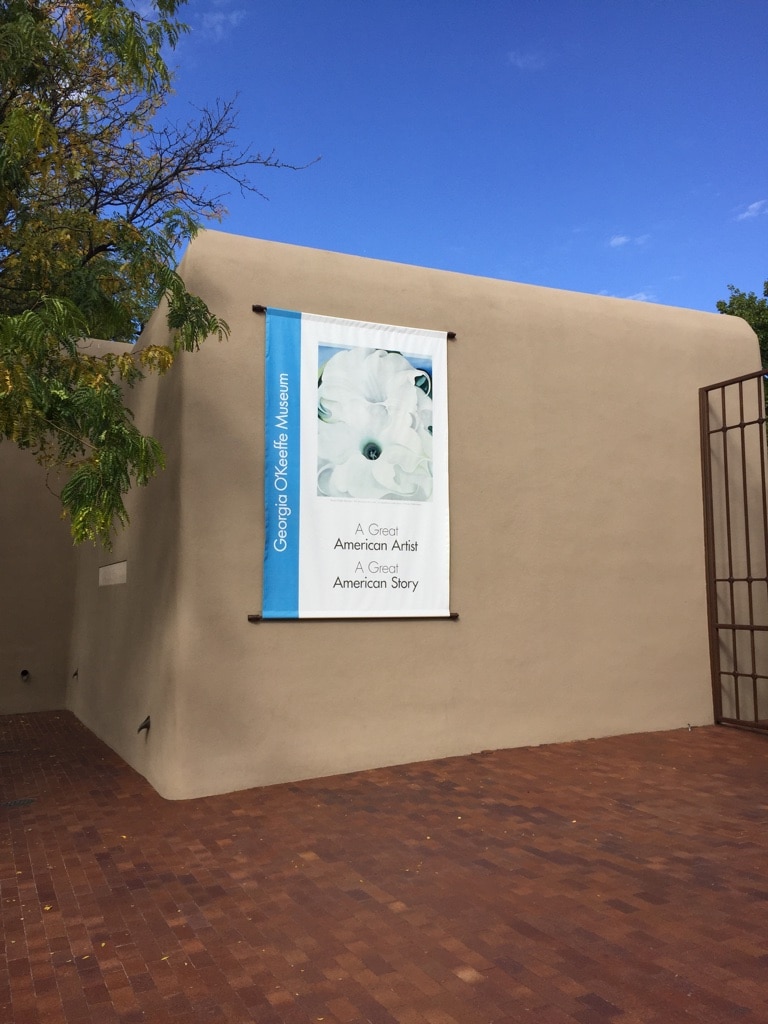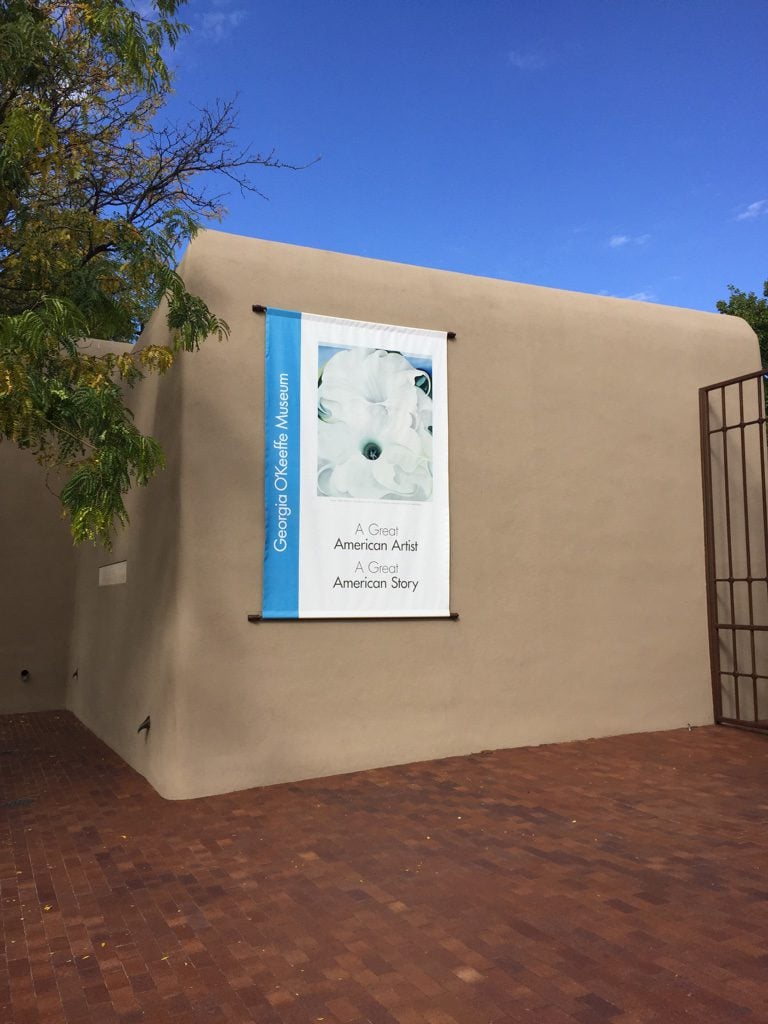 I know many people are critical of her flower paintings, but to me her art is about so much more than that. I admire her strength as a woman and as an artist in a time when it was difficult to take a nontraditional path in life. And every time I visit the museum there's something new to learn. I had never seen these lush paintings of cottonwood trees.
And I loved this photo of O'Keefe holding one of her pelvis series paintings. I have a print of one of these paintings in my studio–the organic shapes and strong color really draw me in.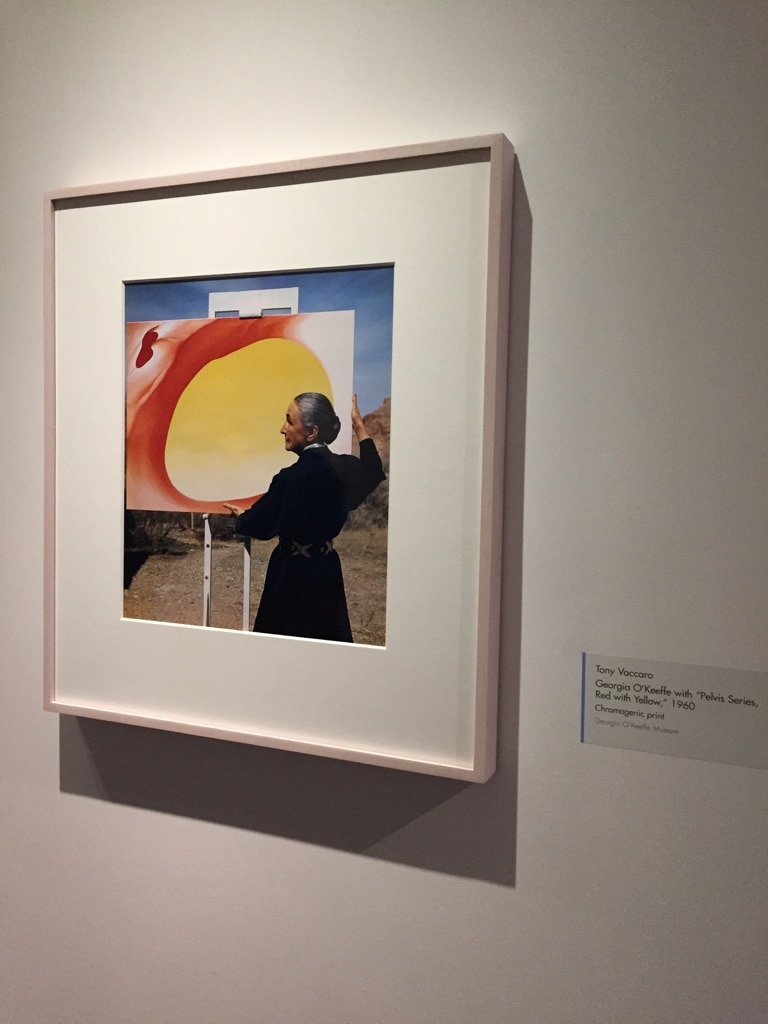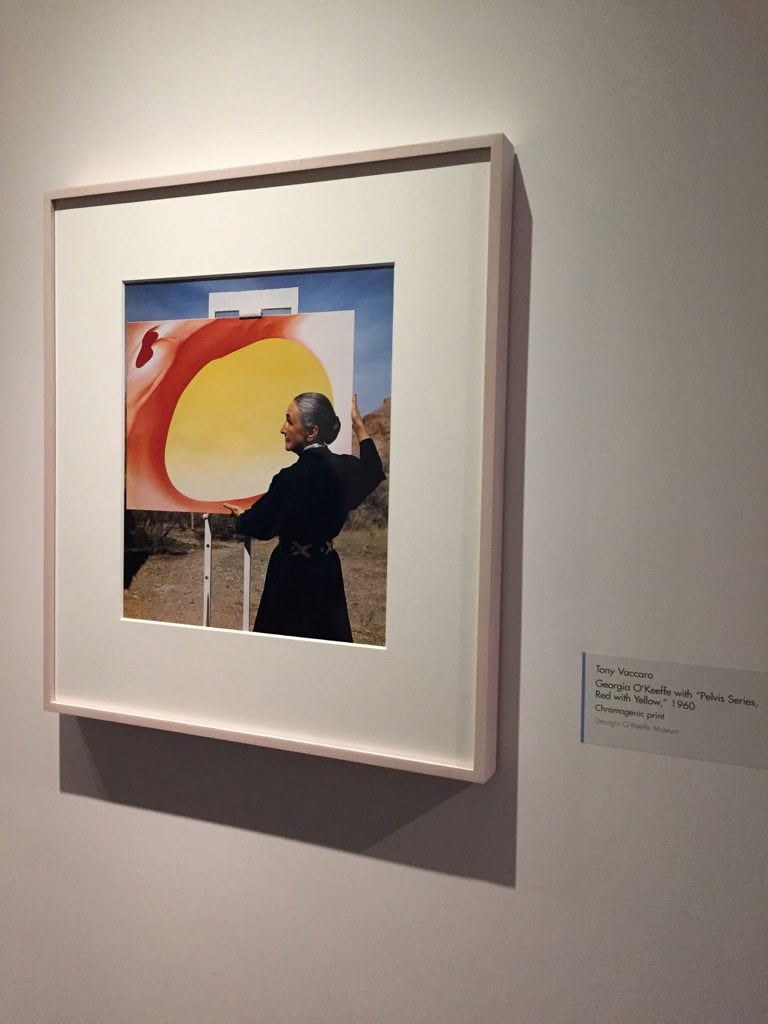 Two other artists at the show knew of me from Artful Improv and were kind enough to make an introduction to the owners of HipStitch–the cool quilt shop in Albuquerque. They carry my book in their shop and came down to the show on the first day to meet me. We arranged to throw together a trunk show and book signing in the shop on Thursday evening, when we would be returning from Santa Fe for the second weekend of the show.
We had planned to drive back in plenty of time, check into the hotel, change clothes and have a bite to eat before the event started at 6 pm.
All went according to plan until the rental car lost power on the main interstate between Santa Fe and Albuquerque.  It's a scary experience driving on the highway at speed and then suddenly the car stops responding to the gas pedal. We pulled over to the side of the road and called for roadside assistance. Unfortunately there were a couple of accidents ahead of us on the highway, and the tow truck had trouble reaching us. And in two hours we were waiting, other motorists became impatient with the delay, and started using the side of the road as another lane! We had our flashers on, but cars roared up behind and passed us in the gravel on the right going much too fast. It was a terrifying experience.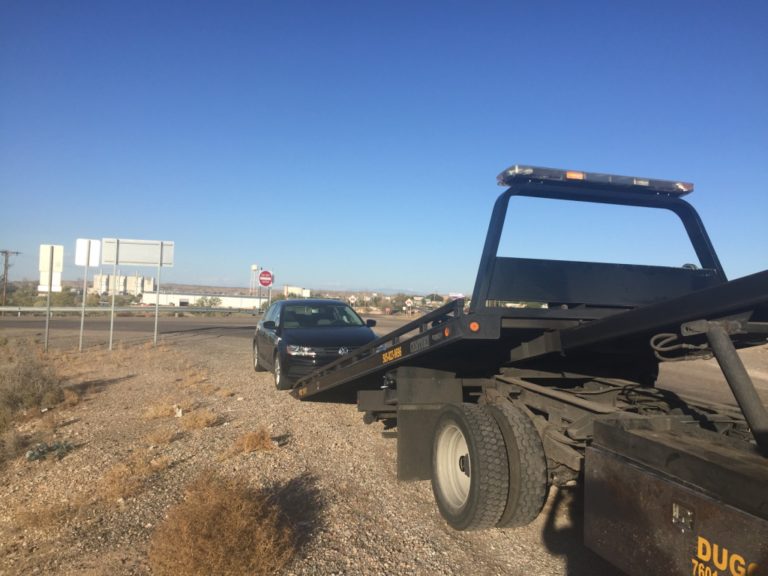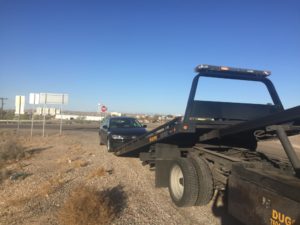 The tow truck driver arrived and loaded the car onto the flatbed and drove us right to the quilt shop! I made quite the entrance with two minutes to spare before the talk was scheduled to begin. That's my husband Phil helping me get my work out of the car for the trunk show.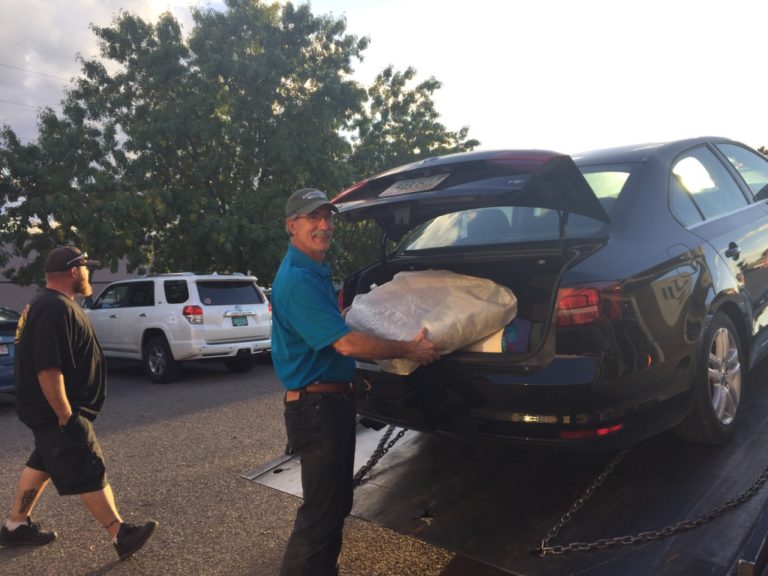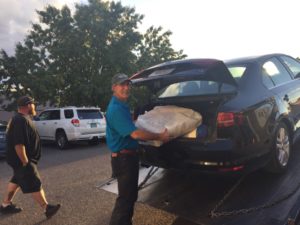 The shop was packed and the talk went well, even though I was a little bit frazzled from the highway experience.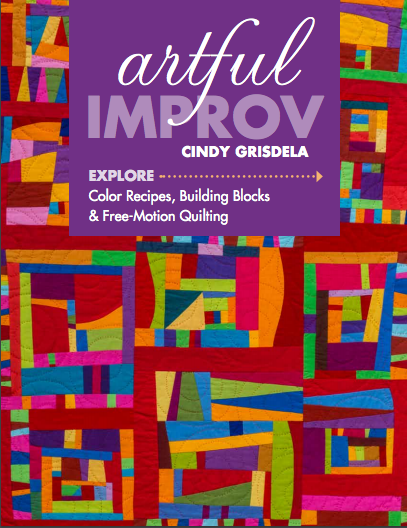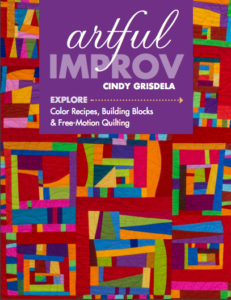 Unfortunately, I didn't get any photos there, but the quilters in Albuquerque gave me a very warm welcome–I talked for about an hour about my journey as an art quilter, my process and inspirations, then signed books until they were gone.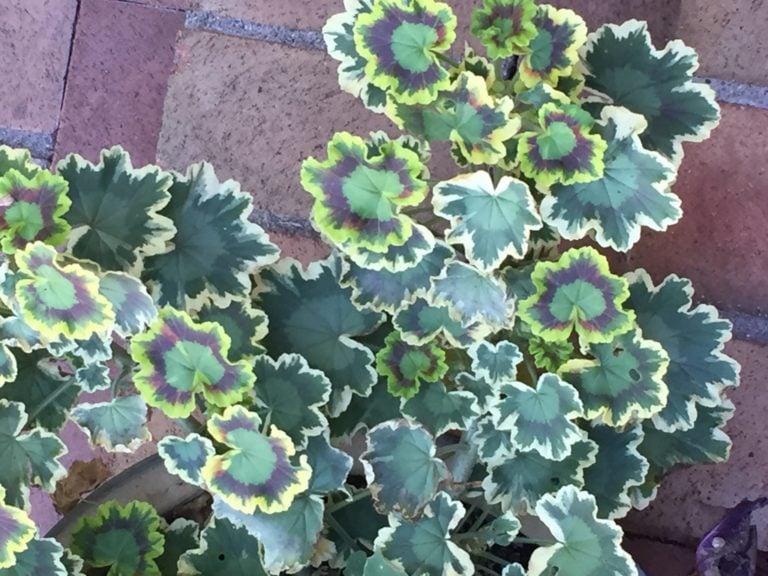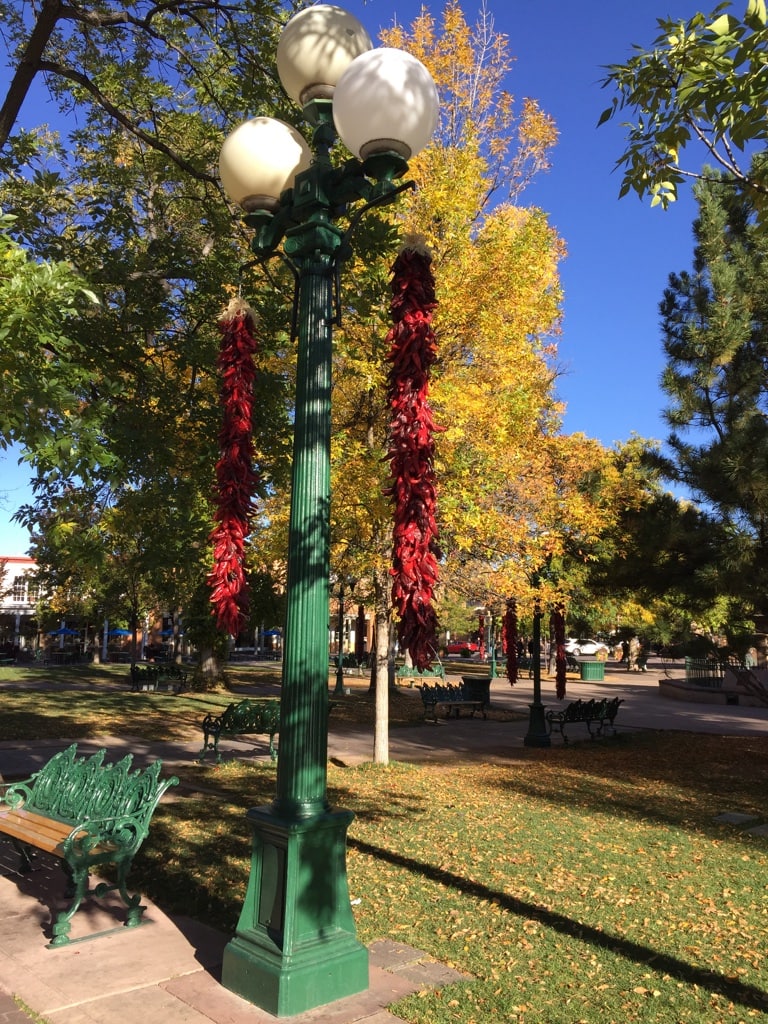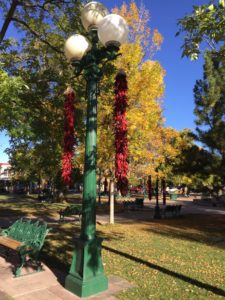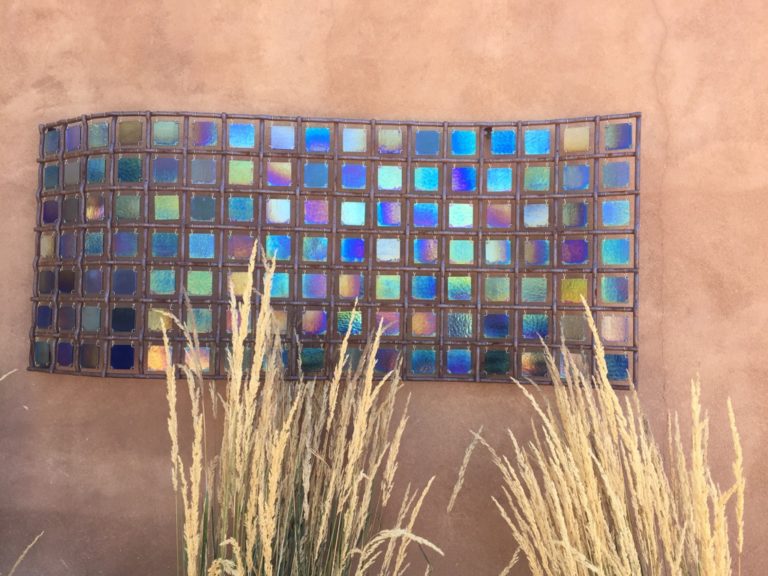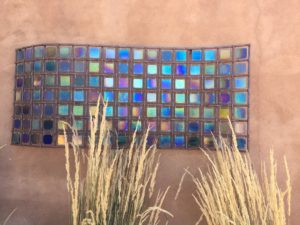 Here are a few more inspiration photos from my trip–green leaf textures, chilis hanging from a lamp post in Santa Fe Plaza, and a lovely wall sculpture that will soon add some color to our patio.
Today is the last day of the show, and we'll pack up the display equipment to be shipped back to Virginia, and the quilts will go in my two large suitcases to fly back with me. Tomorrow night I give a lecture to the Flying Geese Quilt Guild in Bel Air, MD and a workshop on Tuesday before I head home. It's a busy week!
Thank you for reading to the end of this long post, and I always love to hear your comments.