I'm looking forward to giving my new Playing with Colors lecture at the virtual Sessions event hosted by the Modern Quilt Guild! The online event begins next week–October 13-16, 2022.
My lecture is scheduled for Sunday, October 16 at 1:30 PM Central Time.
I've updated the lecture for the Modern Quilt Guild, so if you've heard it before, there will be new information! We'll talk about the color wheel, of course, but also about some other fun ways you can be inspired by the world around you to come up with dynamic color palettes. And I'll show you an easy color methodology I use to pick fabrics for new projects, plus lots of colorful quilts.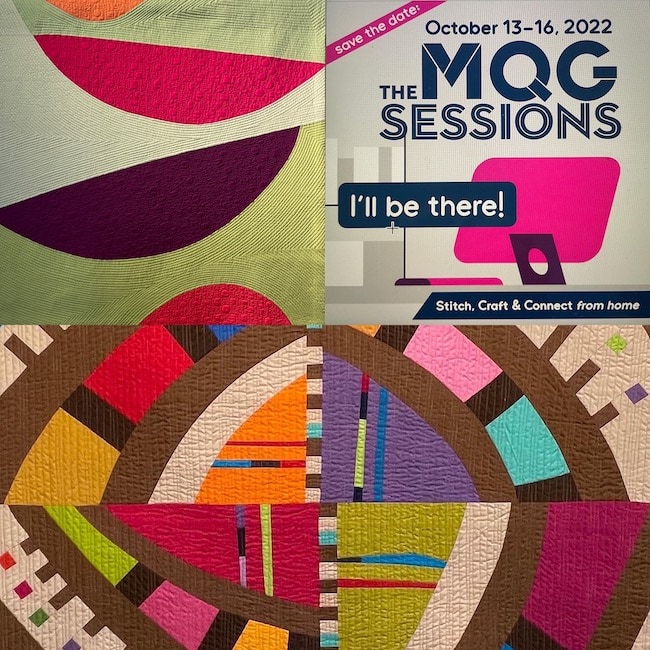 Visit https://www.themodernquiltguild.com/sessions/ for more information and to register. One fee gives you access to my lecture, as well as exciting lectures by 19 other artists on a variety of topics, including managing your scraps, quilting options, and piecing ideas. If you can't make it on the exact day and time, the lectures will be recorded and available to watch for two weeks after the event closes.
You do need to be a member of the Modern Quilt Guild to register, but you can do that right on the site.
I hope you'll join us!
October 6, 2022
|
Comments Off

on Playing with Colors Virtual Lecture at MQG Sessions Oct. 16
|
Uncategorized