I'm pleased to be teaching at the Mid-Atlantic Quilt Festival February 29 – March 3, 2024.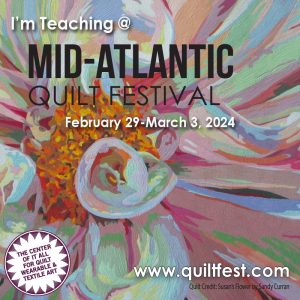 I have three full day classes available, plus I'll be giving the Early Bird lecture on Wednesday, February 28 at 6 PM.
If you'd like to see a short video describing the classes you can take a look at  https://www.youtube.com/watch?v=_RMNiko4Qxc to get an idea of what we'll be doing in each one.
Thursday, February 29 – Go Wild with Prints and Solids – this is a new class! We'll combine favorite prints with a variety of solids to create a wild riot of color. One simple freehand curve block forms the base of the design. The solids can be true solids, or they can be "read as solid" fabric like tone on tone or grunge prints.
Friday, March 1 – Improv Log Cabin – make an Improv block the center of your composition and add your own borders or negative space–maybe curved strips or asymmetrical open space–it's completely up to you to make your quilt your own. Or make a completely wonky log cabin quilt. This process can be adapted to any size quilt–use your imagination! We will discuss the improv block technique using scraps and different ways to set the block into an interesting design with negative space options.
Saturday, March 2 – Fabulous Freehand Curves – Cut large-scale curves freehand without templates or patterns. Add dots, skinny lines, wonky triangles, and more to give each curve its own personality, then combine them into a fun original design. We'll talk about color and design options to create the composition as well as the techniques needed.
Wednesday, February 28 – Playing with Colors lecture – Cindy Grisdela is an award-winning artist who's happiest in her studio surrounded by piles of colorful fabrics. In this lecture and trunk show, she'll use examples of her work over the last 30 years to take away some of the mystery about choosing colors effectively for your quilts. Not sure what colors "go" together? This is the lecture to reduce your stress about color!
I love teaching at this show–it was the first show I ever went to, and the first show I had a quilt accepted for exhibit way back in the day.
If you're thinking about going, I hope you'll join me for a class or lecture!