I had a blast yesterday signing my posters for the Downtown Art Festival in Gainesville, FL this weekend!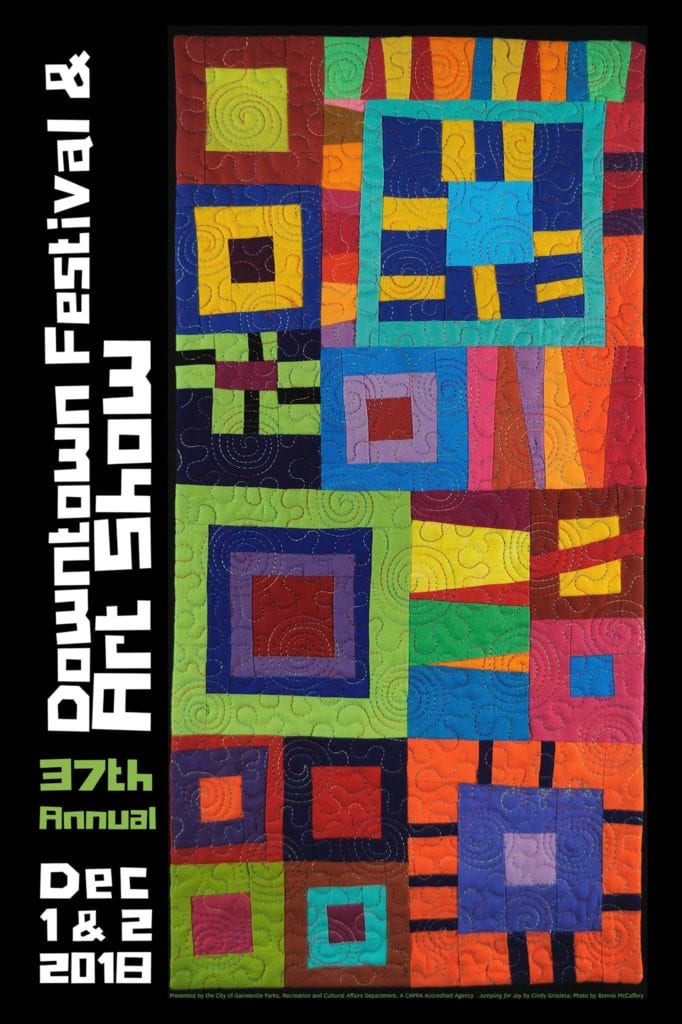 My Jumping for Joy art quilt was chosen as the featured art for the festival and adorns the show poster and T-shirt–which is very cool! They did a nice job with the graphics so that the composition is eye-catching, I think.
This is the first time this show has chosen a piece of art other than a painting or nature scene for their featured artwork, and I'm honored that they chose my work. A nice article about the poster choice was published online this month–click here to read it. This honor is doubly special to me because Gainesville is my hometown and it means a lot to me to be recognized here.
The show opens tomorrow–Saturday, December 1 and runs through Sunday December 2. Hours are 10 – 5 both days and admission is free. I'm in Booth 118 at the corner of NE 1st St. and East University Ave.
The original Jumping for Joy with be displayed in my booth, plus two other related pieces that I created recently. Plus I'll have many other wall pieces in various sizes, signed copies of my book–Artful Improv–and scarves printed from high quality photographs of my work–great for gift giving!
I'd love to see you if you have a chance to stop by!
If you're in the Gainesville area but can't make it to the show, two of my wall pieces are on display as part of the Rock|Paper|Scissors exhibit at the historic Thomas Center through the end of the year.