My friend Jenny Lyon just published a book on free motion quilting with C&T Publishing. It's called Free Motion Quilting from Ordinary to Extraordinary.
I love free motion quilting! It's one of my favorite parts of the quilting process–the opportunity to add texture to the finished top so that it feels like you want to reach out and touch it.
But it wasn't always that way. I had to be dragged to machine quilting kicking and screaming. I wish that I had had access to a book like Jenny's when I was just starting out on my free motion quilting journey.
One of the things I liked best about the book was Jenny's kind encouragement. The subtitle of the book is "3 Steps to Joyful Machine Stitching in 21 Days." Think about that. How often have you felt joyful when sitting down to quilt your quilt? It took me a long time and a lot of practice to get there.
Jenny writes; "It is my hope that you will approach your free-motion quilting with gusto and confidence. No matter what your skill set, be fearless!" That's a great idea! What if you make a mistake? Likely no one will know but you, and you don't need to point it out! And if you don't feel fearless? Jenny recommends that you "pretend to be fearless, even if you don't feel it at first." Keep quilting and you'll get better, she adds. I love this concept.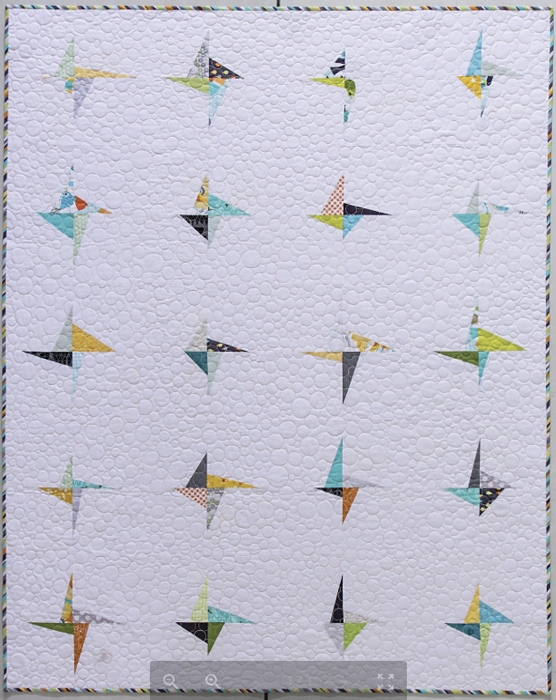 Above is Jenny's "Stars" quilt with lovely pebble or bubble texture in the free motion stitching.
She has great ideas in the book about collecting photos or other images to inspire your free motion quilting motifs, plus a chapter on the appropriate tools to help you be more successful with machine stitching. And there are pages of suggested motifs to get you started.
The core of the book is taking 21 days to play + practice or "plactice" using both practice sandwiches and small projects to move your skills forward. I like the idea of committing to a certain amount of time each day to improve your skill set. And Jenny recommends one of my favorite strategies for getting comfortable with machine quilting–making baby quilts and giving them away. This idea is what finally pushed me over the "awkward teenage phase" of machine stitching. I made six or eight baby quilts, machine quilted them, and gave them away. I wasn't emotionally attached to them, so it was easier to relax and just enjoy the process. And I got better by the time I finished them!
If you are interested in getting better at free motion quilting, whether you're an experienced beginner or a more advanced quilter wanting to try something new, I'd recommend Jenny's book!
Leave a comment to be entered into the drawing to win a signed copy of Jenny's book. Tell me what your favorite thread is, or what your strategy is to be fearless with your free motion quilting!
My favorite thread is King Tut variegated thread by Superior Threads, and my best strategy for being fearless with my stitching is to let go of perfectionism–free motion quilting is a hand process, despite the fact that you're using a machine to do the work, and a few bobbles or missteps show the hand of the artist at work.
A few notes about the hop:
– You can enter on each day's post but can only win once.
– Each blogger will leave the comments open for 8 days and then will choose a winner using a random method. My 8 days is up on December 17.
– Jenny will send winners a signed copy of her book.
– If you find a blog along the way that you find interesting, why not sign up to receive notices of future posts?
– International winners will receive a digital copy.
Here's the list of bloggers on the hop:
Dec 1 Jenny K. Lyon https://quiltskipper.com/
Dec 2 Lisa Chin http://www.lisachinartist.com/
Dec 3 Catherine Redford – https://catherineredford.com
Dec 4 Lyric Kinard http://lyrickinard.com/
Dec 5 Heidi Proffetty https://www.heidiproffetty.com/
Dec 6 Debby Ritenbaugh Brown https://www.debbybrownquilts.com/
Dec 7 Libby Williamson https://libbywilliamsondesigns.blogspot.com/
Dec 8 Barbara Black http://bbquiltmaker.blogspot.com/
Dec 9 Cindy Grisdela – that's me!
Dec 10 Teri Lucas https://terificreations.com/