It's been quite a year!
Maybe the most exciting thing was having my Confetti quilt juried in to the Fine Art Quilt Masters Exhibit at the Festival of Quilts in Birmingham, England in August. It was my first international exhibit and I got to go to the show with two quilting friends–so much fun! I wrote about the experience here and here.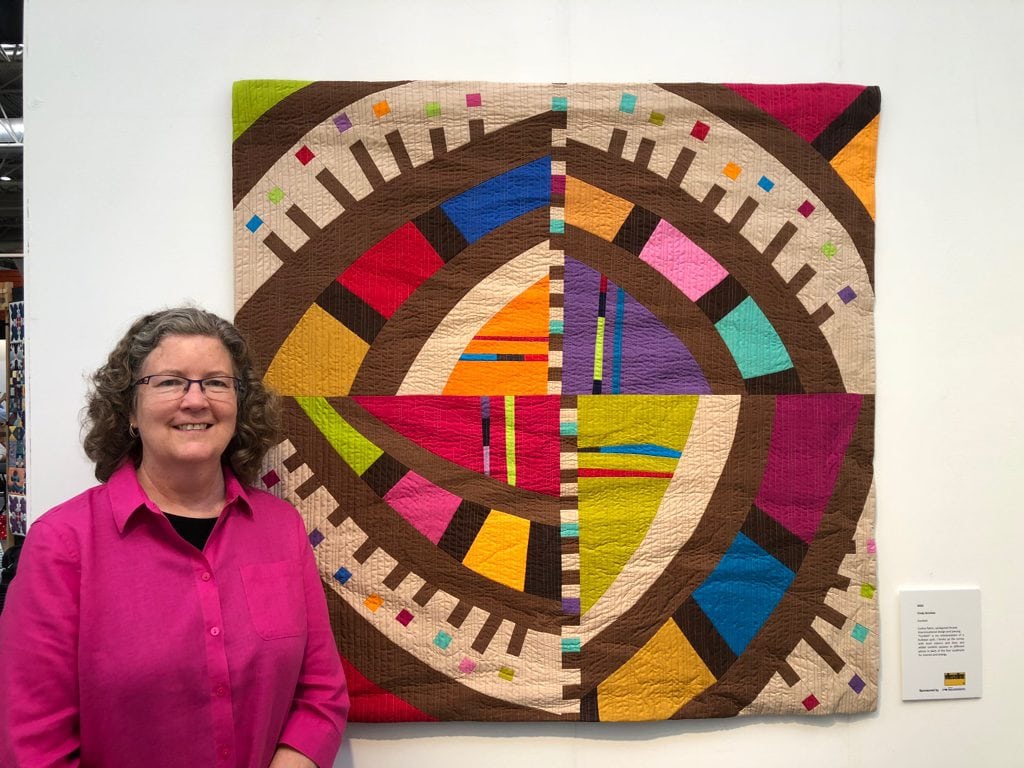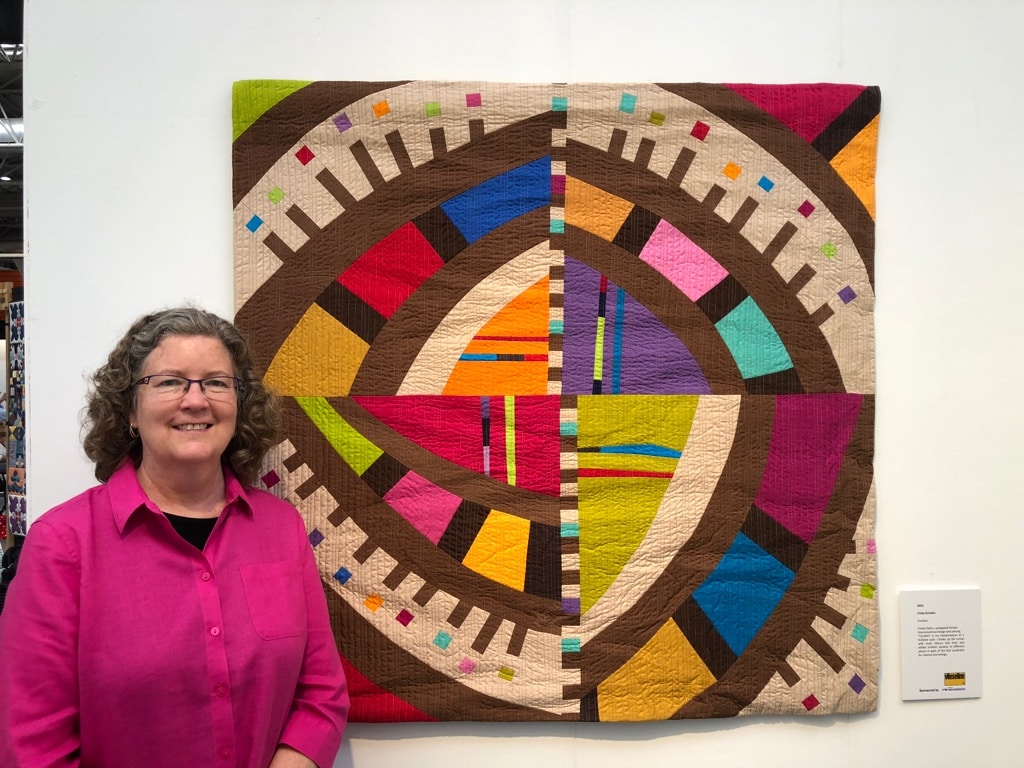 Another highlight was having my Jumping for Joy quilt chosen as the featured art for the Downtown Art Festival in Gainesville, FL earlier this month. It was great fun to be asked to sign posters and see lots of people wearing the Tshirt with my image on it during the show. I wrote about it here and here. I was also honored to win an Award of Excellence at the show for my booth display and my work.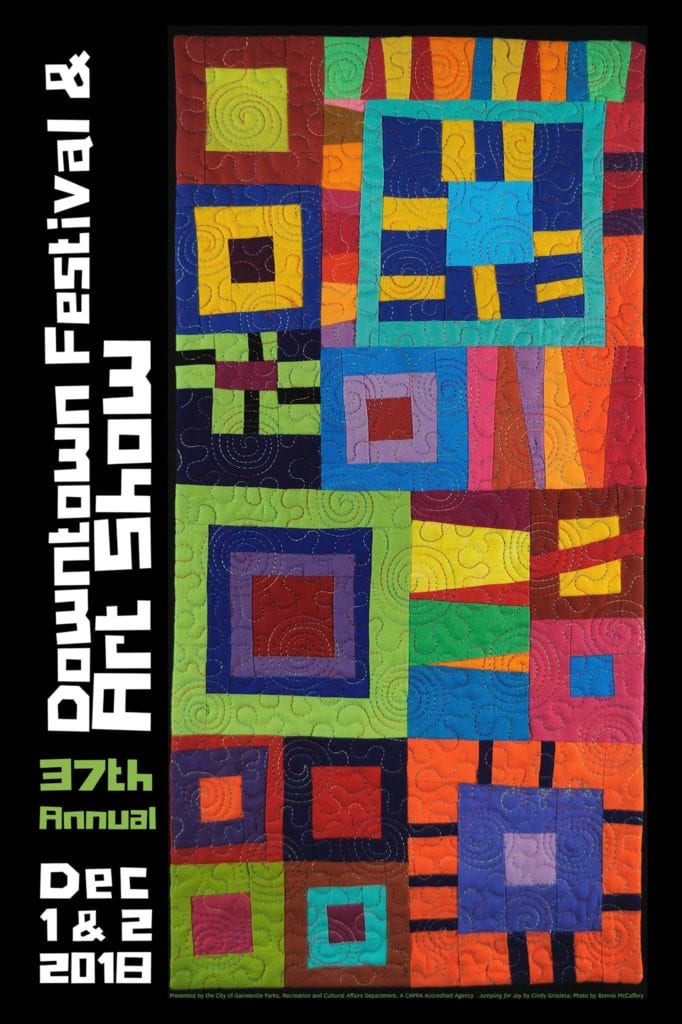 I had two articles published in Quilting Arts magazine–"Secrets of the Art Show Circuit" in January and "Contemporary Log Cabin Blocks" in April. And two of my segments appeared on Quilting Arts TV this year! The third one–on the Art Show Circuit–will air in 2019. And Confetti was published in the Improv issue of Curated Quilts in the fall. My work was also featured on the blog "The Art of Improv" last week–the link is here.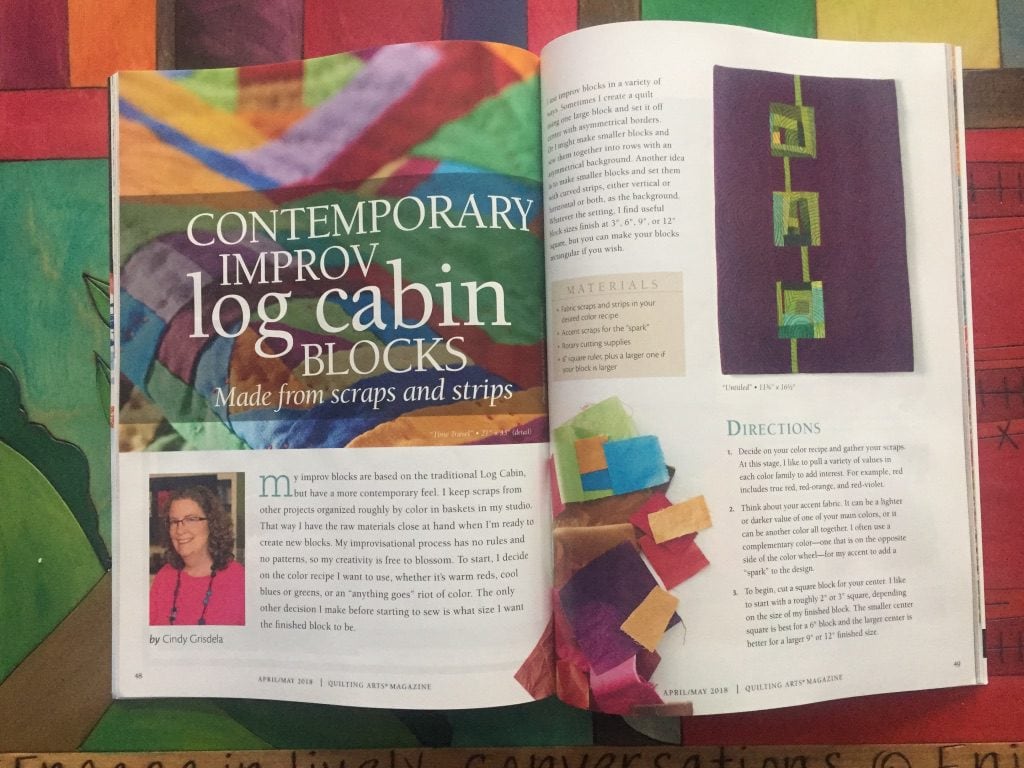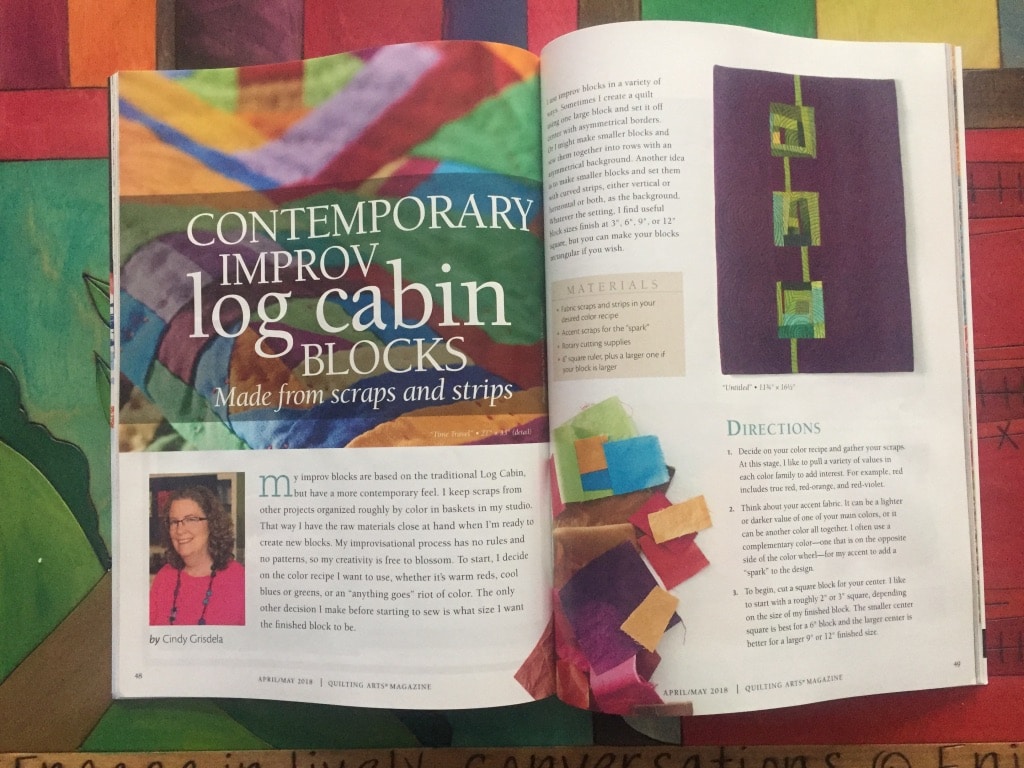 There was lots of travel for teaching this year–from Road to California in January to the International Quilt Festival in Houston in November, plus trips to Albuquerque, Philadelphia, Virginia Beach, and Minneapolis. I love to teach and see my students blossom before my eyes! If you're interested in having me visit your guild or group, I've just updated my workshops and lectures on the website here. There are a few dates left in 2019, and I'm taking bookings for 2020.
One thing I'm really proud about this year is finishing six quilts that were 45″ square or larger. That was one of my goals for 2018–to work larger and make a bigger statement with my work. You can see some of them on the Portfolio page on the website here.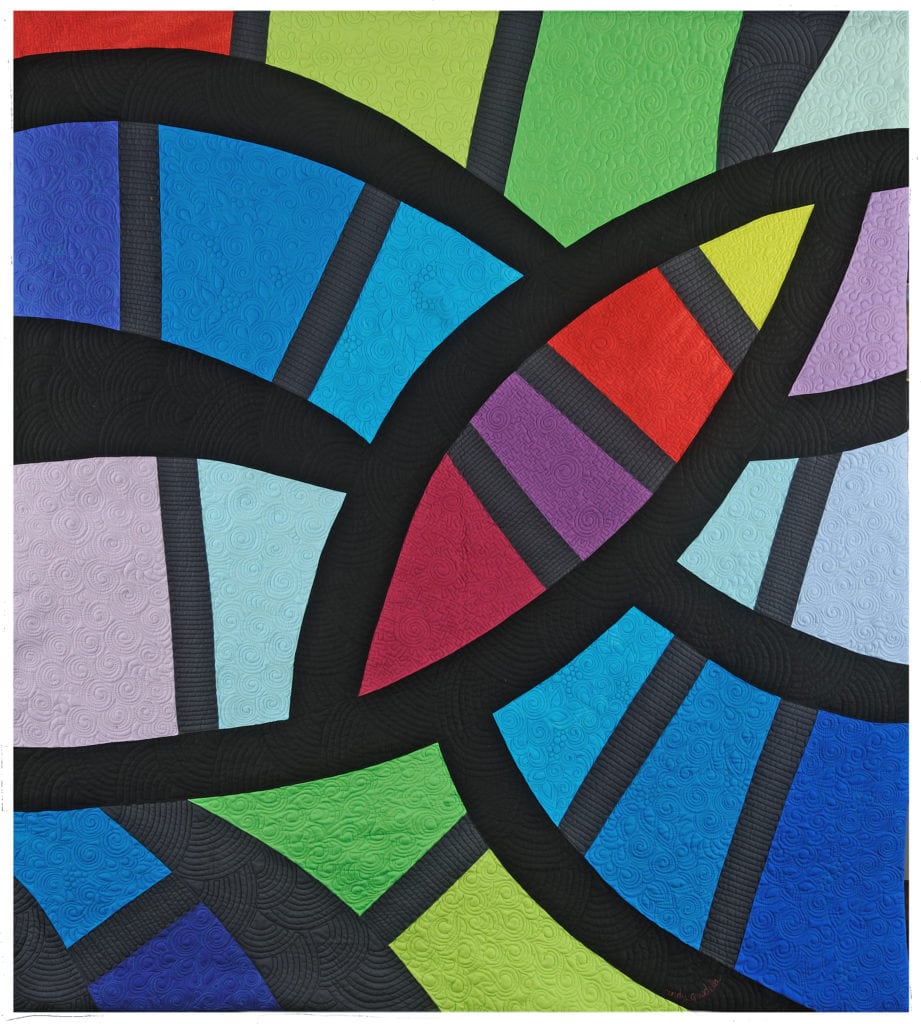 Some of these pieces were accepted into various shows and exhibits and traveled around the country on their own without me. Butterfly Wings below won a third place ribbon in the Quilting – Abstract category at the Quilt & Fiber Arts Festival in Washington state in October.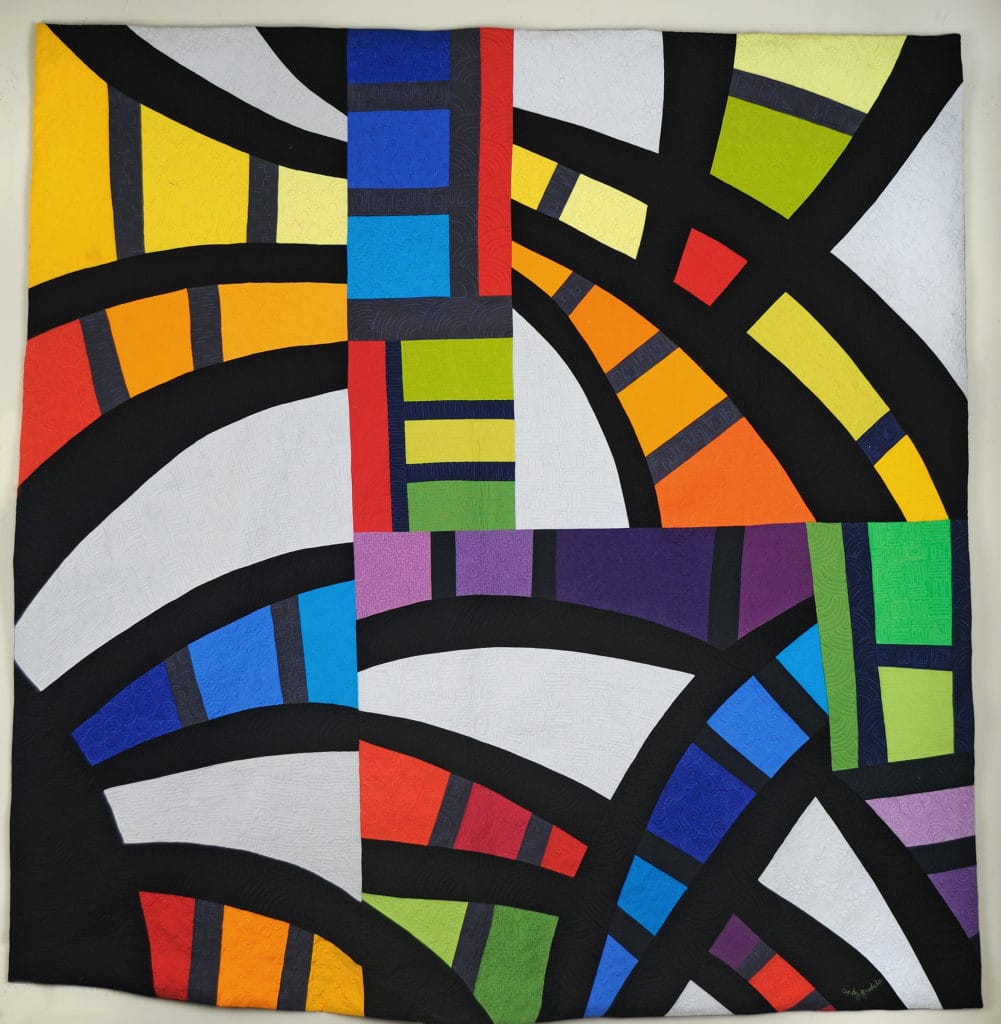 A non-quilting highlight was our trip to Iceland for my milestone birthday in September! It was an amazing place with spectacular colors and wonderful textures–lots of geology happening there. I'm working on a post about the textures and how they might inspire some new work, but below is one of my favorite images from the trip–we just happened to be there at the right time.
I cut back on doing art fairs in 2018 to make room for some other things, but I did have fun at the Baltimore Craft Show, the Craft+Design Show in Richmond, VA, the Rittenhouse Square Fine Craft Show in Philadelphia, and the Downtown Art Festival in Gainesville, Fl. I hope to do a few shows in 2019, but will likely keep to a reduced schedule for another year or so.
On my list for 2019 is a goal of at least five more large wall hangings–I have some ideas that I want to explore. And I want to enter these larger pieces into more exhibit shows. I had quilts in six exhibits in 2018 after several years of not entering those types of contests. When I was doing more art fairs, I couldn't send many pieces out to exhibits on their own, but now that's more of an option. And of course I'm looking forward to some new teaching opportunities coming up–my current schedule is here.
What are your goals for 2019? Thank you for reading to the end and I wish you all a happy, healthy, creative new year!