This large scale piece has been up on my design wall for the last several months, patiently waiting its turn to be completed. Part of the problem was a busy travel schedule in the last months of 2018, and part of it was uncertainty about how to proceed. It's been through several variations already.
This was the black and white study I started with.
I laid out the black arcs first and then filled in the colors separately. I liked the idea of a cobalt and black color recipe based on a couple of quilts I've seen recently that used that combination. But those colors are dark together.
The construction was tricky and I wasn't sure about how the colors work together. I needed to either scrap it or go forward. I posted an image of the work in progress on social media and indicated I was struggling with it.
This is the earlier version of the image I posted.
I couldn't seem to put my finger on what was wrong with it, but it just seemed off somehow.
My online friends were generous with their comments about it. One suggested that I call it "Picasso's Cheshire Cat," because of the large swoop of light area in the center moving up to the left, which does look a little bit like a smile. An even earlier version was much darker, and I had added the lighter tones to help add movement to the composition.
It was helpful to get other eyes on the composition, because it's often too easy for me to get stuck on elements that I really like. Sometimes you have to sacrifice the "darlings" to make the composition better, one of my friends reminded me.
The suggestion that really helped me move forward on this piece, though, came from Lois, who took the time to print out the image, cut off the left third of it, and turn it upside down before adding it back. Thanks Lois!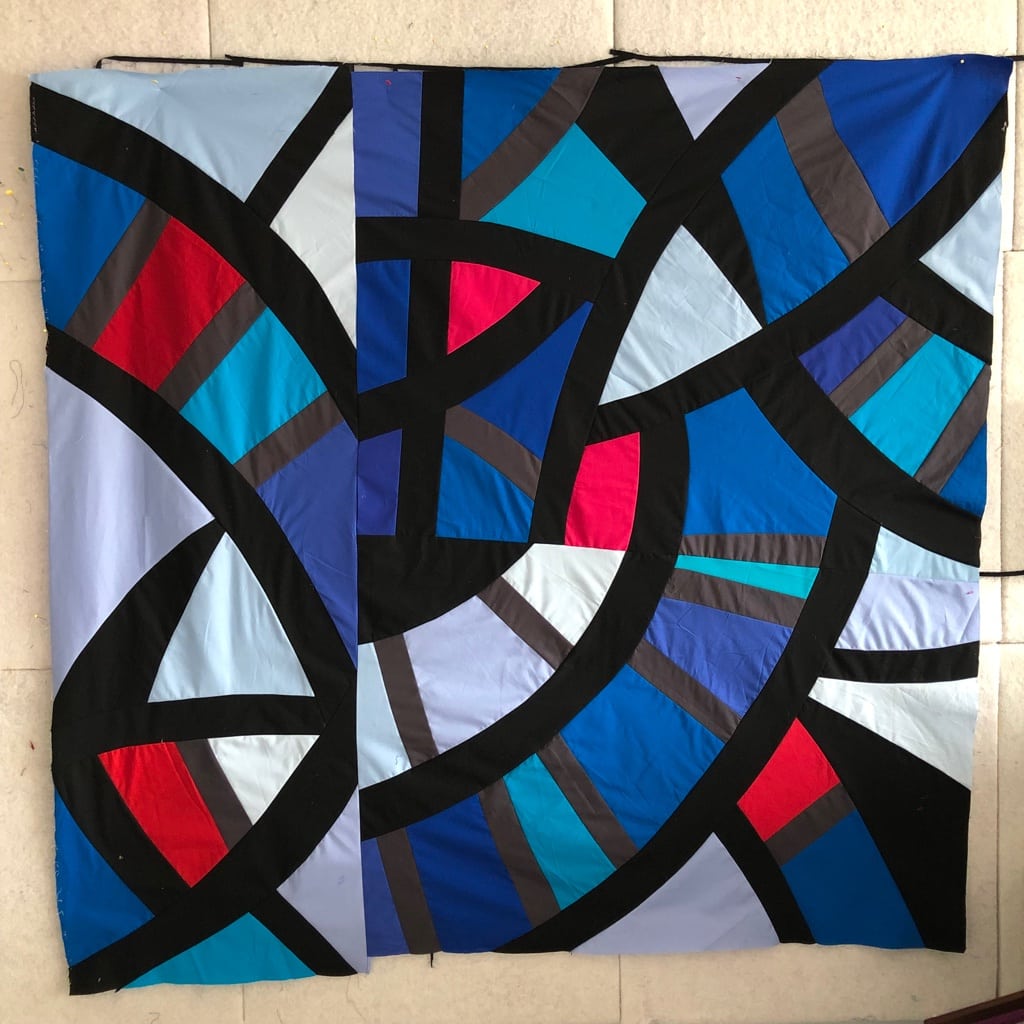 I think this version is more interesting and I'm happier with it. It's a wild composition still and I don't know if it will ever be my favorite, but I'm glad I kept at it.
I've moved on to quilting it. It doesn't have a name yet–I do like "Picasso's Cheshire Cat" though! Maybe "Fractured"?
I can't thank my online friends enough for their kind and generous input on this piece–all the mistakes are mine!