2019 was a big year for me. I gave lectures and taught classes all over the country, including my first international classes in Toronto in April; my Artful Improv book sold out of its first printing; I got work into several prestigious shows; and I signed a contract to teach at the National Quilting Museum in Paducah, KY in May 2020 and one to teach on a quilting cruise to Alaska in 2021.
One of the most exciting things was Confetti winning a Best Use of Color award at the MidAtlantic Quilt Festival in February. It was a wonderful surprise–the MidAtlantic was the first national quilt show I ever attended in the 1990's and it was the first show that I had a quilt juried in to hang. In more good news, Confetti was also juried into the International Quilt Festival in Houston in November and into Art Quilt Elements 2020 in Wayne, PA.
I had a goal to finish five large scale wall quilts in 2019, and I was only able to get three done. One was Abstract Akimbo, below. You can read my blog post about that one here.
It's a good goal, and I'll try again in 2020. One of the priorities I have for myself is to enter my more of my work in both art exhibits and quilt exhibits, and I have to have dynamic large pieces to do that. Plus it's a challenge I enjoy! In addition to Confetti going to Art Quilt Elements in March, Kaleidoscope was juried into QuiltCon in February.
2019 was a busy year for teaching and lecturing–I traveled to Arizona, Florida, Toronto, California, New York, North Carolina, Texas, and lots of places in between. My classes are fun events designed to inspire students to use my improvisational techniques to create their own original quilts. There's no way to make a mistake in my class, and that's a very freeing thought! I enjoy the fact that in most of my classes each quilt is different from the others and different from my work as well, as students bring their own design ideas to their work with me as a guide.
Above is a collage from a class I taught at Capital Quilters in Raleigh, NC, and below is one from a class at Westside Quilters in Los Angeles, CA. You can read about them here and here. 
I love teaching and sharing my love of quilts with my students. You can see my 2020 teaching schedule on the website here–maybe I'll be coming to a town near you! As you can see, 2020 is pretty full, but I'm scheduling for 2021 if you're interested in having me come visit your guild or group. Email me at [email protected]
My newest class is based on a traditional log cabin, but with an Improv spin. It's a unit based class where we make blocks in various sizes and put them together like a puzzle to create an original dynamic design. I've been calling it Improv Puzzle, because I think puzzles are fun. Under the Big Top, below is one of these that I finished in 2019. You can see a full list of my available workshops and lectures on the website here.
Again this year I treated myself to a two-week workshop with Nancy Crow at the Crow Barn in Ohio. These are intensive, graduate level explorations of color, line, and shape that have changed my life as an artist. I wrote about this year's experience here. 
Another fun thing that happened this year was a commission to create a large wall quilt for a health care space. An art consultant contacted me in the summer to inquire about the availability of one of my pieces for sale, and when I explained that it had already been sold, they commissioned me to create another similar piece in a larger format for their client.
This one ended up being about 36″ w x 60″ high and I enjoyed creating some new textures with freemotion stitching.
Also this year my work was profiled on the Artsy Shark website as Contemporary Textural Quilts–I like that description!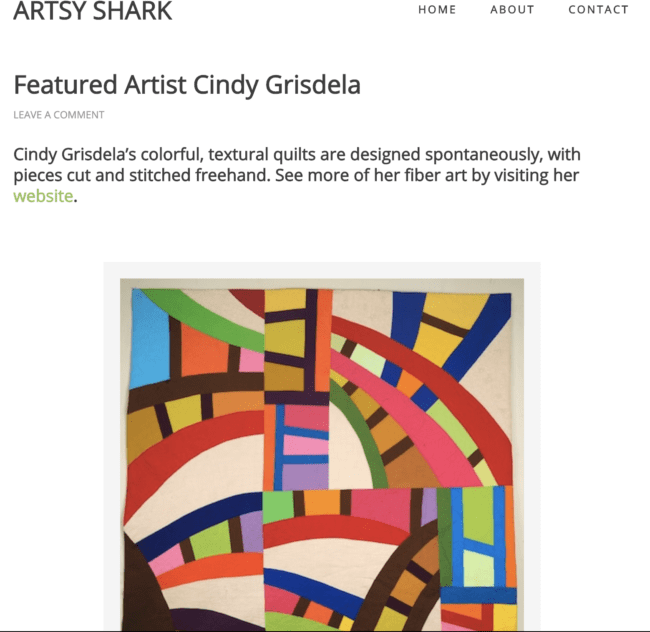 And last but not least, the Alaska Quilting Cruise in 2021! Called Dreaming of Alaska, the cruise is August 14-21, 2021, departing from and returning to Seattle. I wrote about it here, or click on the link to go directly to the website. I'm working on creating an entirely new large project for this workshop–one that won't be taught anywhere else before the cruise.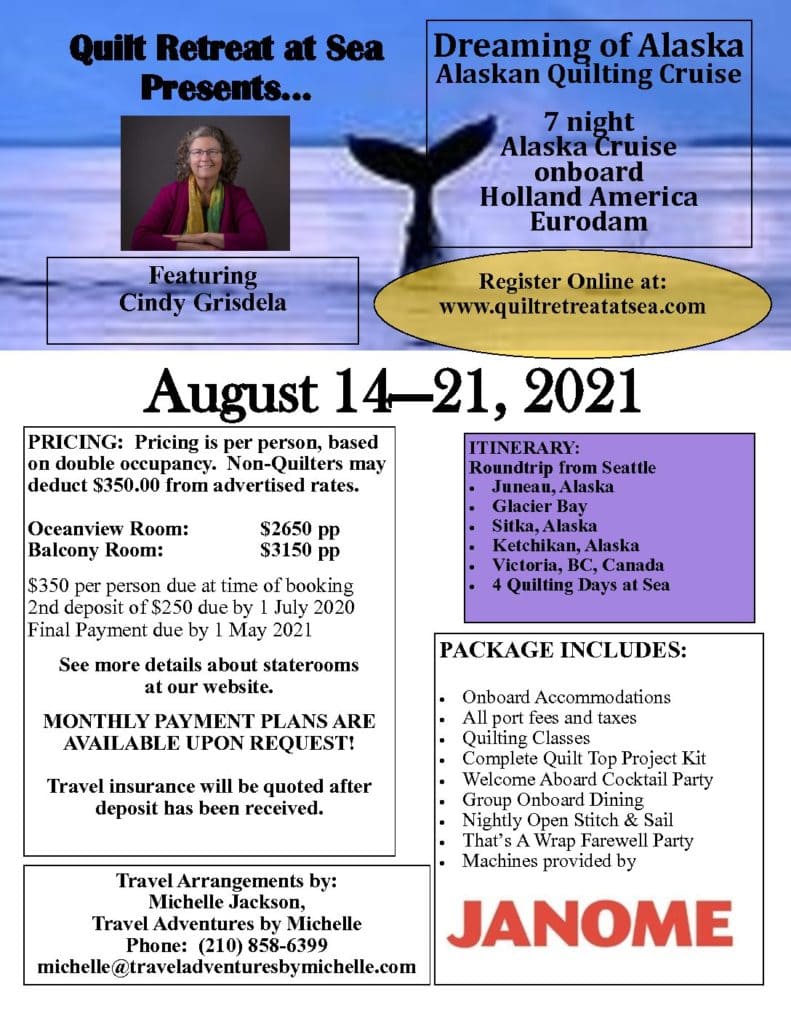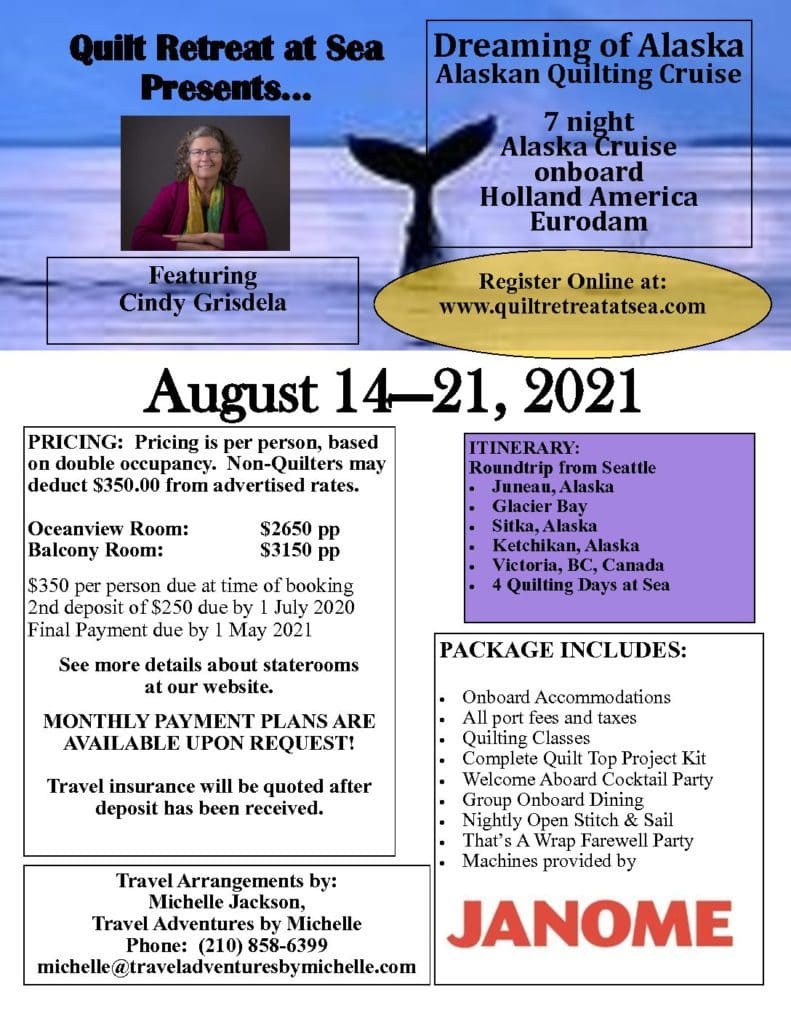 Thank you for reading all the way to the end of this rather long post. Artful Improv will be back in stock on January 15, my publisher tells me, and there are still a few copies left on Amazon.
I wish for each of you a happy, healthy 2020 and I hope that you find love, laughter, and art in your life!