I'm just back from a great weekend at QuiltCon 2020 in Austin, TX. I'd never been to Austin, but I'd heard great things about it, and it didn't disappoint!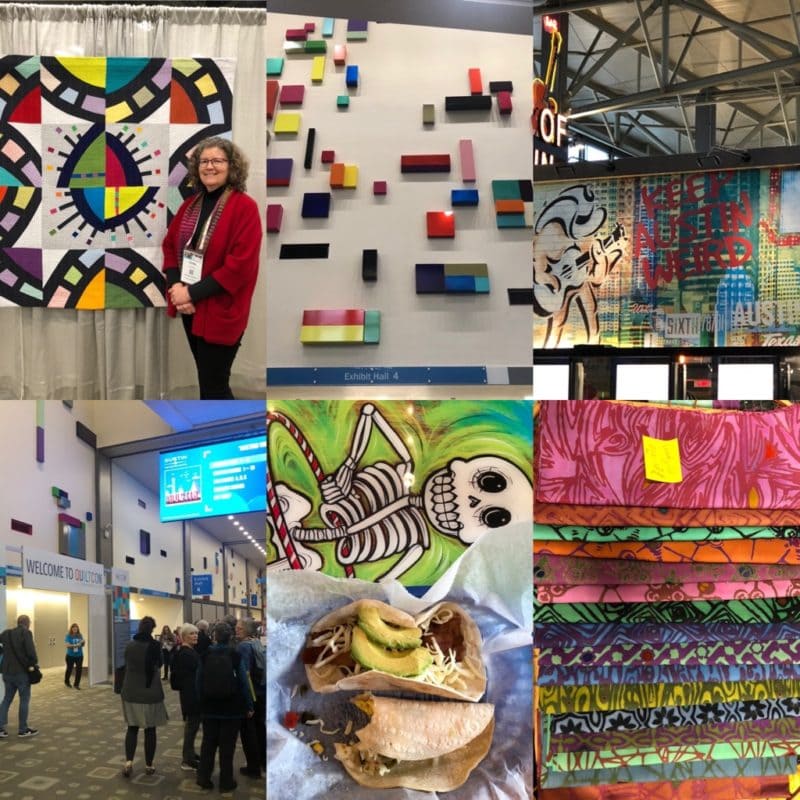 You can eat yummy tacos for breakfast, lunch, and dinner there–which I did and it was great fun. There was amazing energy in the convention center from the quilts on display and the people flocking to see them. Besides the quilts, one of the best things about this show is meeting people in person that I only knew online, and reconnecting with old friends. I wasn't very good at getting photos with people this time, but it was a blast!
QuiltCon is an annual convention organized by the Modern Quilt Guild featuring a juried show, vendors, classes and lectures. I was thrilled to have a piece in the show this time. Kaleidoscope was juried into the Improv category, and it was wonderful to see it hanging there alongside the work of so many artists I admire.
This is my third QuiltCon, and every year the quality of the quilts in the show gets better and better. Here are a few of my favorites, in no particular order.
My friend Marla Varner won a nice big ribbon for Quilting Excellence for her quilt, For the Love of Squircles, and I'm so happy for her! It's entirely hand quilted and the colors are just fantastic.
I follow Annie Hudnut on Instagram and have really enjoyed seeing her progress along her quilting journey. I love the energy of this piece she calls Jazz Riffs. We were able to meet at the show one day and had a nice chat.
I had seen this piece by Steph Skardal on Instagram and it was great to be able to see it up close–the curves, the colors, the wonky design. I love curves and it's always fun to see how other people do them.
I'm not normally drawn to applique, but this whimsical piece by Kristin Shields really caught my eye.
And I wasn't familiar with Sophie Zaugg's work, but this piece was spectacular. The judges apparently thought so too, since it won a ribbon in the Negative Space category. I had a chance to meet Sophie briefly and I look forward to following her work.
I particularly enjoyed the display of Amish quilts from the original Espirit collection in the show. Amish quilts have been a huge influence on my work since I started quilting–the color, the design, the graphic quality of the solid fabric aesthetic really resonated with me, and I think it's important for younger quilters to see where many of the ideas we are exploring today originated.
I could keep going–there were so many fantastic quilts in the show, but this is already turning into a long post. I bought a lecture pass this year instead of trying to take any classes, and that turned out to be a good decision. I went to some really interesting talks on color, design, and critique, plus a wonderful talk on quilting myths by Mary Fons that was inspiring and thought provoking.
And I did come home with some fabric–look at these yummy batiks from Turtle Hand Batiks! I can't wait to pair them with some solids and make something colorful.
QuiltCon is in Atlanta, GA next year!