I'm pleased to be part of a wonderful lineup of teachers at the Vermont Quilt Festival's [email protected] virtual festival in June!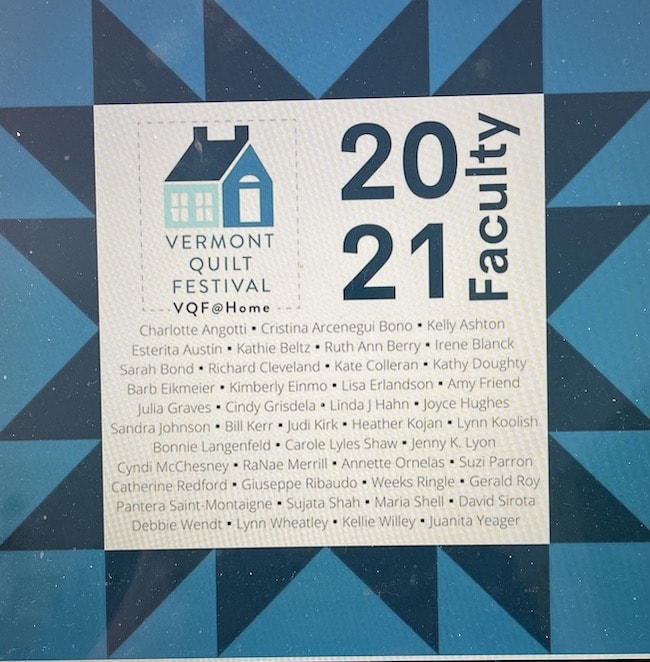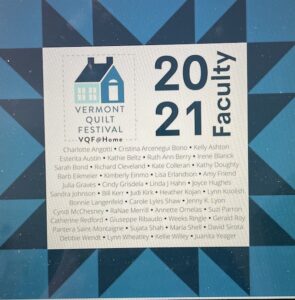 I'll be teaching two four hour classes and giving two lectures during the event–the classes are Fearless Curved Piecing and Mini Improv Puzzle, and the lectures are Playing with Colors and Anatomy of an Improv Quilt.
Friday, June 18, 2021 from 1 – 5 PM ET – Fearless Curved Piecing class
In this class, we'll learn how to create Improv Curves with no patterns and no templates, cutting the curves freehand in a variety of ways. Even if you've never attempted curved piecing before, this method will have you feeling confident in no time! Use solids, prints, or a combination of the two–it's completely up to you.
Monday, June 21, 2021 from 1 – 5 PM ET – Mini Improv Puzzle class
Create a variety of Improv Log Cabin blocks and set them together like a puzzle into an original design. You can include Angled Stripes and negative space if you want to. Make a quilt like mine, or design your own! Use solids, prints or a combination of the two.
Wednesday June 23, 2021 from Noon – 1 PM ET – Anatomy of an Improv Quilt lecture
Have you ever wondered how to create an Improv quilt without a pattern? Where do you start? How do you know when it's finished? Get the answers in this entertaining lecture plus tips and tricks about the process of working improvisationally from start to finish.
Sunday June 27, 2021 from Noon – 1 PM ET – Playing with Colors lecture
Curious about how to choose color effectively for your quilts? This fun lecture will give you ideas to try whether you are a traditional or modern quilter.
You can go to https://www.vqf.org/home/ and click on the "Classes" tab to get more information and to register. To get to my classes, type "Cindy Grisdela" in the Instructor dropdown and you'll be taken to a page with descriptions and pictures.
It's going to be fun–I hope you can join us!
May 24, 2021
|
Comments Off

on Teaching at the Vermont Quilt Festival Virtual Show in June
|
Uncategorized