I'm pleased to announce a new solo show at the art department gallery at the Northern Virginia Community College in Alexandria, VA. Called "FiberWorks," the show will run through December 18, 2022 and features a selection of my large wall hangings, as well as smaller pieces mounted on painted black canvas.
Hours are 8 AM – 7 PM Monday through Friday, closed on the weekends. The address is 3301 Netherton Dr., Alexandria, VA if you're in the area.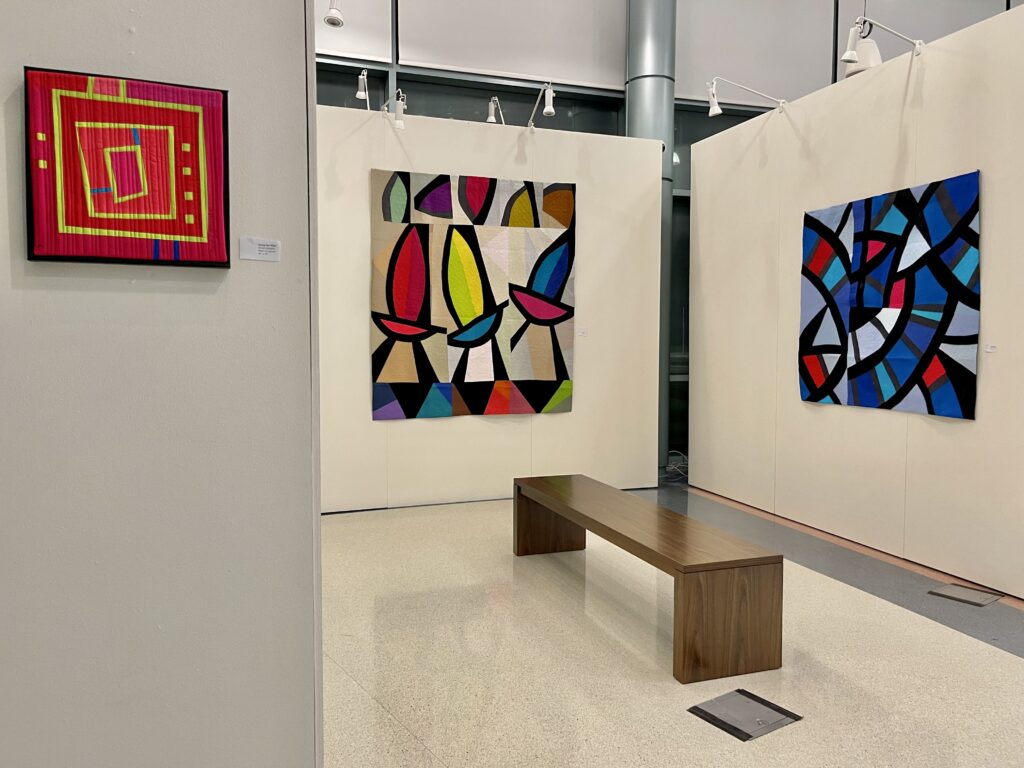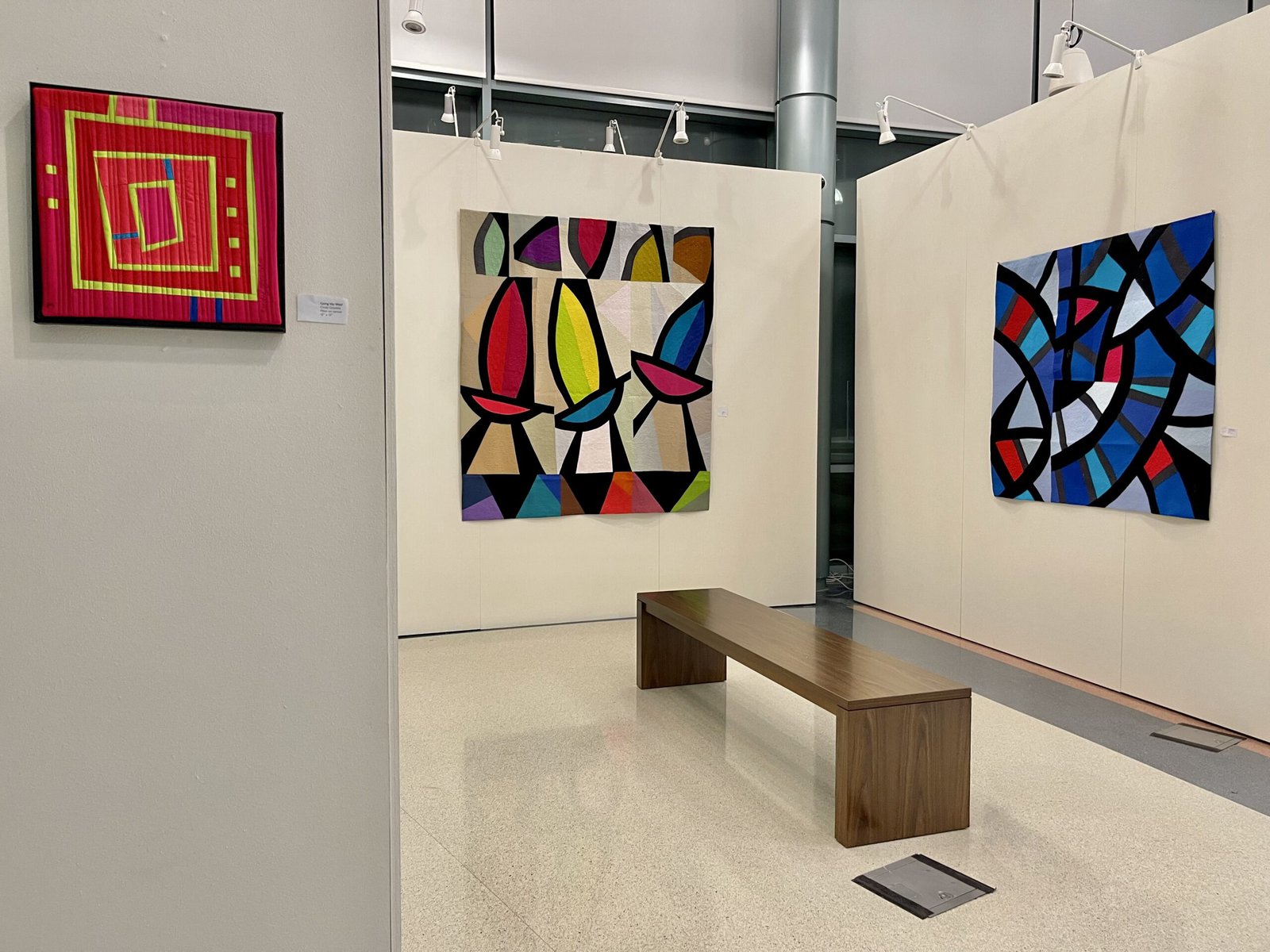 The pieces range in size from 3 Friends on the back wall in the photo above at 67″ x 80″ to 12″ squares like Going My Way on the front wall above.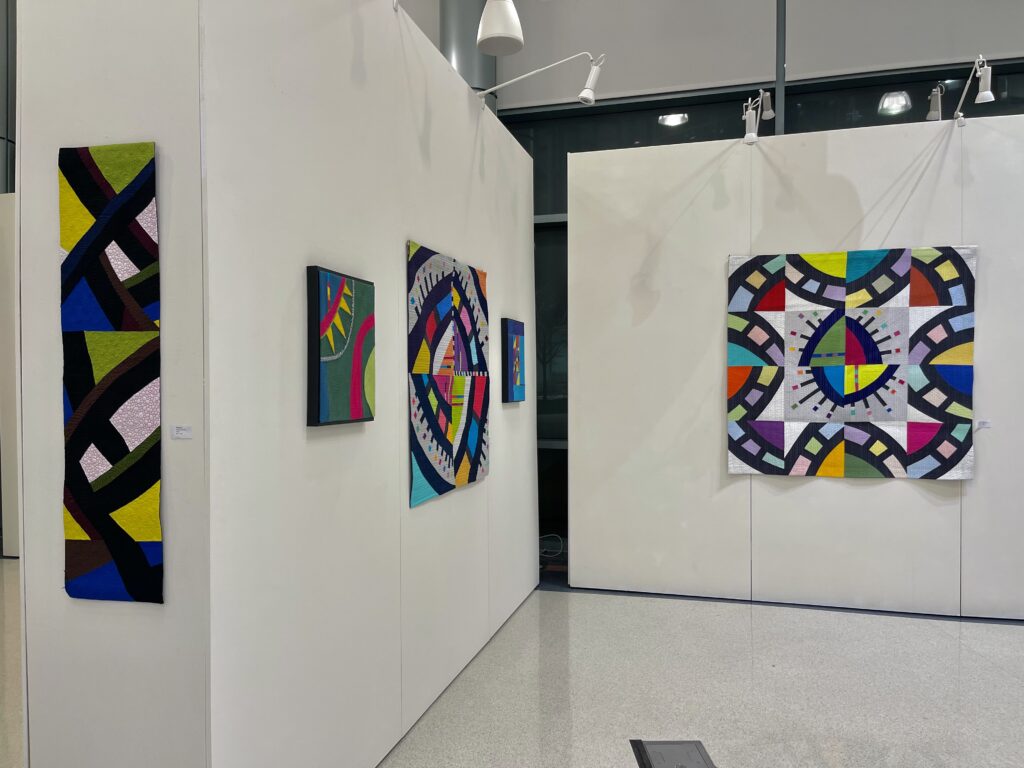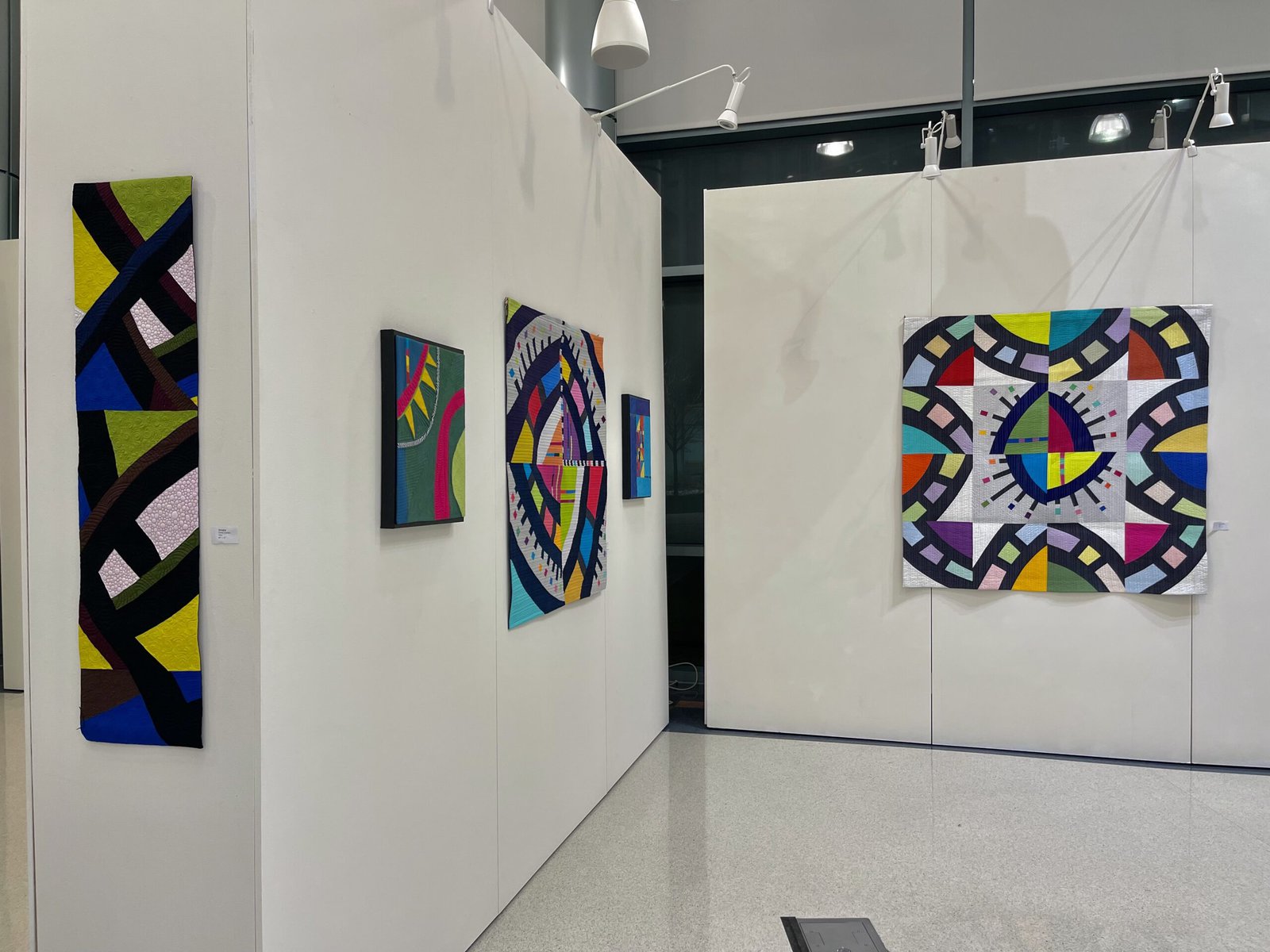 Kaleidoscope on the back wall above is 57″ square and Emerging in the foreground is 12″ x 48″ and fits nicely in a small space.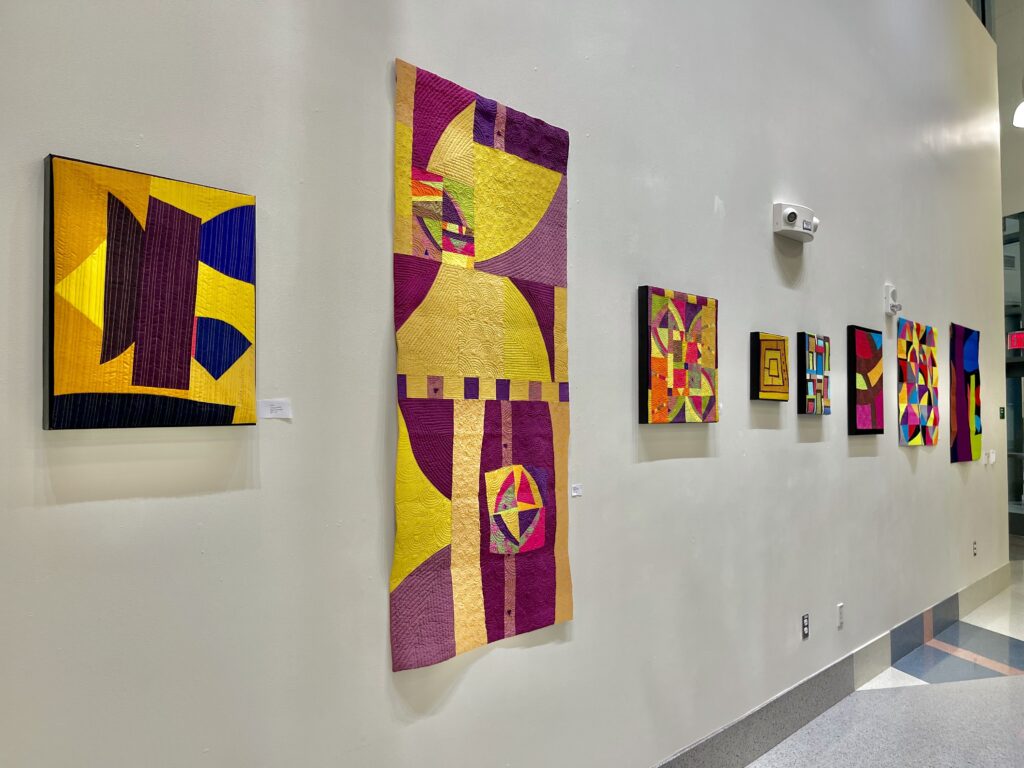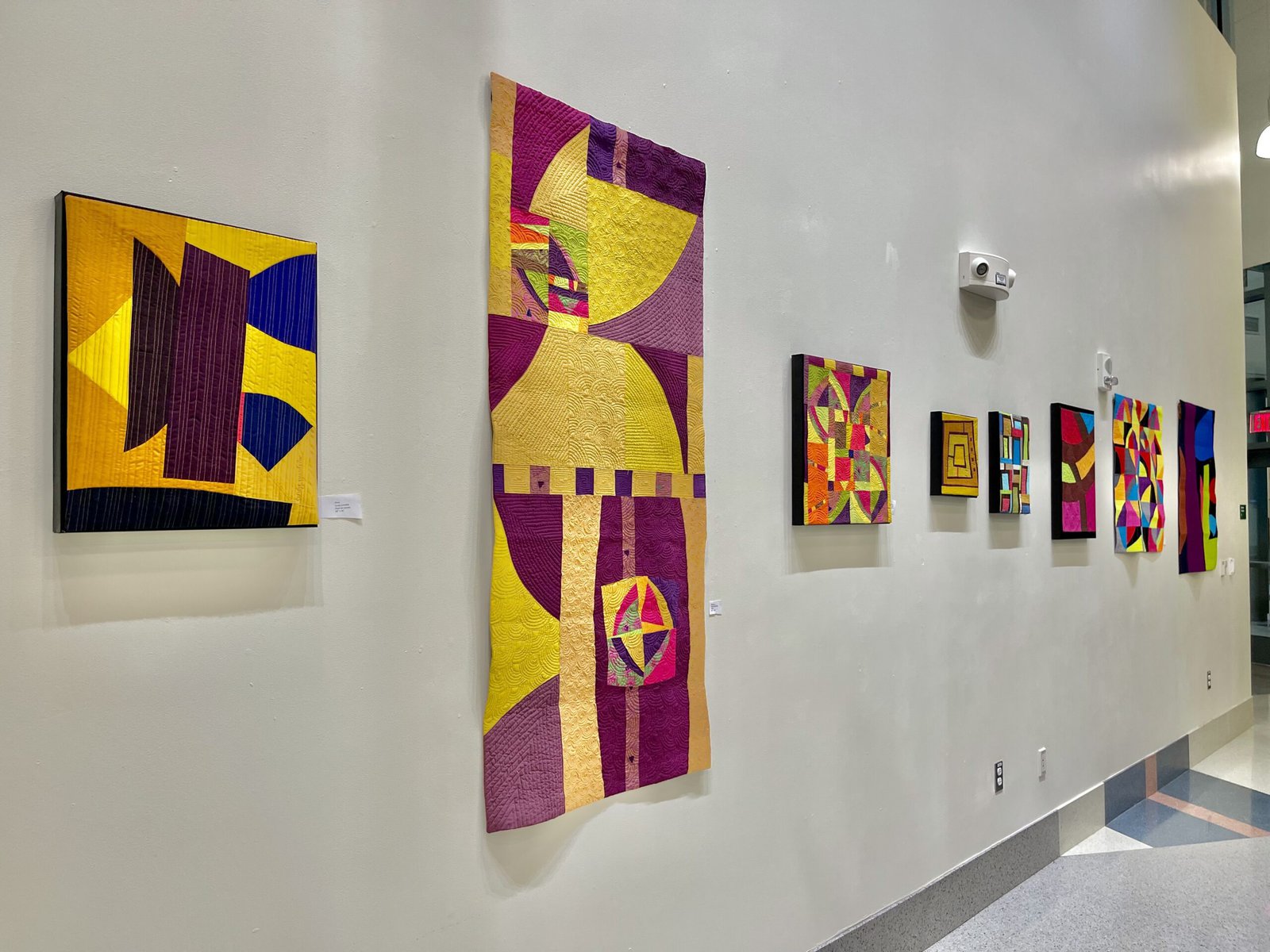 This wall features a new rectangular piece called Blooms in the center left, as well as some of the smaller works on painted black canvas. I like to mount the smaller pieces so they have more presence for the wall and are easier to hang—just like a painting.
One thing I'd like to convey with these pieces is that my art is concerned with color, line and shape, just like any other art who works in paint or another two dimensional medium. My medium is fabric and thread, and there's a reason I choose to create that way. The opportunity to add texture and dimension to my compositions with stitching lines is unique to textile art, and it's that tactile component that drew me to the medium and keeps me excited about going into the studio each day.
I do all my own stitching–sometimes with freehand motifs and sometimes with straight or wavy lines, depending on what the composition seems to need. There's no computer program that does that part for me and I enjoy feeling the texture coming to life under my fingers as I stitch.
I think of these pieces as textile paintings–I'm drawing with fabric and thread to create my own artistic statement.
Below is a detail of Fractured Time that shows the stitching.