I'm pleased to have two pieces in the 34th Biennial Creative Crafts Council exhibit at the Strathmore Mansion in Bethesda, MD. The show runs through July 29, 2023 and includes a variety of media from ceramics to woodturning, metal to fiber.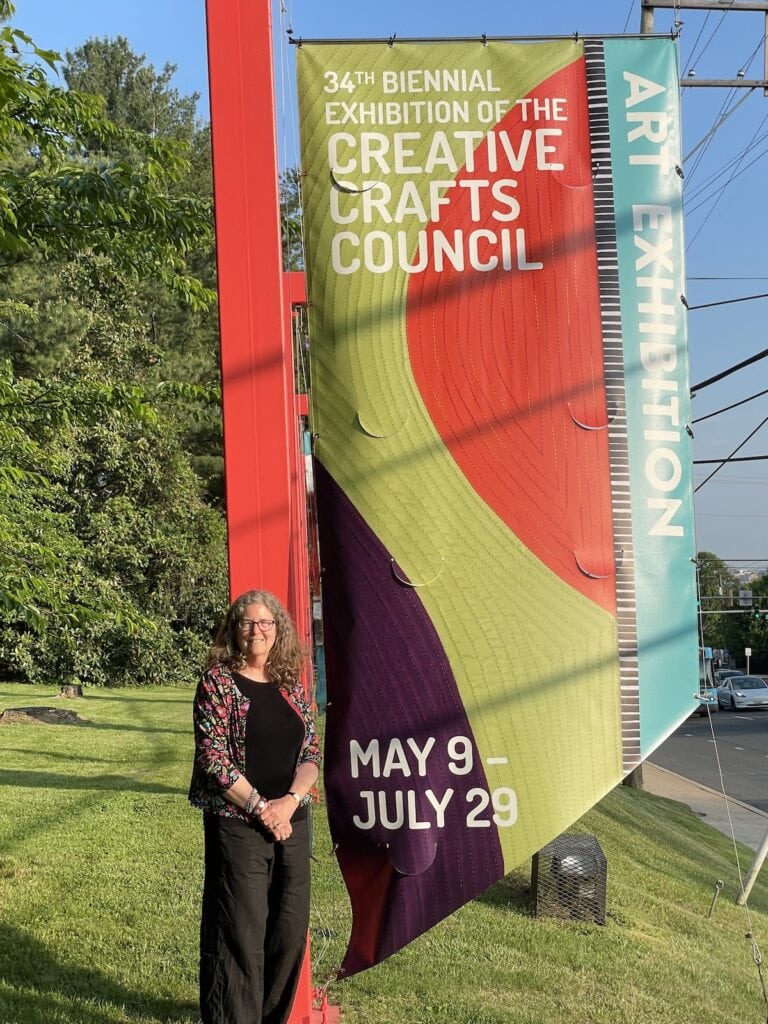 When I drove up to the exhibit venue last night for the opening ceremony, I had to do a double-take. There was my Unfurling quilt on an enormous banner advertising the exhibit at the entrance!
It was a lovely evening and the exhibit is beautifully displayed on two floors inside the Mansion, which was a private residence at the beginning of the twentieth century. Hours to see the show are Tuesday – Friday 12 – 4 PM, Saturday 10 AM – 3 PM, CLOSED Sunday and Monday.
My two pieces in the exhibit are Unfurling and Balance. Both are part of a new series I've been working on exploring the tension between large shapes and the negative space around them, enhanced by echoing stitching lines that form new secondary textural shapes. You can read about the process at https://cindygrisdela.com/2022/05/02/working-on-a-new-series/
Both of these pieces are relatively small–Unfurling is 16″ x 20″ and Balance is 20″ x 20″–mounted on painted black canvas. They were the first two pieces in the series, and I was exploring the relationships between the shapes in a smaller format before tackling larger pieces. There are four pieces in the series now, and the other two are much larger–40″ x 50″ or so. One was accepted to Quilt National, which opens at the end of May, and the other will travel with the Studio Art Quilt Associates Minimalism exhibit that opens in France in September.
I can't wait to start a new one!