How did it get to be almost June already?
The last couple of months have flown by with exciting teaching and exhibit opportunities. I didn't have time to post regularly, except on Instagram, so I thought I would recap the highlights here.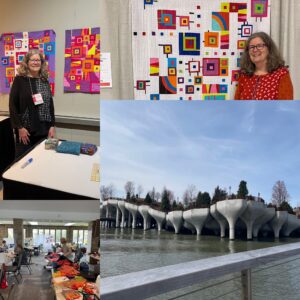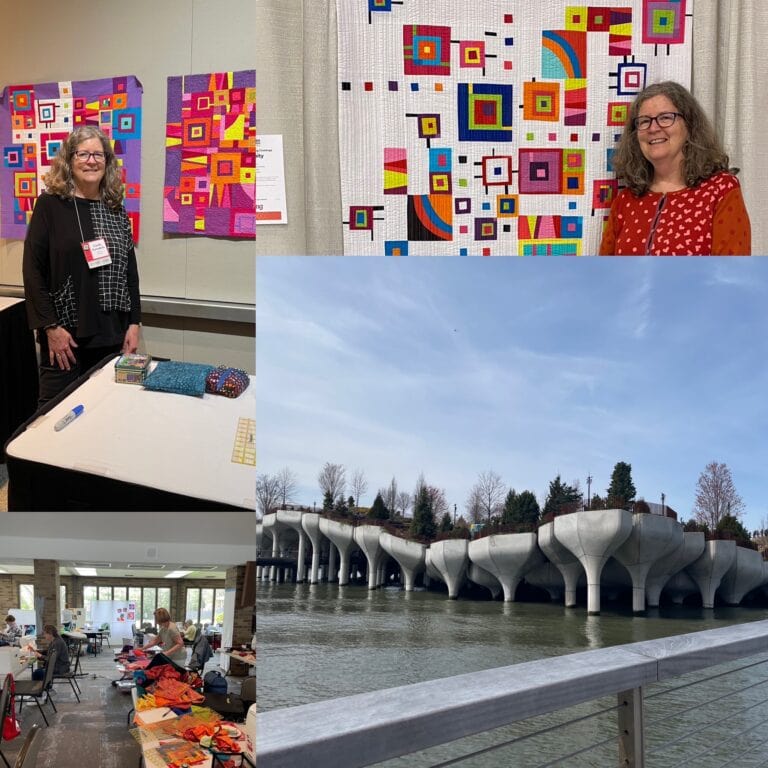 At the end of February, I taught three classes at the Mid-Atlantic Quilt Festival (MAQF) in Hampton, VA–Fearless Curves, Improv Puzzle, and Fabulous Freehand Curves. I had full classes, engaged students, and we all had a blast!
QuiltCon 2023 was the same weekend as the MidAtlantic Quilt Festival this year. But MAQF ended on Saturday and QuiltCon was in Atlanta and ended on Sunday, so I drove home to Reston Saturday night, got up early Sunday morning and flew to Atlanta for the last day of QuiltCon. It was a bit of a flail, but I was really glad I did it–I saw lots of friends there, it wasn't too crowded on the last day, and I got to visit my Serendipity quilt, which hung in the show this year. Many thanks to my friend Heather Pregger for the photo.
After QuiltCon, I was home for a few weeks, then I traveled to Jacksonville, FL for a workshop with the Jacksonville Modern Quilt Guild. I grew up in Florida, and my brothers both live there, so it was nice to combine teaching with the opportunity to see my family.
They had a great time with my Fabulous Freehand Curves class and made good progress on some nice quilt tops, even those who hadn't tried this type of freehand technique before.
My mom had her 90th birthday the weekend after the workshop, so I was able to stay in Florida and enjoy an extended visit. The whole family got together to celebrate–my three siblings, our spouses, eight grandchildren and one great-grandchild–plus cousins! It was a lot of fun.
The weekend after the birthday party, the first weekend in April, my husband and I took an inspiration trip to New York City. It had been a long time since we last visited and there were things I wanted to do and see–like walk the High Line and visit the Guggenheim and the Museum of Modern Art to see the new Georgia O'Keefe exhibit.
It was a beautiful weekend, if a little chilly and breezy. We walked everywhere–about 10 miles a day. The first day we spent completely outside and discovered an unexpected bonus–the Little Island Park, located on the Hudson River at West 13th St. at one entrance to the High Line. I was completely taken with this little handkerchief park! The shapes of the support structures below were intriguing, there were flowers everywhere, and in the summer they have live entertainment. It would be worth a visit to go back for that.
We also walked the High Line, which was fun, and visited the seals in Central Park. The second day we walked to the Guggenheim Museum and saw a really fascinating exhibit of wire sculptures by an artist named Gego, or Gertrude Goldschmidt, who was new to me.
The exhibit was called "Measuring Infinity" and it was a wonderful example of setting parameters for yourself as an artist and then pushing those limits as far as they will go. The sculptures are difficult to photograph, but the way they occupy their space was fascinating. It's on at the museum until September 10, 2023.
Next was the MOMA and the opening of an exhibit of Georgia O'Keefe's works on paper, mostly watercolors. I've been a fan of O'Keefe's since I wrote a paper about her husband, Alfred Stieglitz, and his NYC gallery in the early 1900's as an art history student in college.
These works were interesting for a lot of reasons, but mostly because the gallery showed the way O'Keefe worked in series to get at the heart of her subject–like the "Evening Star" watercolors above, where the lines of the same subject get progressively less defined. It's something I'd like to explore more in my own work. The show is called "To See Takes Time" and it's up through August 12, 2023.
After New York, I flew to New Hampshire to give a lecture and workshop to the Cocheco Quilters in Dover, NH and then spent a night with my son and daughter-in-law in Boston–quick trip, but fun!
At the end of April, I packed my two 50 lb. suitcases and my projector and headed to Paducah, KY for the American Quilters Society show there. I taught 6 classes in 4 days on everything from free motion quilting to Improv Log Cabins.
All but one of the classes was full (Friday night isn't a prime time for taking classes, it turns out), and I didn't have time to take many photos. But the students seemed to enjoy giving Improv a try, even in that mostly traditional environment. And I got to see old friends and meet new ones, so that's always fun!
The last spring trip was to the Chicago area in early May to lecture and teach two workshops for Illinois Quilters Inc. They were a friendly group and excited to give Improv a try. Above are two students discussing the layout of a quilt in the Artful Improv class. It's always a treat to see students embracing the idea of working without a pattern, especially if it's new to them.
I'm teaching and lecturing regionally for the next couple of months, or online, so I don't have to lug my heavy suitcases through the airport again until later in the year!
I did get several new workshop samples finished during the brief times I was at home, including More Happy Days, below. This one is a sample for my Improv Puzzle class and I'm happy with the way it turned out.
My hope is to spend some time this summer working on some new quilts and spending some time outside in the warm weather.
Thanks for reading all the way to the end! What are your quilty plans for the summer?