I'm just back from a fabulous weekend at the opening of Quilt National '23 in Athens, OH. It was such an honor and a privilege to be a part of this show–I'm on cloud 9 and I wanted to share some of the highlights.
My quilt Vessels was juried into the show, along with 80 other amazing pieces.
UPDATE: I made a video about the Vessels piece that's just been uploaded to the Dairy Barn YouTube channel if you'd like to take a peek! Visit https://www.youtube.com/watch?v=cMkteM8OB2g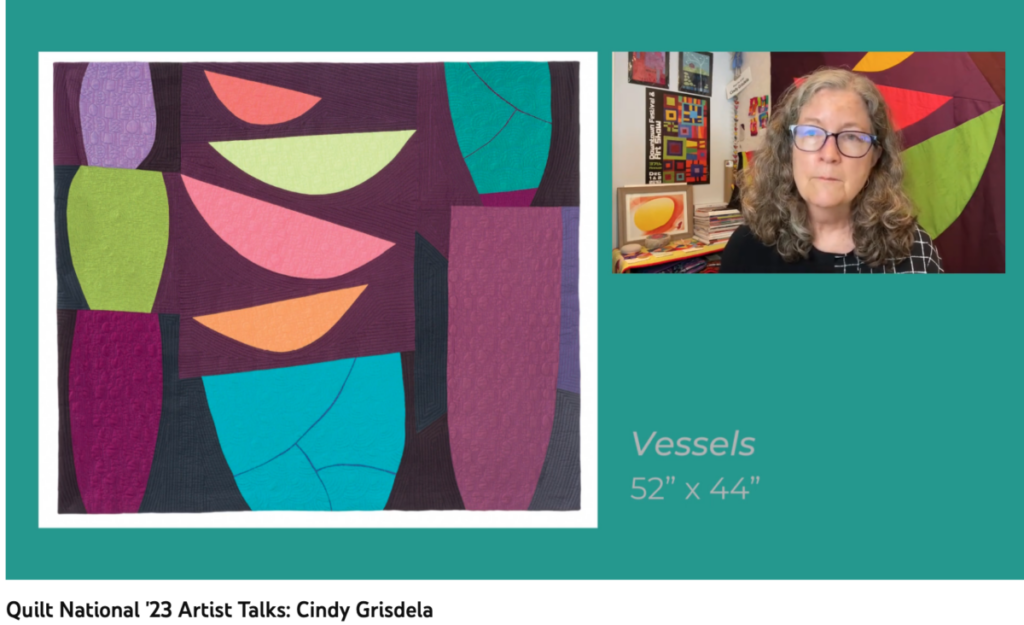 Vessels is part of a new series I've been working on over the last year, exploring large shapes and the interaction between the shapes and the negative space behind them.
Here's a detail showing some of the quilting. I was inspired by a motif by Paula Kovarik in her book At Play in the Garden of Stitch for the colorful shapes, and the background spaces are quilted with lines that echo the shapes and create some interesting secondary designs. I'm excited to finally get to share the details of this quilt–one of the requirements of acceptance into Quilt National is that the quilt has never been shown anywhere else before. I hope to write another post about the making of this piece.
One of the best things about going to the opening–besides seeing the quilts, of course–is seeing old friends and making new ones! There were 81 quilts in the show and of that number, 38 artists were accepted for the first time, including me. Many thanks to Audrey Esarey for sharing this photo of the group of us who where there.
I was thrilled when I walked the show for the first time on Friday to see my quilt hanging next to my good friend Heather Pregger's amazing work, Celebration.
It looks like we pulled from the same box of fabrics! Many thanks to Heather's husband for the photo.
And here's another one of friends, taken by Kelly Spell in the foreground on the right.
The opening reception was Friday, May 26, 2023 with a dinner for artists afterward, then there was an artist only event on Saturday morning where we could walk the show with a smaller group.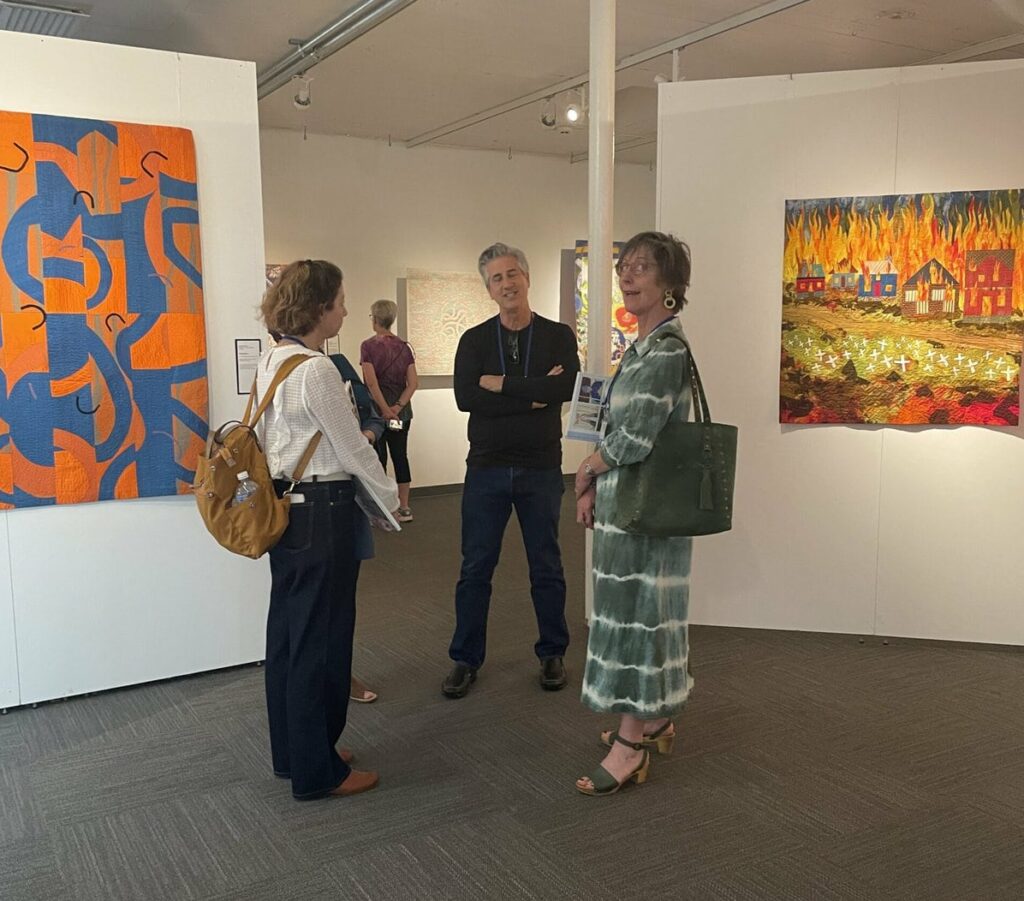 Above are Carolina Oneto, Michael Ross, and Hilde Hoogwaerts.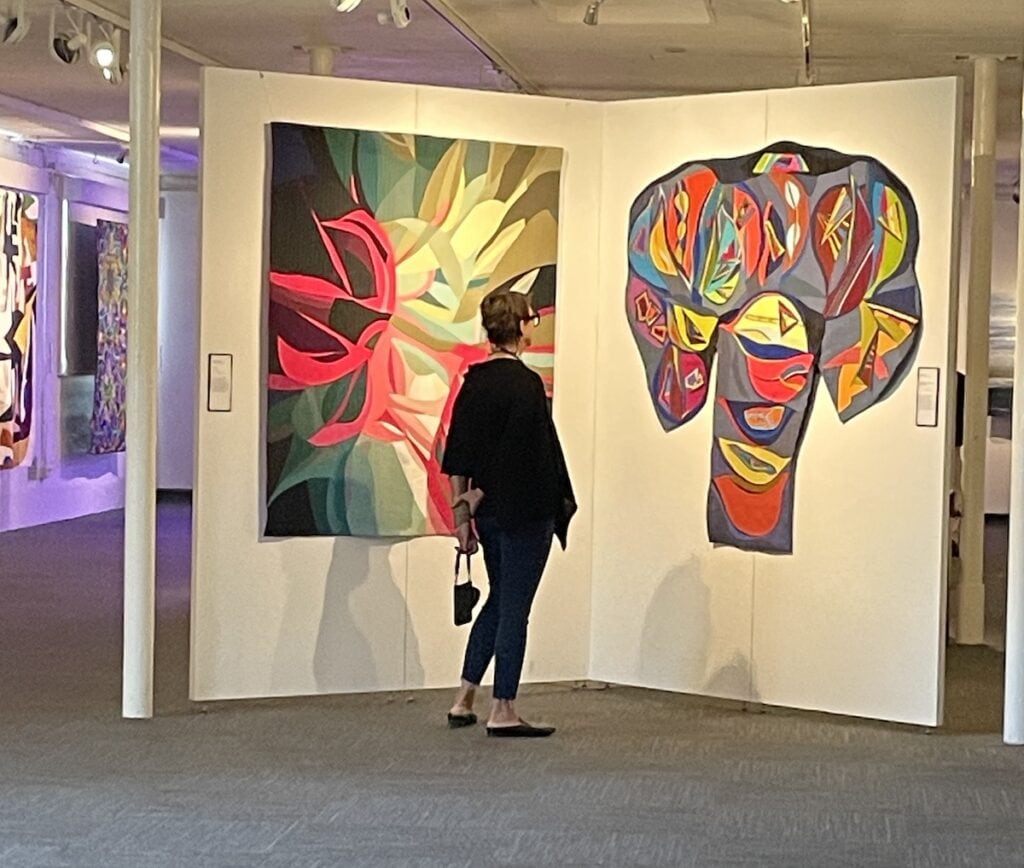 And Jen Broemel taking a closer look at Lifelines, by Emilie Trahan on the left, which won the Best International Artist Award, and My Kimono, The Cup is Always Full by Lynne Lee on the right.
And a few of my favorites with their makers, in no particular order. I didn't take as many photos as I probably should have, but there is a beautiful catalog with photos available.
The jurors had a tough job to take nearly 700 entries down to 81 accepted artists. Above is juror Irene Roderick announcing the Juror's Choice awards. Jurors Carolyn Mazloomi and Chiaki Dosho weren't able to attend, but we are all grateful to the three of them for their dedication to creating a beautiful show!
Mary Mattimoe, above, won Best of Show for her piece Not Enough Time, depicting the images of two coworkers who were killed by a 16 year old. I had written an article featuring Mary in the Studio Art Quilt Associates (SAQA) Journal in 2015 about her use of different materials and techniques in her quilting practice and it was great to meet her and offer congratulations on this honor.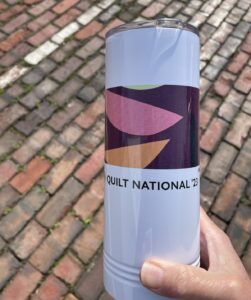 I was surprised to see my quilt featured on a coffee/water bottle in the Dairy Barn gift shop, so of course I had to have one.
The show runs through Labor Day weekend at the Dairy Barn Arts Center in Athens, OH. It's worth a visit if your summer travels take you near there. And some of the quilts will travel to other venues after that–the decision on which ones hasn't been announced yet.
There's a lot of great information about the history of Quilt National on the website at the Dairy Barn if you're interested. The show is held every two years and this is the 23rd exhibit–it started in 1979!