NOTE: This is a non-quilt related post.
We did it!
Last week we visited the last two National Parks in the US–63 in all!
In 1996, my husband Phil and I decided to begin a family quest to visit all the US National Parks. Our kids were 6 and 4 years old at the time. We started with Everglades and Biscayne National Parks in Florida, because my family is in Florida and we could combine the trip with a visit to my parents.
And we finished 27 years later in 2023 at Kobuk Valley and Gates of the Arctic National Parks above the Arctic Circle in Alaska. Phillip finished with us, but Matt opted out a few years ago as a self described "indoor cat," after joining us for over 50 of the parks. Which is perfectly fine.
Kobuk and Gates are two of the least visited parks in the system, because they are so remote. Another is American Samoa, which is located in the Pacific Ocean between Hawaii and Australia. There are a couple of flights from Honolulu to Apia, the capital, each week and you need a passport to visit, even though it's a US territory. We visited there in 2019, after Phillip graduated from medical school in Los Angeles–easier to get there from LA than from DC.
There are two ways to visit Kobuk and Gates of the Arctic–by foot and raft down the rivers connecting them, or by bush plane. We opted for the second option, because we didn't have two weeks to do the rafting trip.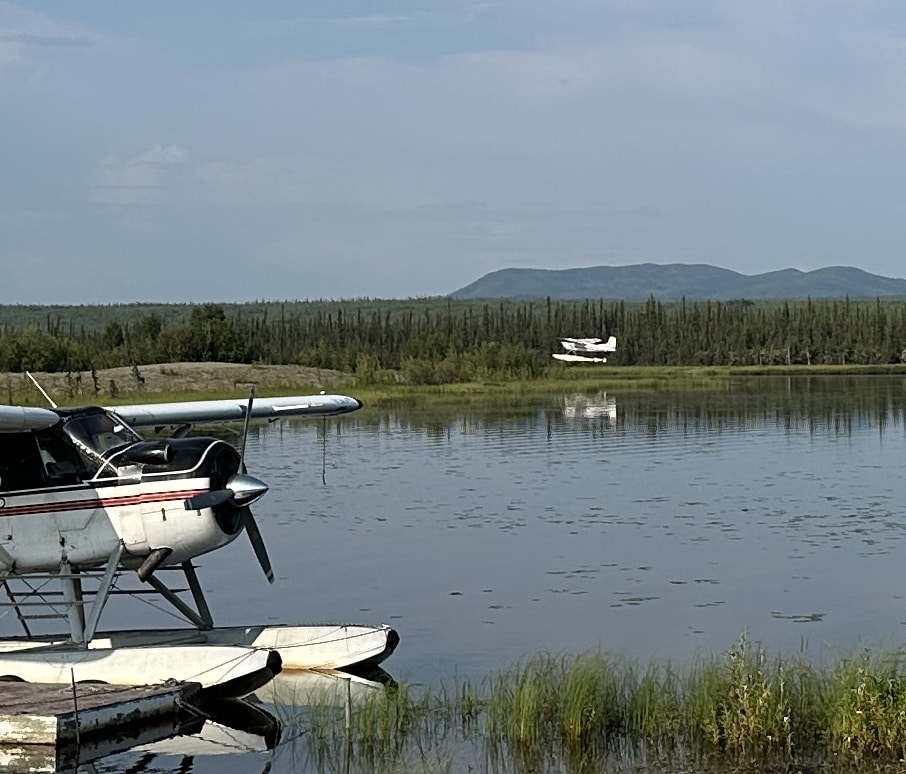 We chartered a float plane that could land on water to take us from Fairbanks, Alaska to the parks. The plane on the left in the photo above is the one we were on–just big enough for the three of us and the pilot. The other one is taking off from the float pond in Bettles, Alaska where we stopped to refuel on the way up and on the way back.
The scenery was varied and beautiful–from braided streams to snow capped mountains, unlikely sand dunes to pristine lakes.
We stopped on the Kobuk river in Kobuk National Park after flying over these amazing sand dunes that appeared seemingly out of nowhere–remnants of the ancient glaciers that once covered the area. And what is there to do there on a short visit, you might ask?
A skipping stones contest! It's unclear if my husband or my son won–depends on who you ask–but I definitely lost.
We landed on Walker Lake in Gates of the Arctic–I was hoping to see loons, which are native to the area, but we didn't come across any, sadly. The photo of the three of us at the beginning of this post is from that stop.
We stayed in a cute Airbnb in Fairbanks and enjoyed a few days of relaxation before flying back to the lower 48.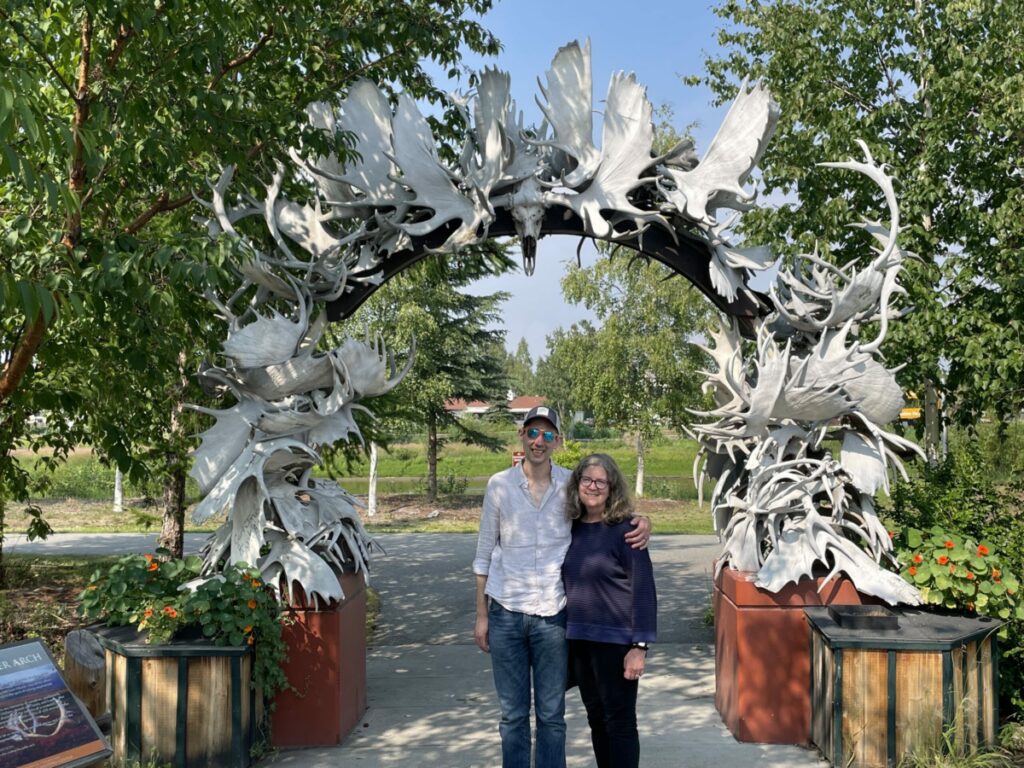 The only quilts I saw were on the sides of buildings in Fairbanks–the flowers were beautiful, even though it was warmer than normal there for this time of year.
This was actually the second time we tried to visit these parks–the first time was two years ago when we planned to see Gates of the Arctic, Kobuk, and Denali. We did get to visit Denali, but the weather at the other two was too bad for the small planes to venture out. I'm grateful that it worked out for us to go back and finish the quest!
My appetite for traveling was started by my dad, who with my mom took the four of us kids, plus the dog sometimes, on camping trips all across the country. When I was about 10 or 11, we drove from Florida to California along the Gulf Coast, Texas and the Southwest, stopping at the Grand Canyon and several other parks in Arizona. Then we drove back from the San Francisco Bay area through Wyoming, where we stopped at Yellowstone and the Grand Tetons. I am the oldest of four children, and my youngest brother was in diapers at the time, so we didn't venture very far at any of these places, but I was hooked! The landscape was so rich and varied to me, coming from the flat scenery I was used to in Florida.
When I had children of my own, I wanted to share the beauty of these natural places with them.
We were fortunate that when my husband was working, he was sent on business trips to locations that we could use to jumpstart our travels and take advantage of groupings of parks, like the five parks in Utah that we visited after a business trip to Las Vegas, or the parks in Hawaii and California that we saw after a business trip to Maui.
People always ask me which park is my favorite?
That's a hard question to answer. They are all so varied and different. The one that grabbed me first on that long ago camping trip with my family was the Grand Tetons, even though the two days we were there were overcast and rainy, and we never got out of the camper. I've been back there 3 or 4 times now, and if I absolutely had to choose one, that would probably be it.
But there are others that are also compelling. The big ones that most people know about–Grand Canyon, Yellowstone, Yosemite, Zion, and Great Smoky Mountains–are all beautiful places, but I tend to gravitate towards the ones that are lesser known and surprised me when visiting, like Crater Lake in Oregon, Saquaro in Arizona, Arches in Utah, Wrangell-St. Elias in Alaska, and the Dry Tortugas in Florida.
If you're interested in exploring the parks, either in person or online, visit https://www.national-park.com/list-of-national-parks-in-the-united-states-2020/ for links and information.
Thanks for reading this long post! It's been an amazing journey and I'm grateful to my family for joining me in the quest.
I did make one quilt from this adventure–it's called Alaska Dreaming and it was inspired by our trip to Wrangell-St. Elias NP in 2016. This quilt was included in the Inspired by the National Parks book curated by my friend Donna DeSoto.