I did some traveling earlier this month to two very different cities–San Antonio, Texas, and Boston.
San Antonio was first, where I attended the Studio Art Quilt Associates (SAQA) annual conference. I've been going to these conferences each year for almost ten years, and it's always a treat to spend the weekend in a new place with other creative people.
Right after I arrived, I ran into some friends and was invited to go visit some of San Antonio's historic missions. That's where I got one of my favorite photos above. I just love the different shapes and textures together. One day I hope to use this as inspiration for a quilt.
The hotel we were staying in was located right on San Antonio's Riverwalk, which was great for more inspiration walks and visits with friends.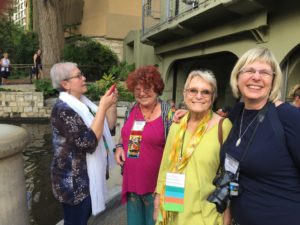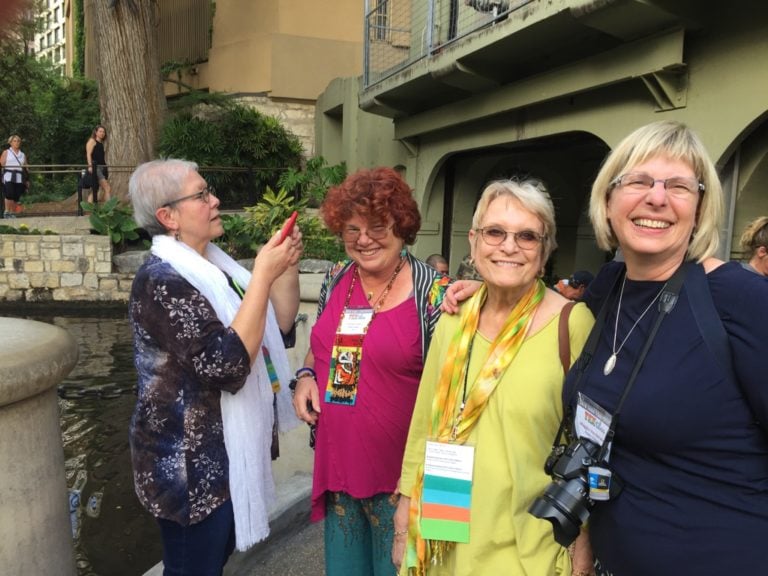 There were interesting presentations on a variety of topics at the conference, and I learned a lot. But the most fun was getting out and around in a new city and meeting new people. I had been to San Antonio as a child when my family went on a cross country camping trip, but it was very different then.
On the Saturday of the conference, we were on our own to explore in self guided groups. I met up with old and new friends and walked to the Blue Star Art Complex. We saw some thought-provoking exhibits, including one where artist had been given one year in Texas history and charged with creating a piece of art reflecting that history. One of the artists in that exhibit was Sarah Fox–a collage and mixed media artist from San Antonio, whose piece was created out of webs of old lace. She also had an exhibit in a gallery nearby that we visited.
The weekend after I came back from San Antonio, my husband and I flew to Boston to see our son run his first Boston Marathon. The race was on a Monday, so we had time on the weekend to explore.
It was a cold, dreary weekend, but we walked everywhere anyway. We spent some time in the historic district and walked through Boston Common, where the "Make Room for Ducklings" sculpture was decorated for spring.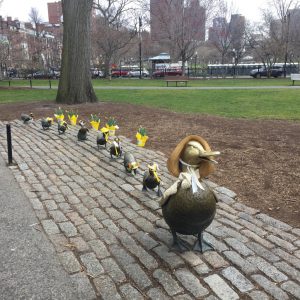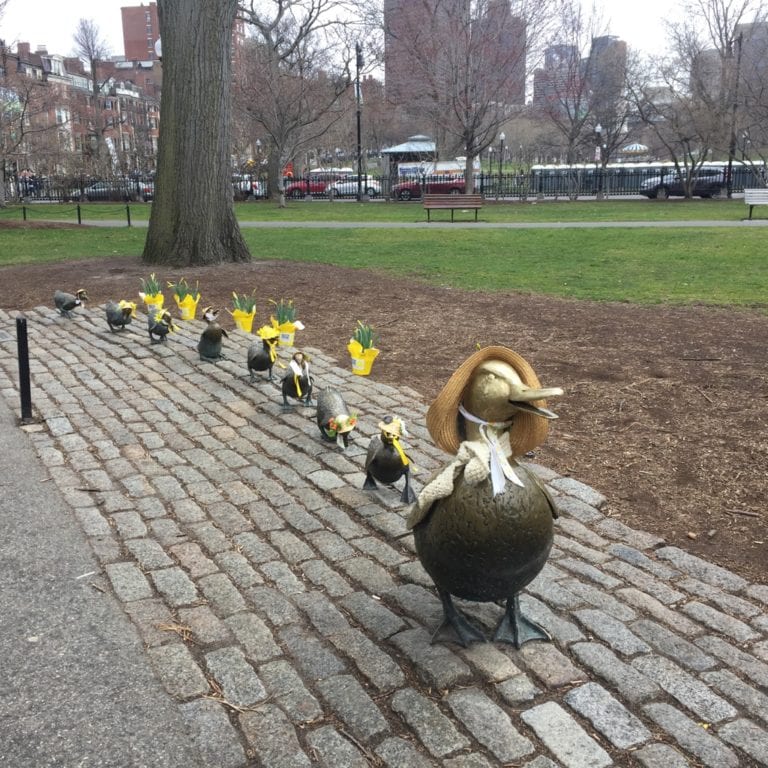 One of my favorite places was the Boston Fine Arts Museum, where we saw a beautiful Mark Rothko exhibit. I love the luminous quality of the colors in Rothko's work.
Here's a taste of what Marathon Monday was like:
Conditions were truly appalling–cold, wet, and windy. Our son ran a good race and finished in about three hours, which was his goal. He was a human popsicle when he finished though–I was really worried about him, but fortunately he was staying with friends who lived just 5 minutes from the finish line, so he was able to get a hot shower and get warmed up.
We have a long marathon history in our family. My husband and my father started running the Marine Corps Marathon in DC together in the 1980's. My husband would go on to run seven more and my dad ran five–and one year I joined them. Good memories. Our son has run the Marine Corps, the LA Marathon where he lives now, and the Boston. I expect we will be spectating a few more for him!
I enjoy the opportunity to travel and see new places, but I'm always ready to get back in the studio when I return!