I'm thrilled to announce that my Taste of Summer quilt won Best of Show at the Art League April Exhibit! I'm pleased with the honor, especially because the Art League is primarily a fine art venue that shows paintings, photography, and sculpture.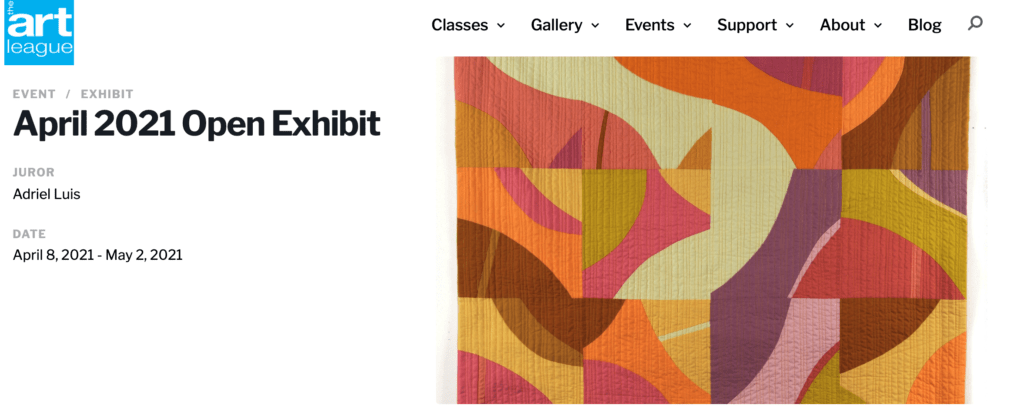 The show will be in person at the Art League Gallery in the Torpedo Factory Art Center, 105 N. Union St. in Alexandria, VA. The gallery is open Wednesday – Sunday from Noon – 4 PM. There will be a virtual opening reception on Thursday, April 8, 2021 at 6:30 PM EDT. It's free, but reservations are required. Visit the Art League website for details. I'll be interested to see what the juror has to say about this piece.
I wrote about the process of creating this quilt on the blog earlier this week–you can read that post here.
Briefly, it's part of a new series I've been working on exploring large curves cut freehand without rules or templates. The block itself is fairly simple, but the larger composition is created by juxtaposing curves of the same or similar colors together to make new lines and shapes. In this version, I also added in some linear elements to create more energy.
The colors were inspired by some of the paintings of Paul Klee–I loved the gentle yellows, pinks, and golds, contrasting with the purple, orange, and darker brown. It reminds me of all the things I love about summer–cold ice cream or gelato, sandy beaches, flower blooms.
The stitching is simple vertical lines, irregularly spaced, using yellow variegated thread. I wanted to use a linear motif to contrast with the organic shapes in the piecing.
This piece is 40″ w x 50″h.
Mark your calendars for my solo show at the Art League in December 2021!