I recently returned from a 7 day independent study workshop with textile artist Michael James at the Quilt Surface Design Symposium (QSDS) in Columbus, Ohio.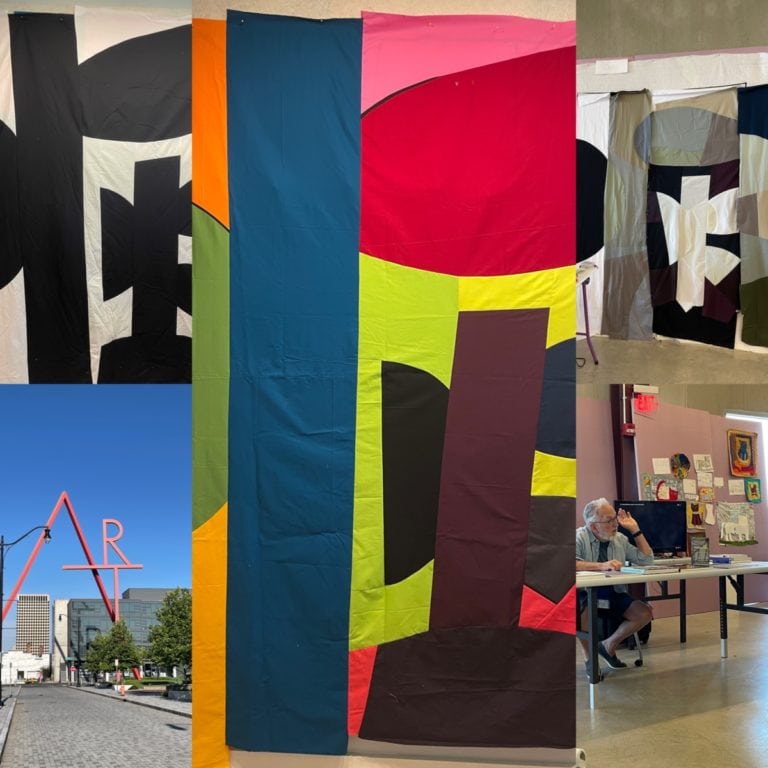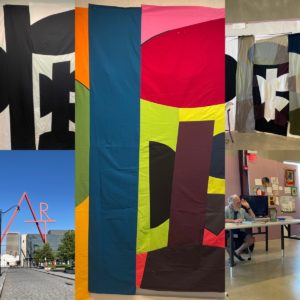 There were about 20 students in the class–everyone with a different plan for the week based on their own studio practice. It was fascinating seeing the work other students were doing–everything from piecing quilt tops to constructing compositions using dyed or manipulated fabrics, to adding unusual elements, like rope or recycled materials to the design. We were studying in the Columbus College of Art and Design, so the space was large and had student artwork everywhere–notice the paper plate mobile at the back of the room!
Each morning, Michael presented a video about an artist for discussion. Some were textile artists and some were not. Several were new to me and I plan to learn more about them. Then we got to work.
In my initial discussion with Michael about my plan for the week, I had two potential ideas to pursue. The first was quickly dismissed, but the second got some traction. I had begun a series of pieces exploring large shapes and the tension between the figure and the negative space, but all of them were fairly small, given the newness of the series. I had started this process in a workshop with Nancy Crow several years ago, but hadn't taken the time to pursue it further until recently. Michael's suggestion was to take one of the these pieces and "go large."
How large is large?
Well– in this case the limiting factor was the size of the design wall and the fact that I hadn't thought to bring a step ladder. So I started out with a "canvas" that was 60″ wide x 72″ high.
I started out with a black and white study so I could determine the lines and shapes I wanted to use.
Then I started pulling colors to do another version.
These pieces are based on my Homage to Matisse quilt–the original is about 30″ x 40″ so this is much larger in scale. I used similar colors so I could really work on the scale–but they aren't exactly the same because I didn't bring all my fabrics with me this time. Plus it was interesting to do things a bit differently. I was glad to have a long table to make those vertical cuts!
As I was working, I started thinking about new ways to interpret this idea–breaking up the shapes in the figures or in the backgrounds, and using alternative color palettes.
I was there for seven days, so I got the first two tops done fairly quickly. The third one took a little longer and it isn't finished yet.
I decided to break up the shapes in the figures first, but I really didn't have a good enough selection of fabrics to do it in color. So I went with my neutrals because I had the most selection there. That was also a challenge for me because I don't usually work in the neutral palette.
I kept the black and white study up on the design wall and used it as a guide to build the others. I didn't have templates, but I eyeballed the shapes based on what was already there. Ideally I would have pinned the black and white study up on the wall and built the new ones next to it, cutting the shapes by eye, but I didn't have enough space for that.
Looking at the top in process above, I have a couple of new ideas to try soon!
The neutrals were tough to work with and the effect was muddier than I wanted. I put the sections together in vertical rows, and when Michael came by to take a look as I was finishing up, he suggested that I could mix up the vertical panels until I found a design that was more pleasing. Great idea!
I ran out of time to put the final top completely together, and I'm not sure if I want to finish this one. But I came away from the class with a new appreciation for working large and for getting out of my own way–you can mix things up to make your designs more compelling!
I had a great time getting to know some of the people in the class better–Libby Williamson, Donalee Kennedy, Beth Schillig, and Maxine Thomas (not pictured).
Sights and inspirations from Columbus: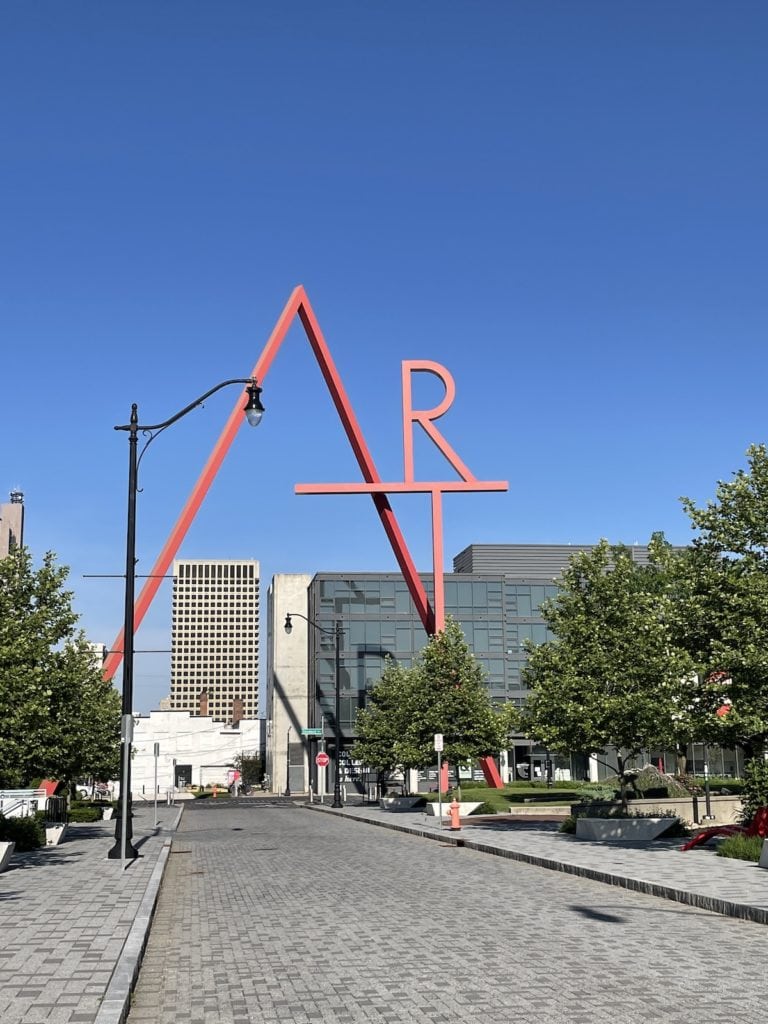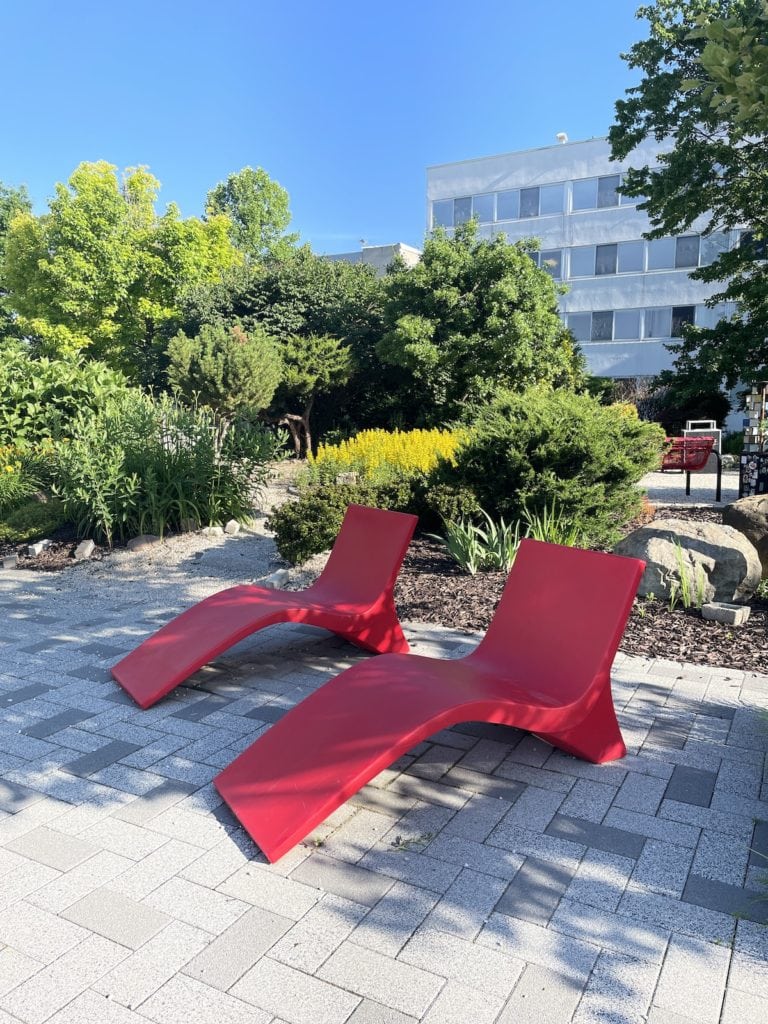 Thank you for reading all the way to the end! Taking a class that pushes you out of your comfort zone is a great way to grow as an artist–I'm looking forward to exploring these new ideas in the months ahead.