In 2022 things finally got back to some semblance of "normal," whatever that is. I continued to teach and lecture online, but I got back to traveling to teach and attend opening events. I will be doing both online and in person events in 2023. Thank you for following along on my journey!
I finished 26 quilts of various sizes this year. The largest two are about 67″ x 80″–3 Friends and Awakening–and the smallest are 12″ x 12″. I taught or lectured for about 40 guilds and groups, including two fun multi-day in person retreats–The Enclave in March in Virginia and Woodland Ridge Retreat Center in Wisconsin in August.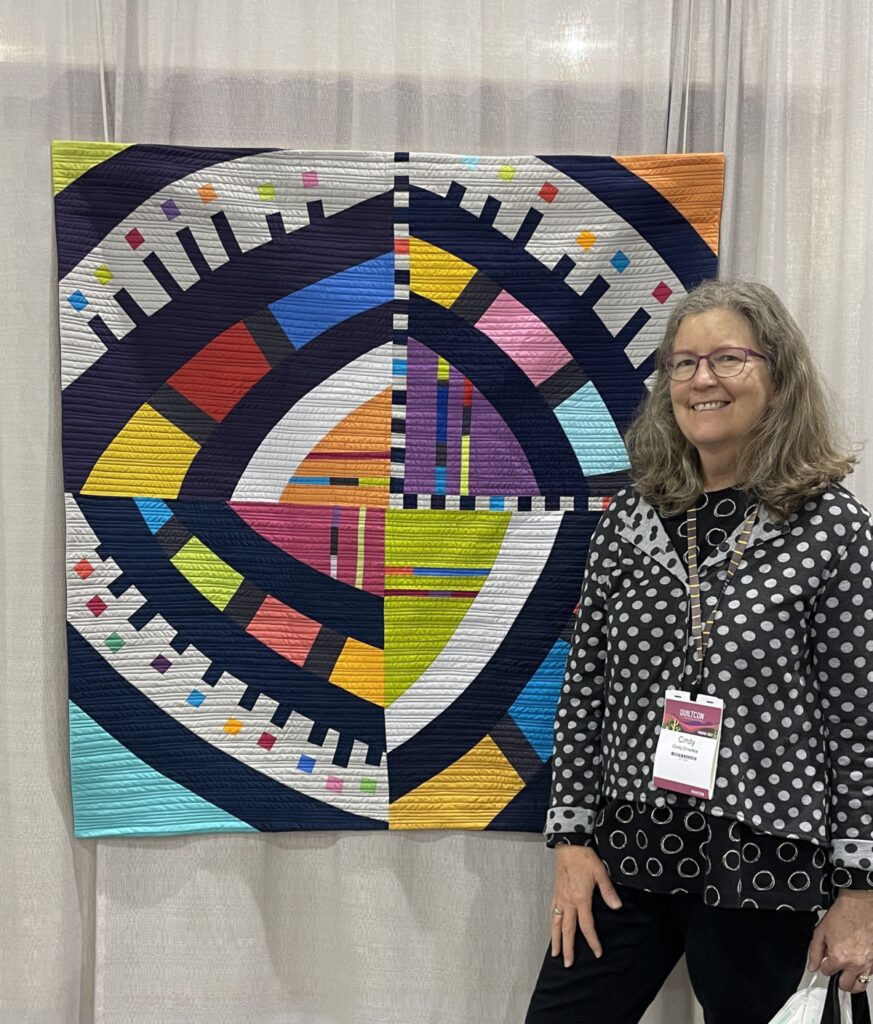 One of my goals for the year was to enter more shows and exhibits, and I had some success with that. Blue Confetti (above) was accepted for QuiltCon in Phoenix in February and Color Grid was accepted for Art Quilt Elements in Wayne, PA in March, as well as for the SAQA regional Purpose/Repurpose show which debuted at the Strathmore Mansion this summer. Taste of Summer hung at the Mid-Atlantic Quilt Festival in February and Unfurling and Balance were accepted to the Fiber Options exhibit in Annapolis, MD in July. Color Grid and Balance also won Honorable Mention awards at the Art League gallery at the Torpedo Factory Art Center in Alexandria, VA this year.
My most exciting event this year was a solo show "Playing with Color" at the European Patchwork Meeting show in Alsace, France in September–the largest quilt show in Europe. It was a thrill to see my work hanging all in one place in an international show! You can read about my experience on the blog at https://cindygrisdela.com/2022/10/08/european-patchwork-meeting-was-a-blast/
And I had a solo show called "FiberWorks" at the art gallery at the Northern Virginia Community College campus in Alexandria, VA in December.
I started a new series in 2022 that I'm very excited about pursuing in 2023. It'a a minimalist approach that focuses on large shapes of color and the tension between the shapes and the negative space behind them. Two of these quilts were accepted into big exhibits in 2023–Balancing Act for the SAQA Minimalism exhibit that debuts at the European Patchwork Meeting in September 2023 and Vessels, which is going to Quilt National in May! You can read more about the new series at https://cindygrisdela.com/2022/05/02/working-on-a-new-series/
Below is my "Top Nine" Instagram posts for 2022. The grid was generated automatically from the posts with the most "likes" on Instagram for the year. It was a interesting grouping, and not exactly what I was expecting! My scrappy Improv blocks are apparently very popular this year. Three of the posts were of the same quilt–Serendipity–in the top left and middle left and center, which is going to QuiltCon in Atlanta in February 2023. Two were of Color Grid–middle top and lower right at the opening of Art Quilt Elements. The top right is Happy Days, which is one of the quilts for my Improv Puzzle class and found its forever home this year, and the bottom left is a collection of scrappy blocks waiting for a project. The only two other posts that appear are Unfurling in the bottom center–part of the new series–and Cascades II in the middle right, which is an older piece that also found a new home this year. Color and pattern are important in all of them though, and that's definitely me!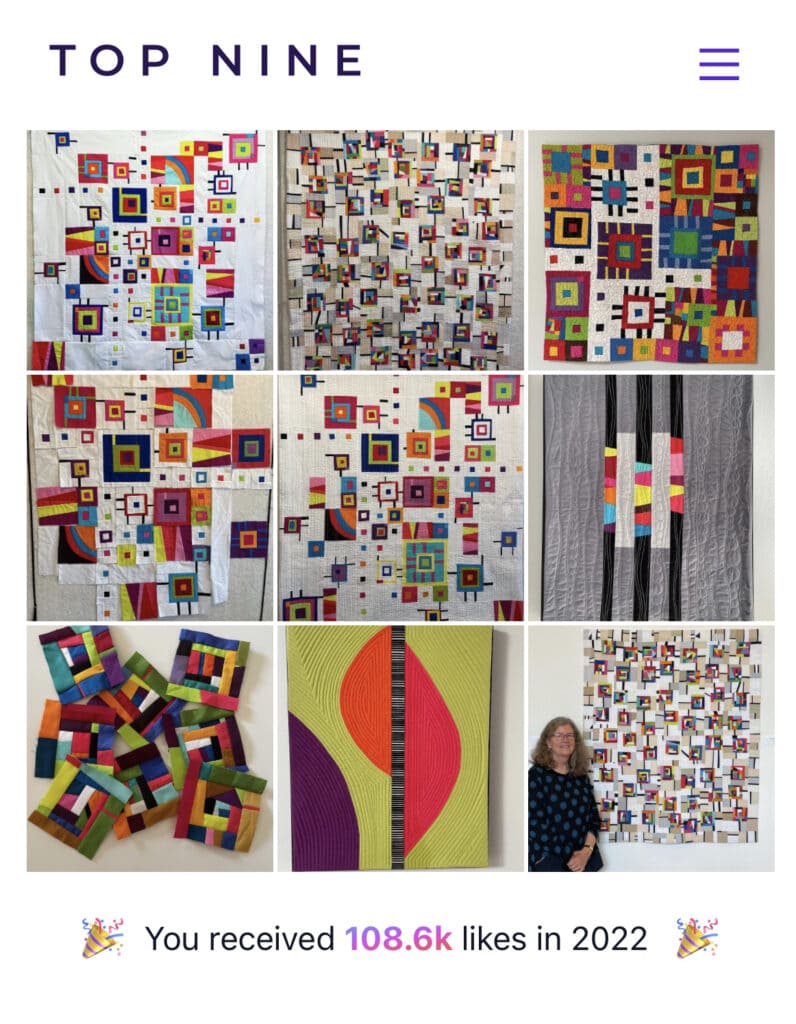 Finally, I wrote and filmed two new on demand classes in 2022–Fearless Improv Curves and Create your own Color Palette. Both of these classes, plus two others are available on the Creative Spark Online Learning platform at https://creativespark.ctpub.com/collections?q=Cindy+Grisdela 
The beauty of on demand classes is that you can take them on your own schedule right from your home. There are videos, still photos and text to help you master the techniques, and if you have a question, you can email me right from the platform to get help.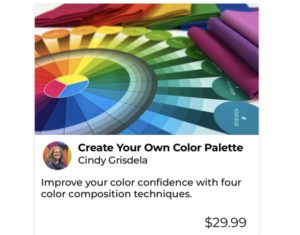 I have very general goals for 2023–I'd like to make at least five large scale quilts, develop at least two new classes, enter shows, and remember to find the balance between working and living that works for me! I have some exciting teaching opportunities in 2023, including the MidAtlantic Quilt Festival (registration open!) in February, AQS-Paducah (registration opens Jan. 17) in April, and Hudson River Valley (registration open!) workshop in August. Take a look–I'd love to have you join me! And if there's something you'd like to have me teach, send me an email at [email protected]
Thank you to all my readers, followers, students and collectors for a great 2022–I'm so grateful to all of you! I wish you all the best in 2023–joy, creativity, laughter, happiness and health–and I look forward to connecting with you in the new year. Happy New Year!
Here's one of my favorite nature photos of the year–taken on a walk in my neighborhood–wouldn't it make a great quilt?!