I spent the first few weeks of 2023 in a workshop with Nancy Crow at the Tanque Verde Ranch in Tucson, Arizona, sponsored by Madeleine Island School of the Arts.
Like all of the classes I've taken with Nancy, this one was intense. Called Lines, Curves, Circles and Figure/Ground Composition, it was a deep dive into all of those elements. Have you ever thought about the difference between a line and a shape? Lines are skinnier and shapes are larger, right? Well, of course there's more to it than that and that was the focus of the first week.
Using just one color and black, we created lines on the left and shapes on the right to investigate the differences at the edge of each definition. The color was to be bright so it would show against the black.
Next we played with curves–what do anxious curves look like?
I rather liked this assignment and wished I could have made it into a quilt. But I have the photo and I can go back to it if I want to. All those curves slashing into each other was a lot of fun!
The big assignment for the first week of our two week stay was a big composition incorporating the lines, curves and circles we had been experimenting with over the course of the week. Each element had to float without touching any of the others. This is not my favorite way to work, but I learned a lot about color and shape from putting this one together. Some of the elements are more successful than others for various reasons. I doubt this one goes any farther than this and that's OK–I learned the lesson.
I had to start it over several times because it was "too rigid," according to Nancy, and I didn't think through my color choices too carefully when I was making the elements. But that's kind of the point of these exercises–don't think, just do! My approach was "it's just an exercise" and I've found that it's more helpful to me to learn the lesson if I have a finished, or almost finished, piece to take home. This one is about 75″ square.
The resort that hosted us is in a beautiful spot outside Tucson and right next to Saguaro National Parks–one of my favorites! We had the Saturday after the first week off and several of us, including Maria Shell, Lenny van Eijk and Lisa Hardy, went on a 7 mile hike in the park, which was just a short walk from the resort.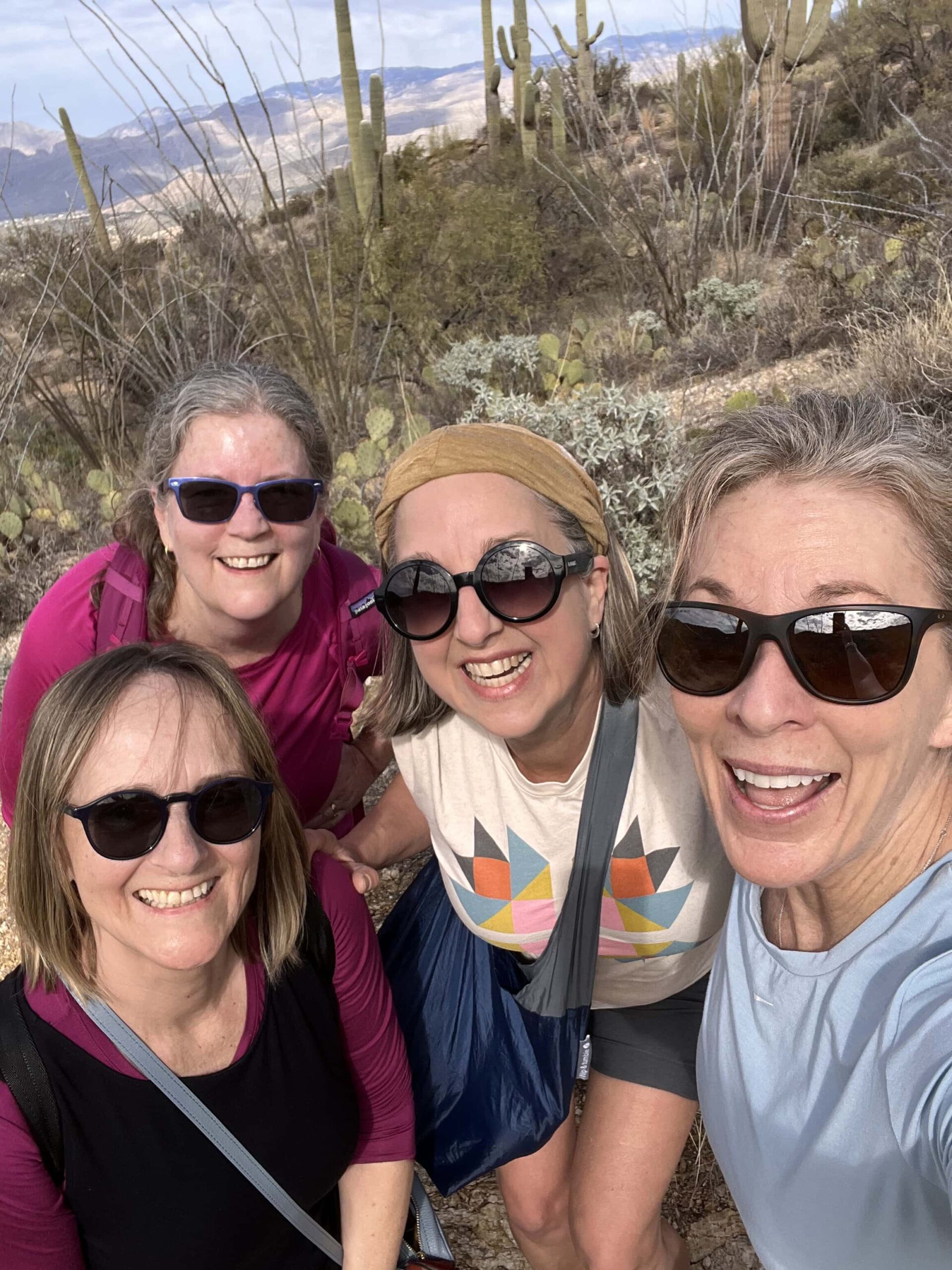 Many thanks to Lisa for taking the photo! It was a beautiful day and fun to get outside and hike after the mental intensity of the first week.
One of the most wonderful things about the whole experience was getting to spend time with other creative people in a beautiful setting, and we were all staying at the resort, so there was plenty of time to have some great conversations with friends.
The second week we were to focus on making a bull's eye quilt–choosing colors quickly and intuitively and then adding patterning to the design.
I really loved the colors I chose. This is enormous at this point–probably about 90″ square.
Then reality set in. I do large scale curves with patterning like this all the time, so Nancy set me a different exercise to make it completely new and different from anything I'd ever done before. And I had to start over, and over, and over. Intellectually, it was really fascinating how she was able to get me to push outside my boundaries and my comfort zone without ever saying "do this or don't do that." But it was really hard!
And that's the whole point.
I didn't finish the exercise and that was super tough for me. I just ran out of time, and energy, if I'm honest.
Here's where I left it–not anything like where it started! And I don't know if it's something that I even like or will ever go back to.
But I think it's important to understand that I signed up for this willingly, and I asked for the feedback that got me to this point. Nancy wasn't being mean or unkind to me by asking me to start over and over. If I had wanted to do the work that I've done in the past, I could have stayed home and done it on my own. That's the whole reason why I study with Nancy, so I'll be pushed into new places and explore ideas I didn't know I had.
Here are a few images from the park and resort:
Most Saguaro cacti have upright "arms" that don't begin to grow until the cactus is at least 60 years old. But sometimes they grow in a crested formation, like the one above–no one knows exactly why. It looks like a cactus with a bad hair day!
The ranch had hundreds of horses and riding was a big activity there. I didn't take advantage, though–I haven't ridden a horse since I was a teenager! But they were fun to watch.
There was so much interesting color, shape and texture to see every day. I took lots of pictures and maybe some of these ideas will come out in later work.
This was my fifth time studying with Nancy, although it was the first time I went somewhere other than her Barn studio in Ohio. You can read more about my other experiences here, here, here, and here.
We had to give a presentation at the end about what we learned–thanks to Lenny van Eijk for the photo.
Thanks for reading to the end!